Everyone knows St. Patrick's Day is traditionally celebrated on the 17th of March. The Irish have celebrated the date as something of a religious holiday for more than 1,000 years. That's about 600+ more years than the United States of America has even existed, yet it seems like this part of the world goes green all over come March 17.
It might be good luck to look at some of the reasons why this holiday has lasted so long and become so popular the world over.
Why St. Patrick deserves a celebration
You might have noticed that St. Patrick's Day comes around every year during the Christian holiday known as Lent. Irish families wanted to recognize the priest that imported their faith to the island nation, but the date of his death happens to fall right in the middle of the Lenten season. So the Irish went to church in the morning and held celebrations all afternoon, first begging the church to loosen Lenten rules against eating meat so that people could dance and feast on Irish bacon and cabbage. The Church of Ireland still regards St. Patrick's Day as a holy religious holiday. The rest of the world just goes bonkers drinking green beer and the like.
Trying your luck
Yes, the season of shamrocks and all things green is nearly upon us, so you might want to pick up some St. Patrick's Day Party Supplies so that you won't disappoint the patron St. Patrick or the lucky Leprechauns who might show you to a pot'o'gold if you show your colors just right.
That's a mess of corned beef and cabbage
There are 26.1 billion pounds of beef and 2.3 billions pounds of cabbage produced in the United States each year. St. Patrick's Day surely does its share of beef and cabbage consumption. In fact the two staples go together like shamrocks and leprechauns, and that can only mean one thing: It's time for some good eating at a St. Patrick's Day Party. St. Patrick's Day Paper Goods like Pot Of Gold 9" plates can be piled high with corned beef and cabbage, and you can wipe the mustard off your smiling face with Pot of Gold Lunch Napkins. Don't forget the soda bread, made with baking soda to give it that distinctive flavor.
The visual flavor of St. Patrick's Day: It's up to you
Green. That's all you really need to know. Wear green. Share some with your friends. Paint your face green, or rock this Luscious Leprechaun Adult Costume if you've got a little leprechaun in you. There are all kinds of St. Patrick's Day Costumes if you know where to look. You can even dress up in the General Mills Lucky Charms Leprechaun Adult costume and bring back childhood memories. Or create new memories, or lack thereof, on your own.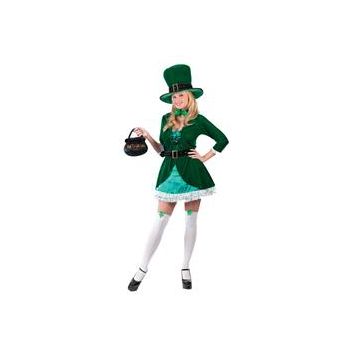 251 Years of St. Patrick's Day Parades in the US
Yes, the tradition of the St. Patrick's Day Parade goes back 251 years when Irish soldiers serving the English military haughtily marched through New York City. Now there's 100+ such parades around America.
But what really matters is what happens when you get home after the parade, if you have one in your hometown. If not, you can march up and down the sidewalk waving shamrocks and arrive back at your house covered with St. Patrick's Day Decorations. Think how your Irish abode will look in the St. Patrick's Day Outdoor Kit! You'll be lucky if the Irish themselves don't swoon at the mere sight of your bungalow. Each kit contains a 20' plastic fringe banner, plastic 30' bunting, 15' pennant banner, 65" X 33 ½ door decoration and 9 St. Patrick's day 15" bows. All for only $33. It really is your lucky day.
The whole shamrock thing explained
Legend has it that St. Patrick himself once used a shamrock or 3-leafed clover to explain the Holy Trinity to pagans in Ireland. Yet the shamrock is just part of the legend of St. Patrick's Day, which has enlarged and expanded on the holiday for more than 1000 years to celebrate the culture of Ireland. Those Irish brought traditions over to the US during immigration, and the holiday positively sprouted here, celebrating Irish food and drink and also good Irish beers, such as Guinness and other stouts.
So get in the spirit, lads and lassies. Send out your own Personalized St. Patrick's Day Invitations and turn everyone into an Irish person for a day (at least).
For tips, questions, help planning an event or for recipe and craft ideas, email our party experts at askanexpert@windycitynovelties.com for your personal party planner!