May the Fourth be with You! A simple twist of the tongue is all it takes to see why May 4 has been proclaimed Star Wars Day throughout the galaxy. It's hard to say how the day will be celebrated on other planets, but here on Earth, Star Wars Day calls for a party and Windy City Novelties has everything you need for a truly stellar event.
Star Wars Invitations
With people flying in from all over the universe it is wise to get your invitations in the mail early. Send out Star Wars Force invitations listing the date, time, and place. Sprinkle a few blue confetti stars in the card and envelope for a most memorable invitation. Encourage guests to war Star Wars costumes.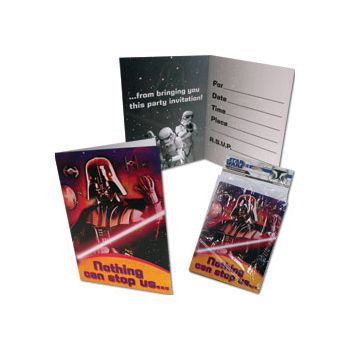 Star Wars Themed Decorations
If you are having an evening event – and who wouldn't want to hold a Star Wars Day celebration when the stars are out – line your walkway with luminary bags with star inserts. Adorn the porch railing or mail box with silver and white bunches of lumi-loon light-up balloons for a really awesome welcome. Have the soundtrack to Star Wars playing as guests arrive.
It goes without saying that every guest is going to need a light saber, so have a costumed greeter at the door to hand out L.E.D. light sabers to party-goers as they arrive. Obi-Wan Kenobi would be a logical choice to bestow light sabers on guests, but Yoda, being an instructor in the Force as well, could just as easily do the honors.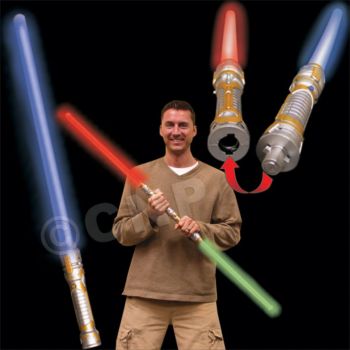 Set the stage for an out-of-this-world party by covering a feature wall with a starry nights scene setter roll. The endless stars will provide a perfect backdrop for life-size stand ups of Darth Vader and Chewbacca. Dangle solar system whirls from the ceiling for a finishing touch.
Top your food table with a silver metallic plastic cloth and add a silver metallic fringed table skirt. If you are having a full meal, Star Wars Force 9-inch plates will be perfect. The 7-inch version will easily handle an appetizer buffet or dessert. Star Wars Force luncheon napkins featuring Darth Vader can battle it out with the beverage napkins which show Yoda in full-fighting mode. Green plastic tumblers will coordinate well with the Star Wars theme.
Food and Drinks
Battling the Dark Side can make Jedi warriors pretty hungry. Hummus, guacamole, or any other dip can be shaped to look like Jabba the Hutt. Sprinkle a little cumin or paprika in his rolls to make them stand out and use black olive bits for eyes. Serve with blue Dark Side corn chips. Roll-up sandwiches made with flour tortillas, a choice of ham, turkey, roast beef, cheese, lettuce, tomatoes, or other toppings will remind guests of Princess Leia's iconic hairdo, as well as little premade cinnamon roll swirls. Fresh veggies and dips are always popular munchies. Add some fruit to your buffet by making a Yoda face from a small, round watermelon. Cut a slice off the back of the melon to scoop out the fruit and cut in chunks for serving. Use the rind scraps to shape ears, nose, eyes, and mouth, with purple grapes for pupils. Dip pretzel rods in different colors of icing to make edible light sabers.
For dessert, round scoops of lime sherbet can also be decorated to look like Yoda. Find Star Wars cookie cutters and cake pans at the store or online to make character-shaped treats, or just contact your local bakery and have them make a cake to your specifications.
If you are planning on screening the movies, that is all the entertainment you will need – and you might want to tell your guests to bring their sleeping bags! For a more contained event, go online or search your vast store of knowledge to come up with a trivia game; you could even have clues or answers in pre-set video stops. Be sure to include some easier questions for friends who might not be devoted Star Wars fans.
If you have room, everyone would be sure to enjoy taking a whack at a Star Wars Force Darth Vader pinata. Provide guests with Star Wars loot bags to carry home their treasures, and as Mace Windu would say "This party's over."
For tips, questions, help planning an event or for recipe and craft ideas, email our party experts at askanexpert@windycitynovelties.com for your personal party planner!