Spring is an exciting time for basketball fans, with March Madness in full swing for college teams and Finals looming for the NBA pros. Why sit on the couch yelling alone when you can invite friends, family, and co-workers over to cheer on their favorite teams. There's nothing like a little friendly rivalry to make the games more exhilarating and with a little planning, your basketball party can be a slam dunk.
March Madness is a single elimination tournament in which sixty-eight major college teams compete for the Wooden NCAA National Championship trophy. Teams are whittled down to the Sweet Sixteen, Elite Eight, and reach the Final Four by the first weekend in April. The pros in the National Basketball Association playoffs start in late April, reaching the finals between the Western and Eastern Conferences by the end of June. Since the games take place over the course of several weekends, there are plenty of opportunities to get everyone together.
Basketball Themed Invitations
Start the ball rolling by sending our basketball playoff personalized invitations noting the date and time of your event. Go online to find free printable playoff brackets and include them with the invitations so fans can fill out their favorites before the games begin and take part in a basketball pool.
Basketball Decorations
If you happen to have a basketball hoop on your garage or in the driveway, wrap it with a string of twinkling white lights, and hang a basketball pennant banner across the garage door or front porch to provide a fun greeting for guests and get them in a festive mood. Decorate inside with bunches of metallic basketball balloons. Cutouts of trophies and basketballs can be scattered around the room or on a single feature wall.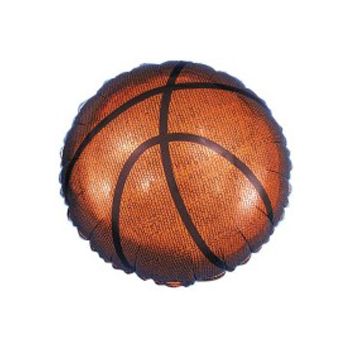 Snacks
Cheering fans work up an appetite and since you may not want to serve a main course right away, have snacks on hand when guests arrive. Serve popcorn in traditional popcorn bags, or use a favorite recipe to make a big bowl of snack mix. Add coated chocolate candies in the home team's colors to the mix. Chips and dips are always welcome. Keep beverages cold in a basketball fan inflatable cooler. Fill it with soda, beer, water, and sports drinks.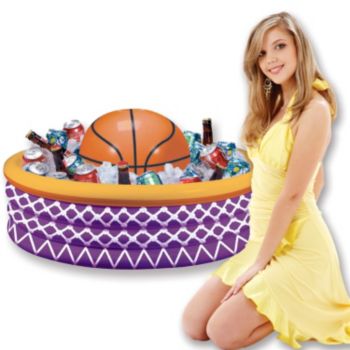 Deck out your food table with a Spaulding ball plastic cover. If you want to stay with a neutral theme, choose Spaulding ball plates and matching napkins.
You may want to show who you are cheering for by using team- specific decorations. There are napkins available featuring the colors and logos for each of the NBA's thirty teams, from the winning-est Boston Celtics to the hometown favorite Chicago Bulls. Honor college teams by using NCAA paper goods in team colors.
Halftime may not provide a lot of time to eat, but it will at least give everyone a chance to fill their plates. After grabbing up fistfuls of salty snacks, fans may be ready for something a little more substantial. Purchase clear plastic cups and put some ranch or thousand island dressing in the bottom. Put sticks of celery and carrots into the cups for an easy-to-handle first course. A crock-pot main dish is always a good bet, allowing the host to have everything prepared in advance. Sloppy Joes are a reliable crowd pleaser and still have that stadium feel. Complete the meal with a hashbrown casserole and hot-and-sweet pickles. For dessert, bake or buy a sheet cake and use decorating frosting to make it look like a basketball court.
Watching a playoff game will be even more fun if you provide guests with pom poms in team colors. And for fans who take bad calls seriously, stand a blow-up, referee punching bag in an out-of-the-way corner for them to take out their frustrations. For fans that just need to move around or take a break from the action, stick a couple of suction cup basketball hoops to the wall. They come with foam balls for harmless shooting.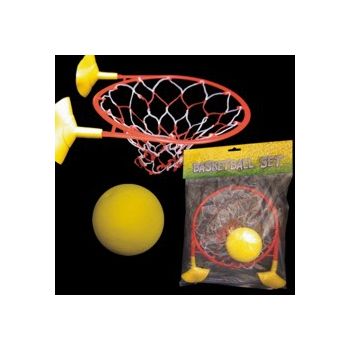 With the game in the record books, let guests work off some energy by having a friendly game of hoops in the driveway. Send them all home with basketball stress balls to help them deal with the pressure of future games.
For tips, questions, help planning an event or for recipe and craft ideas, email our party experts at askanexpert@windycitynovelties.com for your personal party planner!