It's finally happened—after four, or maybe even five or more, years your child has crossed the stage and gone through the pomp and circumstance of a college graduation. You've shed your tears, lamented about years gone by and your baby growing up and entering the real world, signed that final tuition check, and are ready for that final push from the nest as they embark on this next chapter of life. But first, there's one last thing to do, celebrate this huge accomplishment with one blowout bash! Planning a college graduation party worthy of this momentous occasion may seem like an overwhelming task, but with a few simple steps, you can pull off a party that your graduate will remember forever.
Send out the Invitations
Start out by alerting friends and family to the big day with personalized graduation invitations. With fun designs to choose from, you can pick invitations that coordinate with the graduate's school colors, one that reflects their chosen career, or an invitation that has a festive design. Include all the important graduation party details, including date, time, duration, and location and send your invitations out at least six weeks before the party date to give guests plenty of notice. If you're inviting out of town guests, include a map to the party location as well as a list of nearby hotels.
Graduation Custom Banners
Create a graduation custom banner to coordinate with your invitations. Not only is a custom banner the perfect way to congratulate the graduate, but when you hang your banner in the front yard, everyone will know exactly where the party is! For an extra special touch, attach a permanent marker to the banner and have guests sign the banner when they arrive, sharing their well wishes for graduate. The signed banner will turn into a special keepsake the graduate will treasure for years to come!
Graduation Decorations
Whether you're holding your college graduation party at your home or an alternate venue, you'll need to set the scene with some festive graduation decorations. Black and white decorations set a simple, elegant party atmosphere and complement any decor. Adorn your ceiling with festive black and white graduation swirls that will liven up any party space, whether it's a rented reception hall, your living room, or even a simple outdoor tent! Add some black and white cutouts and garlands from our black and white graduation decorating kit and your party space will be graduation ready in no time! You'll need plenty of seating and table space to handle the crowd, and to make your tables fit in with your black and white party theme, you can adorn your tables with graduation table covers topped with cheery 10-inch "Congratulations Grad" centerpieces.
Food and Snacks
Guests will be expecting fabulous foods at your party, and you won't want to disappoint! Instead of a formal sit down meal, college graduation parties are the perfect time for buffets filled with great tasting finger foods that guests can nibble on throughout the event. Aside from the requisite congratulatory cake that every college graduation party features, a sweets table filled with tasty treats like mini cupcakes frosted in the graduate's school colors, cookies, brownie bites, and mini cheesecakes. Make a statement with a chocolate fountain complete with delicious sides like pineapple chunks, strawberries, pretzel rods, marshmallows, and angel food cake pieces. For more savory snacks, go with surefire crowd pleasers like chips and dip, cheese and crackers, sausage balls, taco dip, vegetable platters, hummus and pita chips, mini quiches, meatballs, eggrolls, and Buffalo wings. Stock up on plenty of graduation paper goods including coordinating plates, napkins, and cups, to handle those treats and feed the hungry crowd!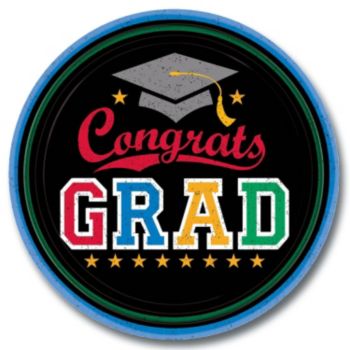 Party Favors
Party favors for your graduation party are a fun way to thank guests for coming and commemorate the big day. Personalized graduation pens printed with a customized message are a fun and useful party favor that guests will not only enjoy, but also use long after the party's over. LED novelties like flashing sunglasses, graduation LED lumitons, and LED porcupine bracelets are always a hit with the younger crowd and are guaranteed to please the graduate and their friends!
You've spent years supporting your child as they struggled through their college years and now that you've both made it to graduation, it's time to celebrate with a college graduation party the whole family will enjoy. With the right supplies and the perfect party planning, your event is sure to be a success, kicking off the next chapter of the graduate's life in total style!
For tips, questions, help planning an event or for recipe and craft ideas, email our party experts at askanexpert@windycitynovelties.com for your personal party planner!