NASCAR fans, get ready to rev up the fun and get back on the party-planning circuit because the start of NASCAR season is right around the corner! On February 16, the NASCAR season kicks off with the Bud Shootout, which has been renamed the Sprint Unlimited at Daytona for this year's season. Since this is the official start to the NASCAR season you'll want to get together with all your fellow NASCAR fanatics to watch the race, but instead of just tossing some chips on the table and turning on the television, why not kick it into high gear and throw a fabulous NASCAR kickoff party to celebrate the start of the season?
Invite fellow NASCAR lovers
While true NASCAR fans are sure to know when the season is starting up, let them know you'll be hosting a big bash on race day with fun motor speedway personalized invitations! While email invites might be easier, and are perfect if you're throwing your party together at the last minute, these personalized invites are a great way to give your party a more upscale feel and to amp up the excitement for your event. Be sure to start the party at least two hours before race time so that everyone has a chance to visit and fuel up before it's time to get down to the trash talking and cheering.
Setup for your NASCAR kickoff party
To set your NASCAR kickoff party apart from the other races you'll be watching throughout the season, give your party space a festive feel with the right NASCAR party supplies! With a checkered pennant banner, a few race car cutouts, and some winner's circle tape you can easily transform your party space into a hot spot worthy of the NASCAR mania that opening day often brings! Since the television will be taking center stage during the race, make sure there's plenty of seating available, even if you have to throw some pillows on the floor and do some rearranging to make more room. Set up a buffet table so your guests can stop by for a quick fill up when their tank get low. Use a racetrack theme for your buffet table and hang a banner over it letting everyone know that's where the "Pit Stop" is! A checkered plastic table cover will protect your table from drips and spills and give it that raceway feel! Add a racecar table runner down the center for an extra accent your guests will love!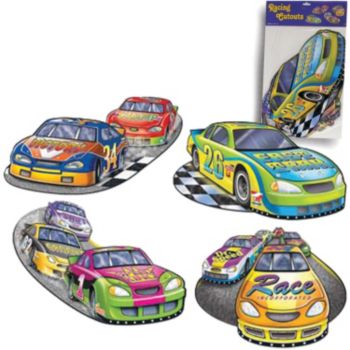 Munchies and snacks
Fill your buffet table pit stop with fun finger foods that will let everyone refuel on the fly. Chips and dip, finger sandwiches, chicken wings, mini hotdogs wrapped in bacon, tortilla chips and taco dip, mini-pizzas and potato skins. You can also stock up on some of the foods that serve as official sponsors for top NASCAR drivers, like M&Ms, Oreos, Chips Ahoy, and Snickers! These tasty treats are a great way to fill out your dessert table, or, if you've got a little bit of the baker's gene in you, you can try your hand at creating a racetrack cake that will knock your guests' socks off! With a little bit of chocolate frosting, some fondant, some creativity and a steady hand you can turn your dessert into a raceway dessert that will be the talk of your NASCAR group for the rest of the season!
NASCAR themed party games
Add an extra element of fun to your NASCAR kickoff party by setting up some party games to keep your guests' occupied during down times. Put together a NASCAR trivia game with questions about drivers, cars, teams, past races, and milestone events in racing history. Award the winners their own checkered flag trophy to commemorate the occasion!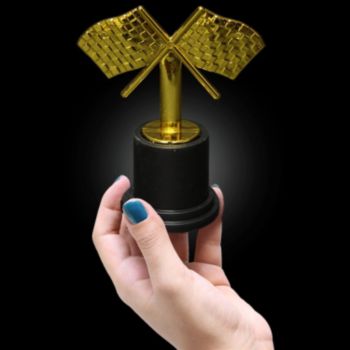 The start of the racing season is a momentous occasion for diehard NASCAR fans and this year, with the Sprint Unlimited at Daytona, fans will be in for a treat! Delight your friends with a fabulous party that will kick the season off in style and show them all a good time as they cheer on their favorite driver and wait to see who will be taking that final victory lap on February 16!
For tips, questions, help planning an event or for recipe and craft ideas, email our party experts at askanexpert@windycitynovelties.com for your personal party planner!