Whether you watch for the football or the exciting new commercials, Super Bowl Sunday on February 3, 2013 is not just another day on the calendar.
That's why hitting our list for TOP 10 FOOTBALL PARTY SUPPLIES FOR SUPER BOWL SUNDAY should be at the top of your list for a fun, exciting Super Bowl party.
#10 NFL Team Party Supplies. Gotta have 'em!
Avoid illegal motion penalties by treating your guests with official and authentic NFL Team Party Supplies. Now you'll know where to pick up party goods for all your favorite NFL football teams. From Cowboys to Redskins, Broncos to Jaguars, Bears to Packers, we've got great NFL party goods for every team and every occasion!
#9: San Francisco 49er Party Goods
The 49ers are one of the great teams in NFL history, and San Franciso 49'ers party supplies are great looking in red, gold and white. San Francisco Forty Niners Luncheon Napkins feature team colors and famous SF logo. Pair them up with matching San Francisco Forty Niners 9" Plates (only $3.50 per pack of 8 plates).
#8: Baltimore Ravens Party Goods
It's a brother against brother Jim versus John Harbaugh coaching matchup in the Super Bowl, The Baltimore Ravens coached by John Harbaugh should be well represented as you serve up food on these licensed NFL team logo Baltimore Ravens 9" Plates. The matching Baltimore Ravens Luncheon Napkins are matching too!
#7: Super Bowl XLVII Party Table Cover
Cover your main serving table with the Super Bowl XLVII Plastic Table Cover featuring the New Orleans Superdome and Super Bowl XLVII printed in gold.
#6. Super Bowl XLVII Metallic Balloons
Float a Super Bowl XLVII 18" Metallic Balloon over your table or purchase a few and decorate the whole viewing room with official logos and your very own view of the Superdome wherever you look. You'll almost feel like you're really there!
#5: Referee Shirt Serving Tray
Nothing is more eye-catching than this Referee Shirt Serving Tray with black and white stripes and 12" X 12" of serving area so you can make the rounds or serve up food in style. Order a whole "crew" of serving trays and set them around the room where people can munch out without getting called for spills or overloading their plates.
#4. Stunning Super Bowl XLVII plates
The design of these Super Bowl XLVII 7" Plates features a world class image of the New Orleans Superdome in beautiful gold against a twilight sky when the game kicks off. The perfect plate to match up with your Ravens and 49ers plates and napkins.
#3. Referee Apron puts you right in the action
Every party has a referee "calling the game." The Referee Apron goes on great over what you're wearing, protecting you from food spills and other fumbles during the big game, yet lets you be a crucial part of the action in full football style.
#2. Referee shirt drink holder
Let guests be their own beverage referees when you break out the Referee Shirt Drink Holder. The "shirt" says football while it takes away the chill from holding your soda or beer bottles. The Referee Shirt Drink Holder is made of plastic and can re-used.
#1. Light up your Super Bowl Party and drinks
LED light cups are the fun way to serve beverages. The Football Play Bottom Lit Cup is perfect for Super Bowl Sunday. Every 16 oz. plastic cup has its own light in the bottom and comes with batteries installed, with replacement batteries available. Add flair and toss in these Lited Ice Cubes Multicolor 12 Pack.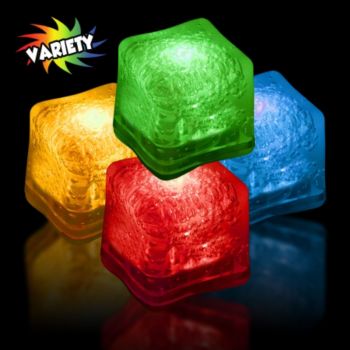 Don't let your fans down! Your Super Bowl party will be the talk of the year when you gear up with official football supplies from Windy City Novelties.
For tips, questions, help planning an event or for recipe and craft ideas, email our party experts at askanexpert@windycitynovelties.com for your personal party planner!