Glow products are a great way to add some fun and flair to nighttime events, whether you're hosting a summertime barbeque, trying to keep the kids amused while waiting for the annual Fourth of July fireworks, stocking up for a carnival or charity event, heading to a rave, or trying to add some excitement to a rave. And aside from being a hit with kids of all ages, they come in handy when the power goes out, when you need some extra illumination during nighttime events, and when sudden summer storms hit, they can help out in a pinch. With a wide variety of fun and fabulous glow products to choose from, you'll find something to light the night for every occasion!
Glow Necklaces
Perhaps the most popular glow products out there, glow necklaces come in a rainbow of colors! Choose from glow necklaces in blue, green, red, orange, yellow, pink, purple, and white, or step it up a notch and go with tri-color glow necklaces in patriotic red, white, and blue, or with Mardi Gras-inspired necklaces in purple, green, and gold. Ideal for sporting events, you can mix and match glow necklaces in tem colors so fans can show their support in style, or you can stock up before concerts, nighttime parades, or other evening events. Value packs are perfect for party favors at a kid's birthday party, giving you plenty of bang for your buck. We also have premium glow necklaces pre-printed with "Mazel Tov" that are perfect party favors for a bar or bat mitzvah and "Happy New Year" so you and your friends can ring in the New Year in style!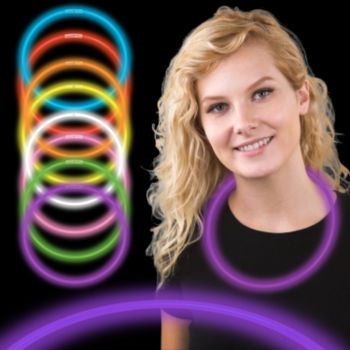 Glow Bracelets
Like our glow necklaces, our glow bracelets are available in a wide range of colors, including green, blue, purple, red, orange, pink, yellow, and white. Triple wide glow bracelets triple the impact of these cool accessories and double as cup rings for nighttime golf events. Color changing glow bracelets add some flair to your attire and will get you noticed in a crowd. Pair your glow bracelets with glow necklaces when you want to make a statement!
Glow Sticks
The power horse of our selection of glow products, glow stickshave an astonishing number of uses! These ingenious little glow sticks are available in every color of the rainbow, plus a few colors not found in nature, and you can choose between 4 inch and 6 inch glow sticks. Add some razzle dazzle to your drinks with swizzle stick glow sticks that can double as napkin rings with the click of an adapter or go big with 10-inch concert size glow sticks. In addition to glow sticks in bright and bold colors, our selection includes glow sticks imprinted with holiday symbols, animal prints, and religious and inspirational sayings. Not only do these glow sticks make great party favors, but they come in handy when the power goes out. If you've got children who are afraid of the dark, activate a few glow sticks that the kids can wear around their necks, banishing the darkness without wasting batteries or worrying about a cumbersome flashlight. Toss a few in the car, keep some in your junk drawer, nightstand, garage, basement, and anywhere else you might get caught unaware when the power goes out.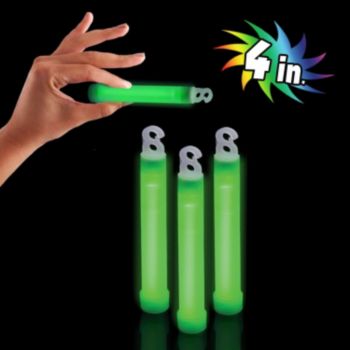 Glow Drinkware
Nothing says it's time to party like a drink that's giving off a groovy glow! Glow drinkware will kick any event up a notch, whether you're hosting a summer barbeque, a bachelorette party, a Super Bowl party, or want to give your bar's happy hour an extra element of fun. Whether it's 12 or 16 ounce tumblers, margarita glasses, champagne flutes, martini glasses, or shot glasses, this drinkware is sure to please! Available colors include green, blue, red, yellow, and purple for the various styles. And all this glow drinkware looks even better when topped off with glow straws or LED ice cubes! Glow ice cubes look great floating in your punch bowl and are sure to be the hit of your party!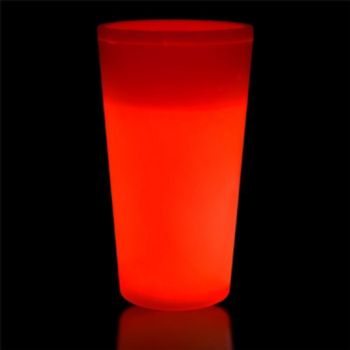 Glow Shapes
Glow shapes are a great addition to any event. With bright and bold glow shapes sporting fun designs, inspirational sayings, and holiday themes, they are a great way to pump up a crowd, to use as prizes or incentives, or to show your support for a specific cause. Or, stock up on blank glow circles in various colors and use permanent markers and your own creativity to create custom messages.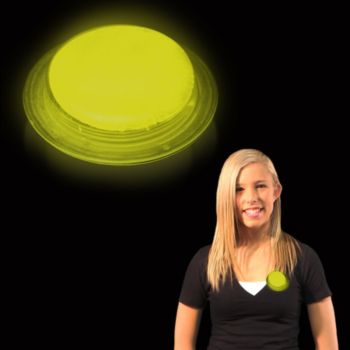 Glow Novelties
Glow novelties are your surefire crowd pleasers. With everything from sunglasses and masks to flower leis and ice cream scoops that glow in the dark, these glow novelties will thrill kids and adults. Our selection of glow novelties also has glowing beach balls, which are always a hit when tossed into the crowd at concerts, on the beach, or when you take the kids out in the backyard in the dead of night! Arm your prince or princess in training with glow swords, wands, and axes, and show off a flair for fashion with glow headbands. Glow novelties will never go out of style!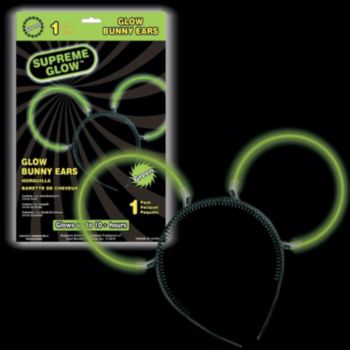 Retail Packaged Glow Products
For businesses, retail packaged glow products include everything you need to showcase the products. Whether they want to sell glow sticks, glow bracelets and necklaces, glow novelty items, or foil wrapped glow sticks, with the retail packaged glow products, businesses will receive everything they need to display the items and attract customers. Since glow products are always a hit, with the right packaging, these items will practically sell themselves!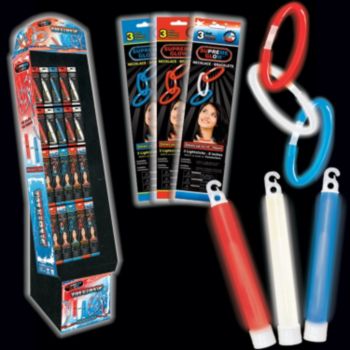 Safety Glow Products
Not only are glow products fun for all, but safety glow products are also ideal for storms, roadside emergencies, power outages, boats, and other instances where safety needs to be a top priority. With a three-year shelf life, you won't have to worry about batteries being dead at a critical moment, like you do with flashlights, and they take up minimal room. Toss some safety glow sticks in your car's glove box, in your boat's storage area, with the first aid kit, and with your storm supplies. Personal markers are ideal for keeping hikers and boaters visible to others and helping alert authorities in case of an emergency. And, for the ultimate in safety preparedness, our survivor kits are available for various sized families, from small to large, and, when paired with our medical kits, will ensure you and your family are ready for any emergency. With the right glow products in your arsenal, you can bet you'll be ready for any contingency, whether you're look for fun or preparing for the apocalypse!
For tips, questions, help planning an event or for recipe and craft ideas, email our party experts at askanexpert@windycitynovelties.com for your personal party planner!