Oktoberfest, one of the world's largest festivals occurring every year in Munich, Germany, will start on September 20th and continue until the second week of October. The festival includes beer drinking, food tasting, music, dancing and more. Individuals from around the globe travel to Munich to experience all that the massive festival has to offer.
If you don't have the opportunity to visit the Munich Oktoberfest, towns and cities all over the country tend to hold their own Oktoberfest festivals. Or, you could create your very own Oktoberfest celebration right in your backyard! Set up a beer tent or beer garden, grill some brats and serve other Bavarian and Oktoberfest treats, and enjoy the company of your friends and family on a nice fall afternoon. Here are some tips and ideas to throwing your own Oktoberfest party!
via Facebook
Munich Oktoberfest includes giant beer tents in which visitors drink beer, eat delicious foods, sing and dance. You can recreate this scene by renting a small tent to set up in your backyard. Decorate the inside of your tent in an Oktoberfest theme—anything blue and white or beer-themed and Bavarian. String hanging lights—better yet, beer lights!—across the inside of your tent. The beer shaped lights will fit perfectly with the theme of the party.
Hang an "Oktoberfest" or "Beer Hall" sign on the front entrance of your tent, along with a blue and white checkered pennant banner. The pennant banner should hang behind the sign, and can be wrapped around the entire tent, hanging by the edge.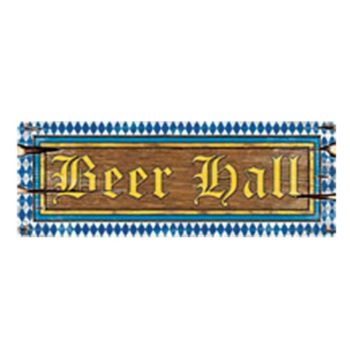 Add a few fall items to your tent décor. Purchase some fake fall leaves and some glitter—any fall colors, like bronze, burgundy, orange, deep purple, etc., will work. Paint glue onto the fake leaves and sprinkle glitter onto them. Your end result is pretty fall leaves! Attach them to a string and hang them around your tent. They will also make for great table decorations. Just shower them on the table tops as you would confetti.
via decorenvy.co.uk
If renting a tent is nowhere in your party budget, have no worries! You can set up the same decorations without a tent. Arrange four poles in a large rectangular shape and attach each set of end poles together by a rope. Then hang your lights across the area, attaching each end to the two lines of rope. They will hang above your guests so elegantly. Set up a backdrop to your party scene (this would look great behind the food table) by taking a large piece of wood or cardboard, and sticking a blue and white Oktoberfest scene setter onto it. Add a few decorations to this backdrop, say, for instance, your glittered fall leaves!
Gather a few fold-up tables or picnic tables for guests to eat at. These will go underneath the tent or under your stringed lights. Cover the tables with blue and white checkered Oktoberfest table covers. Place metallic fall leaf centerpieces down the center of your tables, and, as mentioned earlier, you can use your glittered leaves as table decorations, as well.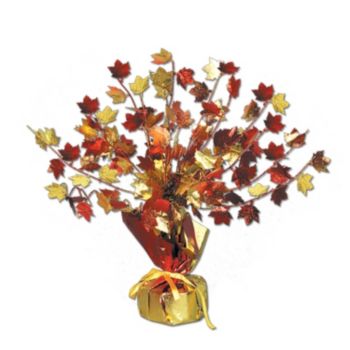 Your beer tent, or eating area, will be the main focus of your Oktoberfest celebration, so you won't need to add much more than this. You can place a few Bavarian flag cutouts or corn stalk cutouts (or real ones) around the party space if you feel you need more party decorations. Any blue and white hanging decorations will add to the party décor as well, such as hanging fans, fluffy decorations, etc.
Have German polka music playing in the background of your party to really set the scene. And, be sure to be stocked up on beer, as this will be one of the major activities at your Oktoberfest party! Get a few kegs and let guests refill their mugs whenever needed. If guests are bored with just kicking back and enjoying some good beer and good food, have them participate in some beer-drinking games like Beer Pong. You can also set out your typical lawn games, such as horseshoes and bags. Once the sun goes down, have everyone gather around the bonfire for a nice nightcap.
At Windy City Novelties, it's our hope that this article inspires you to create a fun and unique party for your loved ones. For more helpful tips on organizing your event, email our dedicated party planning experts at askanexpert@windycitynovelties.com. You may also subscribe to our emails for weekly party planning ideas, featured products and more at https://www.windycitynovelties.com/customer/account/create/