The Indianapolis 500 is a uniquely American event with worldwide appeal. The official Indy 500 Motor Speedway website notes that the site of the race is the worlds largest spectator sporting facility, hosting three events in three major racing series. The Indy 400 (IZOD IndyCar Series) the Brickyard 400 (NASCAR Sprint Cup Series) and the Red Bull Indianapolis GP (MotoGP World Championships. The Indy 500 and Brickyard 400 take place on the 2.5 mile oval with the GP runs on the 16 turn, 2.621 mile road course.
None of these races is quiet or serene. They are about engine power, great pit crews and millions in team investment to win one of these prestigious races.
Frequently rain seems to fall during Indy weekend, which is May 26th, 2013. But most race fans hope for a hot, dry day when the racers can cruise at top speeds and heat from the engines turns the air into a dreamlike quivering heatwave through which the cars hurl like shots out of a dream sequence in the movies.
Not everyone can make it to the track at Indy every year, but motorsports fans often like to gather around the bigscreen to watch the Indy 500 in full color action. With more than 100 years of history behind it—the Centennial was in 2009—the Indy 500 draws fans from all sections of society.
It's not all diehards that watch the Indy 500 in other words. But whether you're an intense fan or someone looking for a good excuse to have friends over for a party, you can decorate in full Indy style if you know where and how to look. You can find Indianapolis Speedway Party Supplies at Windy City Novelties. Here are some party supplies and decoration ideas for a Indianapolis 500 watch party:
- Invite your friends with Racing 500 Personalized Invitations.
- Order a Racing 500 Custom Photo Banner and put yourself in the driver's seat. A little software digital magic can make anything happen these days.
- Set out your spread with a Checkered Plastic Table Cover that comes with screaming loud black and white checkers just like the finish flag. Serve up the food on Indianapolis Speedway 9" plates with brickyard design and full moto emblem on the plate. Get matching Indianapolis Speedway Lunch Napkins and Indianapolis Speedway 32 Oz Cups. These plates and cups are big enough to hold a lot of food and drink, so your guests won't have to jump up and down unless their excited for the favorite car and driver.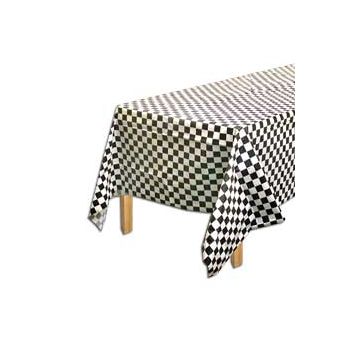 Checkered Plastic Table Cover
Indianapolis Speedway 9" Plates
- Top it all off with Checkered Flag White Balloons with Red Lights. Each balloon flashes with LED lights inside.
- Your fellow racing fans just might like NASCAR as well, and you can line up NASCAR Party Supplies from Windy City Novelties for your next big NASCAR competition. Check out the Raceway Paper Goods that can highlight your IndyCar or NASCAR party in black and white glory. Perhaps you'd even like round out the "black and white checker" part of your decor with the Black and White Check 60" Round Table Cover. So slick and form-fitting you might leave it on all year! And why not?
- Checkered Flag Luminarie Bags are that perfect touch if people are coming or going at night. Light up the alley or entrance way to the racing party with these decorative luminaries.
Checkered Flag Luminary Bags
May 26th is the big day for Indy 2013. But your racing parties can go on all year when you grab a post position with Windy City Novelties.
For tips, questions, help planning an event or for recipe and craft ideas, email our party experts at askanexpert@windycitynovelties.com for your personal party planner!