When most people think of the Fourth of July they think of barbeques. Grilling hamburgers and hotdogs, eating watermelon, and spending time with great friends and family are just a few of the many activities that occur on the holiday. Here are some helpful tips on how to host a great backyard barbeque on the Fourth of July!
4th of July Invitations
Inform friends, neighbors, and family about the little get-together you will be having with some patriotic invitations! You can customize them any way you please, and this way you'll know exactly who is attending when they RSVP.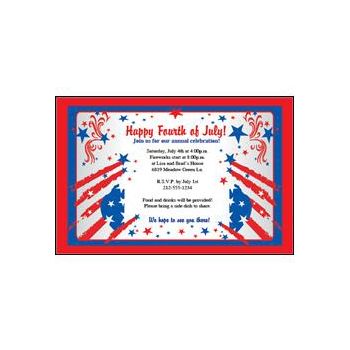 4th of July Decorations
Since it is a holiday, and an important one at that, you will want to make sure you add some decorations. Hang up some traditional red, white and blue bunting around the back porch or deck area, or got with a more modern feel and hang up patriotic tinsel garland. If the party is going to extend into the evening, hang up patriotic paper lanterns around the outdoor entertainment area as an elegant decoration that will also provide a source of light once the sun goes down.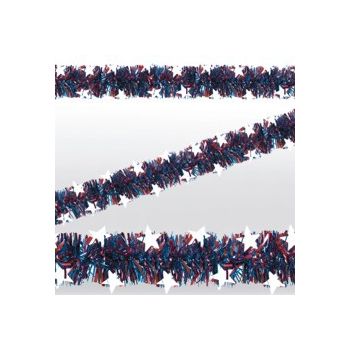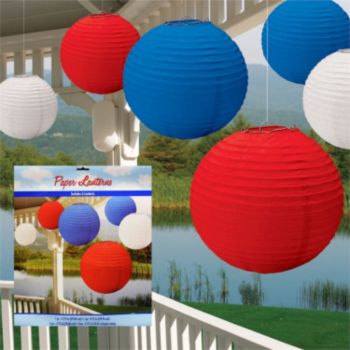 If a large number of people are attending the party, set out patriotic table centerpieces for each table.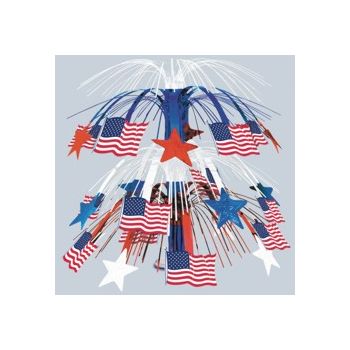 The weather may not cooperate, so adding a few decorations inside the home doesn't hurt. For easy decorating, you can pick up a patriotic ultimate decorating kit, or add some shine with a patriotic metallic starburst decorating kit!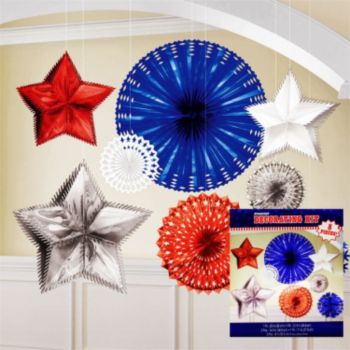 Food and Drinks
You'll want to serve up some snacks and drinks at your party, and patriotic paper goods are the way to go! Because this is a barbeque, you'll want to serve up some grilled favorites, such as burgers, hotdogs, or pulled pork sandwiches. Put out some refreshing watermelon as a side dish, along with baked macaroni and cheese and potato salad. Serve ice cold refreshments, like beer and punch, in paper or plastic cups to ensure no one will break a glass outside. Keep them nice and cool in an inflatable Uncle Sam hat cooler. And, of course, for dessert, whip up some warm apple pie.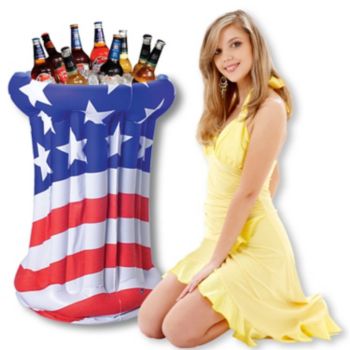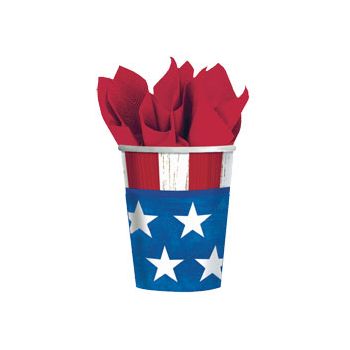 Party Activities
To keep guests entertained you'll want to have some fun outdoor games set up. Set up a bean bags set that teams can take turns playing in, or get everyone involved in a game of volleyball. If it's going to be a hot one, the little ones can stay busy in a water fight with water balloons and mini squirt guns!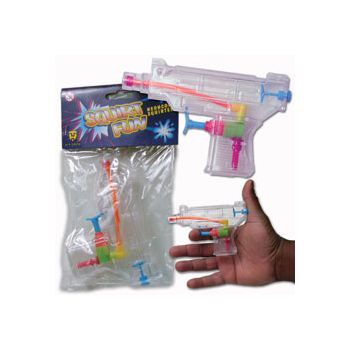 Independence Day wouldn't be Independence Day without fireworks! Hand out glow sticks, necklaces, and bracelets to guests to watch the fireworks show with. Tell guests to bring their funky patriotic light up accessories, such as hats and headbands, light up star necklaces, light up glasses, and so on. If you want to really get creative and fun, you can serve drinks in glow drinkware, complete with glowing straws and glowing ice cubes!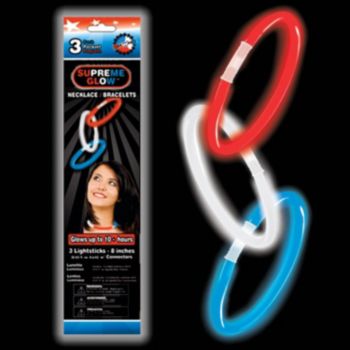 For tips, questions, help planning an event or for recipe and craft ideas, email our party experts at askanexpert@windycitynovelties.com for your personal party planner!