"People always ask me how long it takes to do my hair. I don't know, I'm never there."
-Dolly Parton

If you're a country music star you might be used to having your hair styled while you're not around, but most people just go with what nature gave them-or took away,--until a fun, wig-wearing opportunity comes along. There is something very freeing about pretending to be someone else, and with so many wigs to choose from, you might want to invent a few occasions of your own. The following are some fun wig ideas for the next occasion.
- Being a sports fan is all about wearing team jerseys, holding up foam fingers, and hollering yourself hoarse. Why not step things up by donning a funky team spirit wig in your favorite team's colors? Choose from red, black, orange, purple, yellow, green, and two shades of blue. Imagine how awesome it would look to see a row full of wig-wearing fans doing the wave!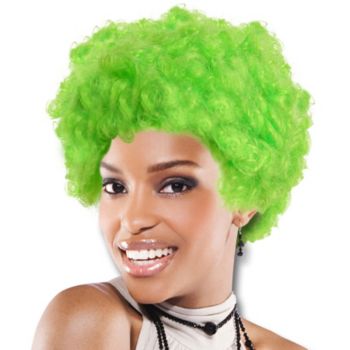 - With all those baby-boomers coming of age, you're likely to be invited to a Fifties party. Whether you are inspired by "I Love Lucy" or "Happy Days" there is a fabulous fifties wig to complement your costume. Get a group of guys into matching suits, add Doo-Wop Daddy wigs, and they become The Drifters. Learn a few dance moves and the words to "This Magic Moment" and the ladies will be swooning. It's never too late to be a blonde bombshell with the help of a flaxen flip wig. A vavoom dress and red lipstick will make anyone ready for their close-up.
- The world got a lot hairier in the 1960s and there are plenty of 60s wigs that can take you back to the days of peace and love. It is not difficult to throw together a costume with a tie-dyed t-shirt, fringe-bottomed jeans, and a classic Hippie wig. Perhaps you feel more in tune with Carol Brady, in which case you would need a short, polyester dress and a groovy mom wig.
- Not many are sorry the disco days are over, but it can be fun to bring them back for just one night with the help of a 70s wig. White suit, black shirt and a, Disco Dude wig will have you feeling the fever all over again. It literally would not take much to put together a "Charlies Angels" costume. The Far-Out Fara wig would pretty much say it all.
- Mullets, Mohawks, and multicolored locks dominated the 1980s and there is an 80s wig for whichever look you choose to rock. Pull together a black t-shirt, black vest, a pair of cargo pants and a Mr. Hammer wig to turn yourself into the iconic tough-guy. You won't pull it off without the gold chains though. Prove you know girls just want to have fun with a True Colors wig, ankle boots, lace tights, a tulle skirt, shirt, and jean jacket.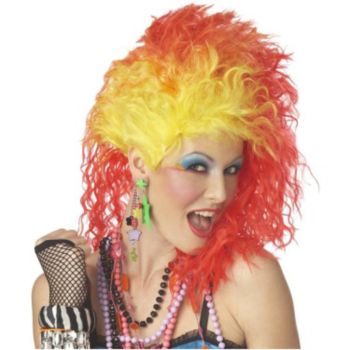 - Step into the role of a favorite fictional character with a movie wig or television wig. Are you a good and kind Glinda in a princess dress and crown, or the young, innocent Dorothy wandering Oz in her checkered bib skirt and red glitter shoes? It would be completely rational to wear the classic Spock wig with a pair of tight pants and knit shirt—especially since the pointed ears are included.. If you are brave enough to wear spandex and don't mind talking funny, try the wrestling star wig. A Snooki wig will look great with some tight clothes, a spray tan, and black eyeliner.
- Whether you want to be a queen, an alien, pirate, rock star, Greek goddess, werewolf, anime character, or even Mrs. Obama, there are over two hundred ladies costume wigs and more than ninety guys costume wigs from which to choose.
- It's no surprise that boys and girls like make-believe too. Indulge them with kids wigs to go with any costume, including favorite characters from "Wizard of Oz," "Harry Potter," and "Monster High." There are also wigs for young rockers, princesses, colonists, vampires, and others.
If you can't decide on a character or costume, you can still light up the night with a very cool, L.E.D. wig. The glowing locks come in a variety of styles and colors.
Whatever you decide to wear, a fun and fabulous wig will put the crowning touch on your costume and your party.
For tips, questions, help planning an event or for recipe and craft ideas, email our party experts at askanexpert@windycitynovelties.com for your personal party planner!