As Thanksgiving draws closer you may start to panic as you realize you're not ready to host the family for dinner. Whether it's the first time you're hosting the family holiday or your fifteenth, you always have to wonder if you've got all the supplies you need to make this holiday one to remember. From paper products to decorations to other essentials, we've got all the supplies you need to ensure this Thanksgiving is the best one yet! Here's our Top 10 list of Thanksgiving supplies to help you stock up before the big day.
1.) Invite your friends and family to join you for the Thanksgiving festivities with personalized Thanksgiving invitations. A bit more formal than your typical email invitation and much more reliable than word of mouth, sending out Thanksgiving invitations, especially when you have family coming in from out of town, set the stage for a memorable holiday and makes everyone feel special!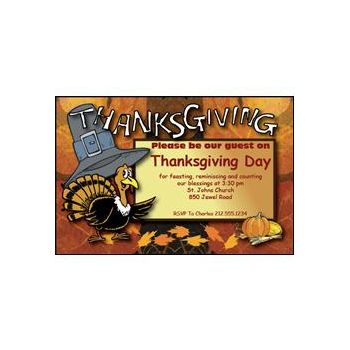 2.) When you're expecting a full house and need to pack them in with card tables and folding chairs, you can still make the extra tables look festive, even if you have to rely on Thanksgiving paper goods instead of you finest china and linen tablecloth. Our Thanksgiving Harvest table cover with its pretty autumn pattern, will create the perfect base for your Thanksgiving meal and table decor.
3.) Thanksgiving Harvest 10" plates will be able to handle all those tasty Thanksgiving Day treats you'll be dishing up and will look great while you do it! With a festive turkey and fall design, these plates will be a festive accent to your holiday table and, as an added bonus, will make clean up a breeze when the meal is over!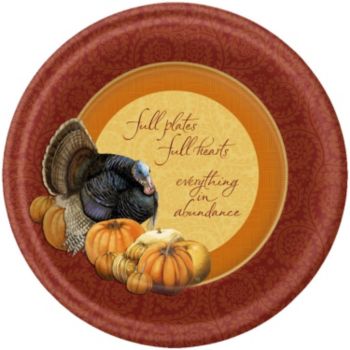 4.) Add plenty of Thanksgiving Harvest Napkins to the table to wipe off greasy fingers, gravy drips, and mashed potato messes and you'll have everything you need to enjoy your Thanksgiving Day meal in style without the hassle of worrying about washing dishes when you're done!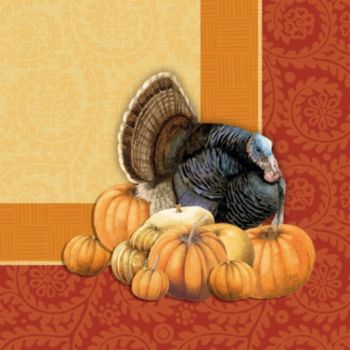 5.) If you have your heart set on using your best dishes for your Thanksgiving meal but want to set them off with a pop of color, try our Bronze Woven Chargers. Place these 13-inch under your regular plates and you'll give your Thanksgiving table an elegant look that everyone will appreciate.
6.) Spice up your appetizers, desserts, and other delicacies with Plastic Pumpkin Picks. Perfect for keeping sandwich rollups together, spearing meatballs, dipping fruit pieces and other goodies into chocolate sauce, or garnishing drinks, these orange plastic picks are topped with a tiny pumpkin to fit with your Thanksgiving decor.
7.) Serve up your drinks in style with Thanksgiving Turkey Bottom Lit Cups. These 16 ounce cups feature a festive turkey design on the bottom that is lit up with high powered LEDs so your guests will get a "Happy Thanksgiving" message every time they tip their glass!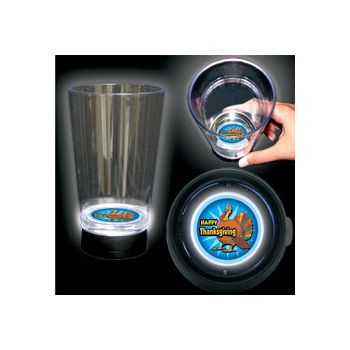 8.) Don't forget to add some Thanksgiving Guest Towels to the powder rooms and bathrooms before the guests arrive. More hygienic then regular hand towels, these high-quality paper towels feature a festive autumn design that will add a touch of elegance and Thanksgiving spirit to your bathrooms.
9.) Be sure you keep your holiday clothes clean and splatter free by covering up with our Turkey Carver Apron. Whether you're wearing it yourself or handing it over to your husband as he deep fries the bird, this apron, with an image of a Thanksgiving turkey on the front, is sure to get a few laughs from your guests while keeping you clean.
10.) And for those of you who really want to get into the Thanksgiving spirit, our selection of Thanksgiving Costumes is sure to do the trick! Whether you're planning a school pageant and need to outfit everyone as Pilgrims and Native Americans, want a Drumstick Headband to greet your guests in, or think your daughter would make the cutest little Turkey ever, these costumes will add a little extra whimsy and wonder to your holiday festivities!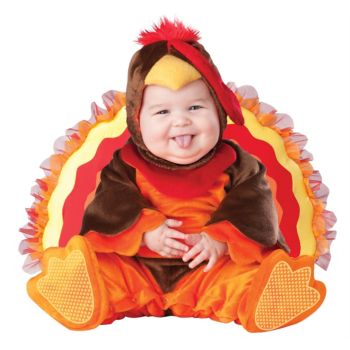 For tips, questions, help planning an event or for recipe and craft ideas, email our party experts at askanexpert@windycitynovelties.com for your personal party planner!