A Guide to our Disney Costumes
09/27/17
Some of the most beloved characters in the world first came to life in the Magic Kingdom, so when it's time to find just the right costume for a party or Halloween, it's only natural that your thoughts turn to Disney. When it comes to Disney Costumes, it's not all about the Mouse—although our friend Mickey deserves a lot of credit for getting the ball rolling. These days, the grounds of the Disney castle are overrun with princesses, not to mention pirates, monsters, evil queens, fairies, knights, and even a Mad Hatter. Windy City Novelties is proud to bring a bit of the "happiest place on Earth" to you, with Disney costumes for everyone in the family, from babies, to teens, to adults.
Disney Infant Costumes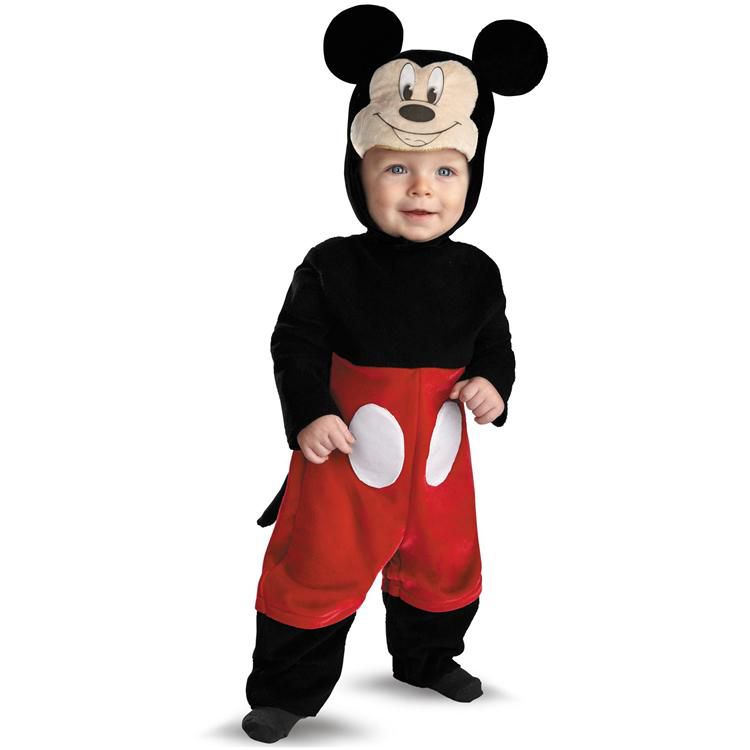 It's hard to believe your little kiddos could be any cuter than they already are, but get ready to hear a lot of ooohs and ahhhs when you dress them up in Disney Infant Costumes. Everyone needs to dress up as Mickey Mouse at some time in their life, and you have to agree, a small mouse is easier to love than a big one.
The Disney Mickey Mouse Infant Costume is a plush polyester jumpsuit, which will keep your little one cozy while out doing some stroller trick-or-treating on Halloween. The black jumpsuit has attached red shorts with big white buttons. The costume includes a detachable tail and a character headpiece with Mickey face and ears. The officially licensed Disney costume comes in two sizes, 6/12 months and 12/18 months.
The cuteness level of the Disney Red Minnie Mouse Infant Costume is completely off the charts. The Minnie dress has a soft black yoke with short puffy sleeves. The red dress is made of a sheer, organza-like fabric with large white polka dots. A big bow of the same fabric decorates the center of the yoke. The Minnie costume includes a character headband with ears and a bow. The officially licensed Disney costume is available in 6/12 and 12/18 month sizes.
Tigger is described in the Winnie-the-Pooh stories as always bouncing, so the Winnie the Pooh – Tigger Infant Costume should be perfect for your bouncing baby. This huggable plush costume features an orange jumpsuit with black tiger stripes  and a paler coordinating belly. The attached character hood has a 3-D face and ears and is elasticized for a comfortable fit. The Tigger costume, which is available in size 12-18 months, comes with a detachable tail.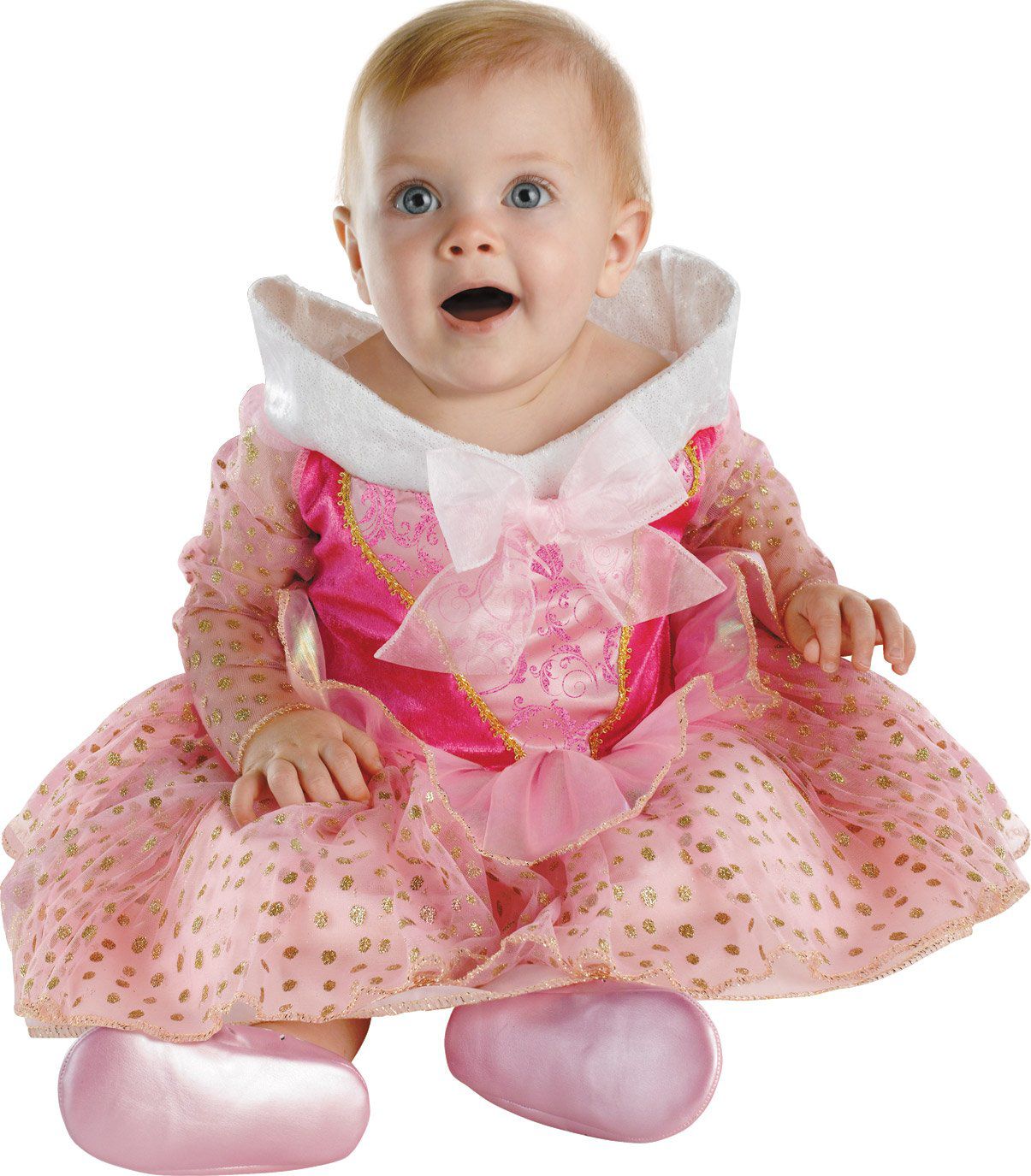 There's not much sweeter than a sleeping baby, but a baby in a Sleeping Beauty Aurora Infant Costume may take the prize. The Sleeping Beauty dress has a full, pale pink skirt with a sheer organza-like overlay, spangled with metallic gold dots. The long sleeves are made of the same material. The bodice of the dress is a darker pink satiny fabric embellished with scroll embroidery, gold braid trim, and a bow in the center of the white stand-up collar. Add some little satin slippers and a soft headband tiara and your sleeping beauty is ready to meet her prince.
Bring a "Toy Story" character to life with the Toy Story – Woody Infant Costume. This one-piece costume is designed to look like blue jeans with a belt and holster, a yellow shirt, a cowhide vest, a red bandana, and a sheriff's badge. The officially-licensed Disney costume includes a soft brown cowboy hat and boots.
Your sweet baby will look magical in the Tinkerbell Infant Costume. This tiny Tink dress is spring green with a sleeveless satiny yoke, empire waist, and floaty layered skirt in pink and green with an off-set petal hemline. The dress is trimmed with pink ruffles on the sleeves, yoke, and waist. The dress has lightweight silvery mesh wings attached. 
Disney Child/Toddler Costumes
Dress your babies in any costume you like while they are still too young to voice an opinion. Once they get a little older, they are likely to want a say in what they wear for Halloween. Luckily there are no bad choices when it comes to Windy City's Disney Child/Toddler Costumes.
Your little princess will be ready to dance the night away—at least until the clock strikes midnight—in the Storybook Cinderella Prestige Toddlerchild Costume. The sparkling blue Cinderella ball gown has a split skirt with a white and silver patterned inset that extends up onto the bodice. The dress has a white peplum, puffy sleeves and a character cameo. The Cinderella costume includes a blue choker and headband. The ball gown is available in sizes 3-4T and 7-8.
The Disney Mulan Sparkle Toddler/child Costume is perfect in shades of pink and deep purple. The ballerina-length dress has a satiny pink skirt with a sheer sparkly overlay cut like tulip petals and a purple peplum. The kimono-style bodice is pink satin with a darker pink and purple obi. The three-quarter-length sleeves are trimmed with a wide purple band. The Mulan costume includes a character cameo. It is available in extra-small (3-4T), small (4-6x), and medium (7-8).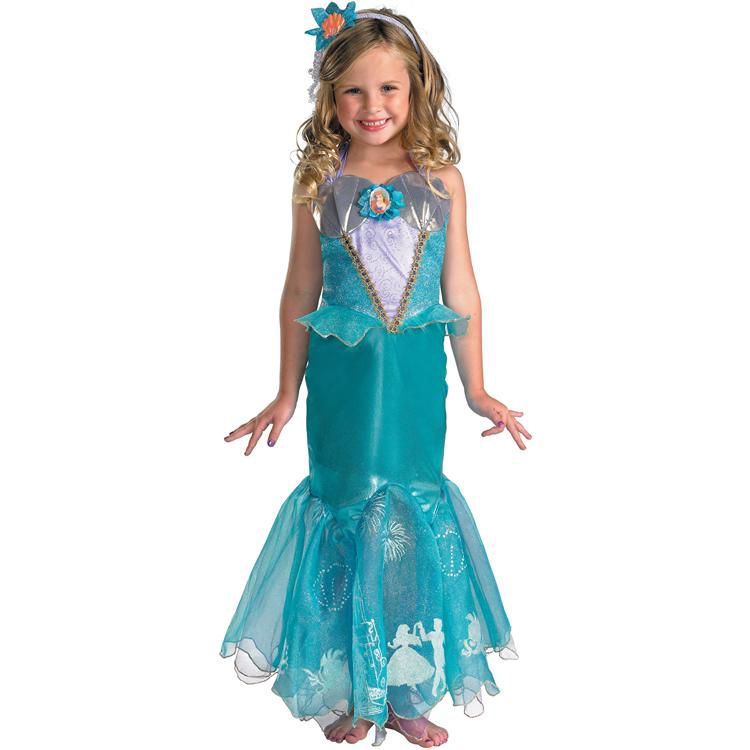 There's nothing fishy about the Storybook Ariel Prestige Toddler/child Costume.The appropriately mermaid-style turquoise blue dress has a full-length straight skirt with a matching sheer ruffle starting at the knees. The ruffle has shadowy images of Ariel dancing with Prince Eric, fireworks, and some of her underwater friends. The sleeveless bodice has a contrasting V insert, shell detailing, and a peplum. The Ariel costume includes a character cameo. It is available in toddler, small, and medium sizes.
Lest the boys feel left out, there is the Disney Jake and the Neverland Pirates Captain Hook Toddlerchild Costume. The Captain Hook costume is a one-piece jacket with attached shirt, designed to be worn with your child's own pants. The polyester costume is styled to look like a long, flared coat in red with gold trim along the placket. The long sleeves have white ruffles at the ends that match the bib-like ruffle at the neck. The jacket has an ammo band draped over one shoulder. The costume includes an elaborately plumed red hat. Purchase the Captain Hook costume in 2T or 3-4T.
Every kid dreams of being a hero and the Toy Story – Buzz Lightyear Deluxe Toddlerchild Costume lets them travel to infinity and beyond in search of glory. The Buzz Lightyear costume includes a polyester white bodysuit with flared legs that have green bands at the bottoms. The green bands also appear at the elbows of the long white sleeves, and around the waist. The jumpsuit includes an attached green chest piece, purple hood, and white boot spats. Buzz Lightyear is available in toddler, small, and medium.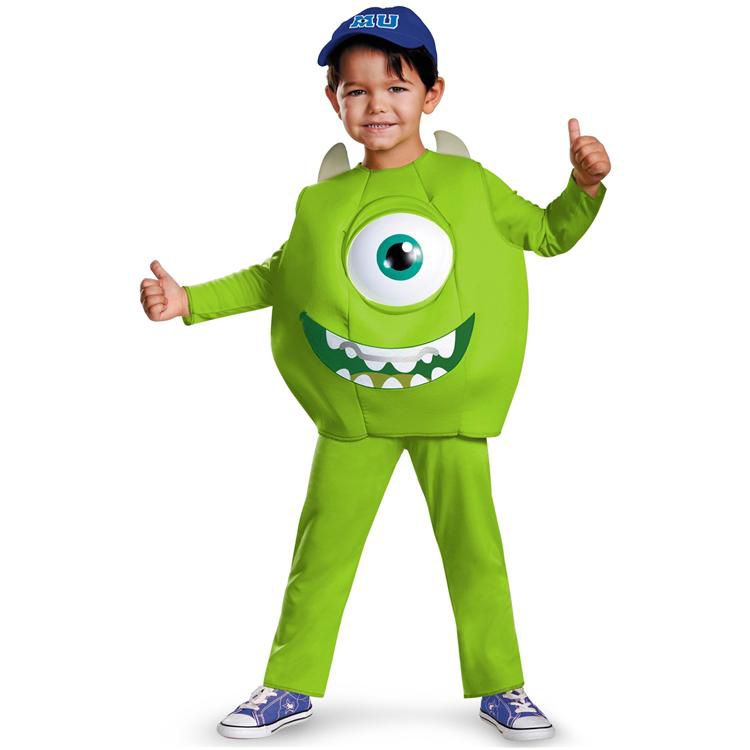 No one is saying your child is a monster – but if the costume fits...The Monsters U Mike Toddler/child Costume is more fun than scary, just like the monsters in the movie. The officially licensed Disney Pixar Mike costume has a green polyester, long-sleeved jumpsuit with a polyurethane foam overlay. The round overlay has one huge 3-D eyeball and a big, toothy smile. There are small horns on the shoulders. The Monsters U Mike costume is available in 2T, 3-4T, and 4-6. 
Disney Tween Costumes
Tweens can be notoriously hard to please, but you aren't likely to hear any complaining once they see the Disney Tween Costumes. Warn your daughters to watch out for rabbits before you let her out trick-or-treating in the Alice Tween Costume. The Alice costume features a short blue dress with a full skirt and ruffled crinoline underneath. The dress has short puff sleeves, also with a white ruffle, and an attached white apron. The dress is worn with black-and-white striped calf-length leggings and matching elbow-length fingerless gloves. The Alice tween costume comes in large and extra-large. Your youngster will look extra-cool if you add the Alice Tween Wig The long, straight blonde wig has full bangs and is streaked with pale blue highlights. It includes a black headband. The Alice wig fits most kids, tweens, and teens.
Snow White had to get tough in "Snow White and the Huntsman" and your tween can prepare to battle trick-or-treat crowds in the Snow White Armor Tween Size Costume, The armor costume, designed to look like chain mail and metal, features a silver tunic, chest plate, shoulder pieces, gauntlets, and pants with over-the-knee armor detailing. The officially licensed costume is available in small and medium. If you saw the movie, you know Queen Ravenna was quite the beauty until her vanity pushed her over the edge. The Snow White & the Huntsman Deluxe Queen Ravenna Tween Costume hints at the evil that lurks behind the gorgeous face. The Queen Ravenna costume is a full-length black dress with a fitted bodice, and a fringed peplum. The dramatic sleeves are puffed to just above the elbow, leaving long trails of fabric to dangle free, and continue in a contrasting fabric, tight to the wrist. The Queen Ravenna dress comes with a dangerous-looking steel gray crown. The costume is available in small and medium.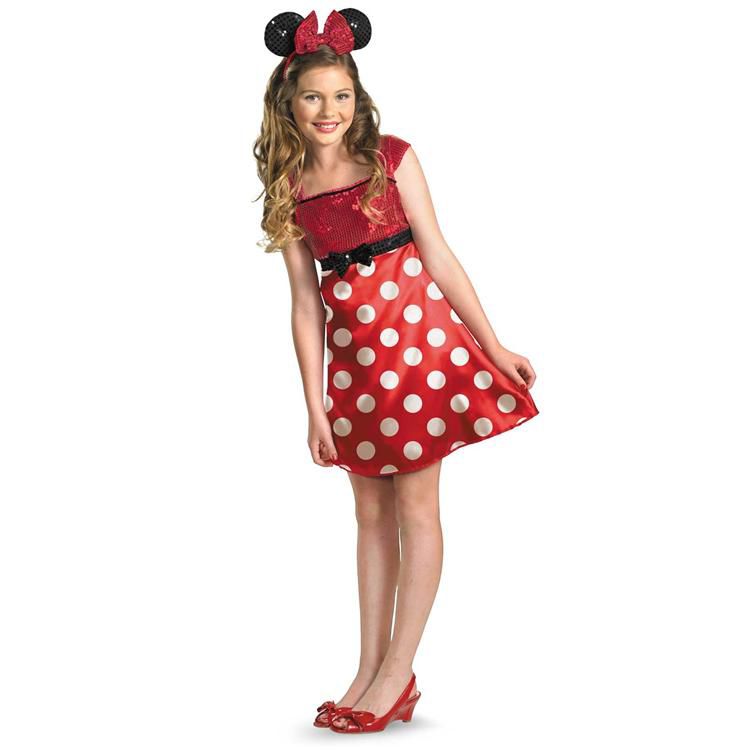 Convince your tween to be sweet with a Disney Mickey Mouse Clubhouse Red Minnie Mouse Child Tween Costume. The Minnie Mouse dress has a double skirt with a plain pink bottom layer and a pink with white polka dot overlay, that falls to just above the knee. There is a black sash and bow at the drop waist of the dress which features a blow-up of Minnie's face on the bodice. The round-necked dress has short puffed sleeves in the polka dot fabric. The costume includes a headband with ears and a bow. The Minnie dress is available in medium (7-8), large (10-12), plus (10.5-12.5), and tween (14-16). 
Disney Adult Costumes
Older kids and grown-ups can get in on the fun too with Disney Adult Costumes. There are fewer opportunities to play dress-up as people get older, so take full advantage of Halloween and other costume-worthy occasions with the Disney Cruella Adult Costume. The costume features a fitted black dress with red seaming down the front and Dalmatian trim across the top. Clear straps keep the dress in place. The Cruella outfit includes a white fur bolero, and a white fur wrap with black fringe. Complete the look with your own red high heels, over the elbow gloves, and a dramatic two-tone wig.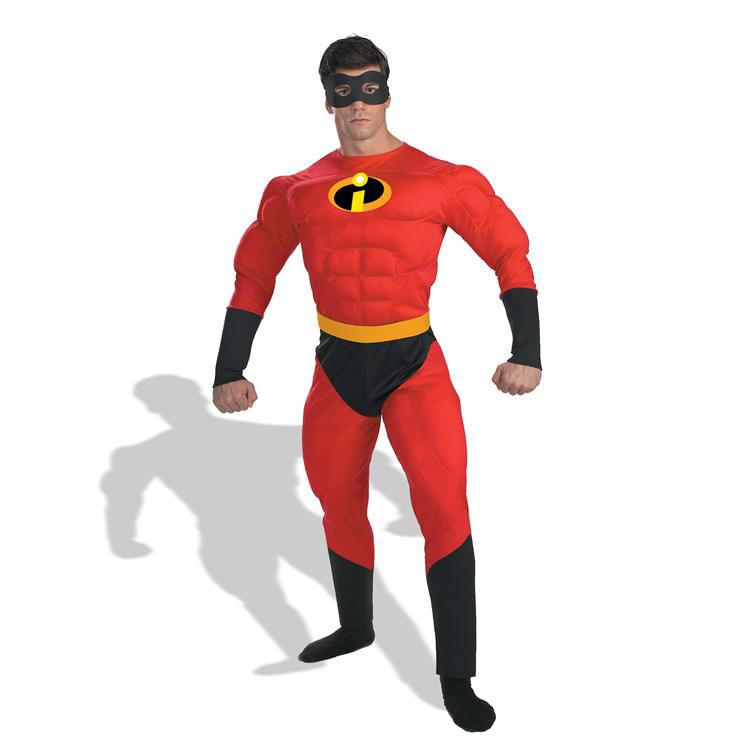 What man wouldn't like to be called Mr. Incredible? No need to worry if you don't think you have the physique to pull it off - the Mr. Incredible Muscle Adult Costume comes with six-pack abs built right in. The Mr. Incredible costume is a full muscled bodysuit detailed to look like a red leotard with black briefs, boots, and gauntlets, a yellow belt, and a chest emblem. A black eye mask is included. 
Disney Accessories
For those who think themselves too cool or too old for a costume, Windy City Novelties has lots of accessories that will let you make a nod to dressing up without going all-in. The Disney Toy Story – Adult Woody Accessory Kit includes a brown cowboy hat, faux cowhide vest, a sheriff's star, and a red bandana. Add your own blue jeans and a yellow shirt and you're ready to ride. Folks are bound to stay out of your way when you put on the Disney Maleficent Hat Adult. The officially licensed horned hat is the signature accessory of the disgruntled fairy. The Maleficent hat is black velvet with purple trim and covers the entire head, curving down in the center of the forehead to create a widow's peak. The hat has a hidden inner pocket for carrying evil charms no doubt. The Alice in Wonderland Movie – Mad Hatter Hat Adult is a marvelously eccentric creation sure to put the wearer in the mood for mischief. The padded satiny top hap has the look of brocade, with a striped patch, and a peacock eye feather. A peach-colored scarf has been pressed into service as a hat band. The officially licensed Mad Hatter hat has a circumference of 23 ½ inches.
Next time you need a costume, dive into a world of imagination with your trusted friends Windy City Novelties and Disney.