Enjoy What's Left of Summer with These Delicious Barbecue Party Recipes
09/27/17
Labor Day—which usually symbolizes an end to the summer—will be here in just a few short weeks, meaning that Summer 2014 is already almost over. Where has the time gone?! Salvage what's left of the summer by spending time outdoors with friends and loved ones. Invite friends over for a pool party or a backyard barbecue. Or, invite family members to a family reunion picnic in the park. Take advantage of the long Labor Day weekend to enjoy the last of the summer weather, because, before we know it, we'll be hibernating for the winter season.
And, no matter what type of end-of-summer bash you are throwing, wherever there's a party, there's food! Reward guests with the ultimate summer experience when you serve them the best barbecued foods and treats they've ever tasted, whether you are hosting the party or simply attending. Here are some easy-to-make, yet super delicious, summer barbecue recipes to try before the summer is over!
Burgers and hotdogs are the traditional go-to entrée for barbecues or picnics. And with good reason—they're delicious and so American. But you can offer party guests something extraordinary they will surely devour when you serve unique and fun variations of these conventional, yet tasty, food items! 
BBQ Burger Bite Cups
These Burger Bites are quick and simple to construct, and will make for a great appetizer or main course at your summer barbecue.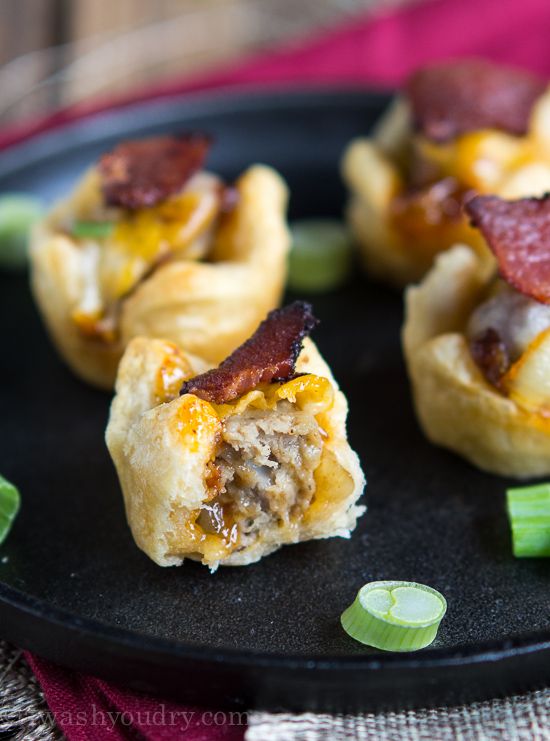 via iwashyoudry.com
What You Need (for 16 servings):
-2 tubes (each 8 oz.) of crescent rolls, refrigerated
-16 home-style meatballs, fully cooked - You can purchase a frozen bag from the grocery store or make your own. They must be thawed when preparing for this meal.
-1/2 cup white onion, minced
-Cheddar cheese - Now, you can decide to use shredded cheddar cheese or a sliced block (1 oz.) cheddar cheese.
-3 slices of cooked bacon, choppe
-1/2 cup of your choice of barbecue sauce
Cooking Directions:
Preheat the oven to 350 degrees. While it's heating up, spray non-stick cooking spray onto several cupcake tins. Separate the crescent roll dough into its sectioned triangles then cut each triangle to become a square. Take the square pieces of dough and place them into the cupcake pockets, pushing down the dough to form to the shape of the pocket. If you wish, you can take the extra pieces of dough and combine them to form a few extra burger bit cups. Otherwise, discard them.
Once your oven is at 350 degrees, place the crescent rolls in for 6 minutes.
In the meantime, pour 1 tsp of oil into a skillet and sauté the onions. Once they become darker and tender, add in the thawed meatballs, barbecue sauce and 1 tbsp of water. Stir this mixture for about 4 minutes. If you want to make these meatballs a tad spicy, add a dash of chili powder and a splash, or two, of hot sauce into the skillet and mix.

Once the crescent rolls have been baking for 6 minutes, take them out and create an indentation in the middle of each one with a spoon. Place one meatball (include some of the cooked barbecue sauce and onions) into each of the crescent roll cups, topping them off with sprinkles or slices of the cheddar cheese. Bake at 350 degrees for an additional 8 to 10 minutes.
While these are baking, cook your bacon on the stove. Soak them in paper towel afterwards, cut them into tiny pieces, and sprinkle them onto your burger bites once they are done cooking.
Let cool, and serve! 
If you're attending a barbecue or picnic, and the host has got the entrée covered, you can always bring an awesome appetizer or side dish to pass around. Any type of salad—a regular salad, pasta salad, fruit salad, potato salad, etc.—will work great alongside burgers, hotdogs and brats. Or, you can make something different that no one was expecting, but that everyone will love! Try this Barbecue Macaroni Salad or these delicious Veggie Bars.
Barbecue Macaroni Salad
This barbecue macaroni salad puts an interesting twist on the traditional macaroni salad.
via thekitchn.com
What You Need (for 10 – 12 servings):
-1 box of elbow macaroni
-1 cup of mayonnaise
-1/2 cup of the barbecue sauce of your choice
-1/8 tsp garlic powder
-1/4 tsp hot sauce
-1/2 tsp chili powder
-2 tbsp apple cider vinegar
-4 tbsp purple onion, finely chopped
-2 tbsp green onion, finely chopped
-1/2 cup carrots, shredded
-1/2 cup cucumber, cubed
-1 celery stalk, finely chopped
-1 red bell pepper, finely chopped
-1/2 cup Colby Jack cheese, cubed
Cooking Directions:
First, cook the macaroni according to the cooking instructions on the package.
While that's cooking, combine your sauces into a large bowl (barbecue sauce, mayonnaise, hot sauce, vinegar and seasonings).
Once the noodles have cooked thoroughly, drain them. Then rinse them off with cold water and drain them a second time. Toss them into the large bowl with the sauces and seasonings mixture.
Now add the chopped vegetables and cheese to the large bowl. Stir, making sure the ingredients are evenly mixed together.
Refrigerate the macaroni dish for a few hours before serving so that everything has a chance to sit and catch flavor. Then enjoy!
Veggie Bars
These veggie bars will allow guests to eat an assortment of vegetables at once, on one little bar. And they're very easy to make!
What You Need:
-1 tube of crescent rolls
-1 (8 oz.) pack of cream cheese, thawed
-1/2 pack ranch dressing mix
-grated cheese (of your choice)
-You can choose the vegetables you prefer. I used broccoli, red onions, tomatoes and red peppers. Make sure all vegetables are finely chopped.
Take out the crescent rolls, keeping them in one giant rectangle of dough. Set this dough in the bottom of a greased cake pan, or any other pan of your choice that will fit it. Press down the dough and stretch it out to fit the bottom of the pan. Bake the dough at 350 degrees for 10 – 12 minutes, or until golden brown.
Meanwhile, put the thawed cream cheese into a mixing bowl, along with the ranch dressing powder. Mix together well.
Mix all of your finely chopped vegetables together. If you prefer, you can add a few drops of oil and a dash of Italian seasoning to the mixture. Add in the grated cheese, as well.
Once the dough has baked, let it cool for 5 or 10 minutes. Then spread the cream cheese mixture over the dough. Sprinkle on the vegetable mixture, making sure they lay evenly across the baked dough.
Cut into little squares and then serve! 

Present all of your delicious creations on a decorated, buffet-style table. Gingham printed table covers or paper goods are always a good choice for picnics or barbecues. If you plan to use gingham printed paper goods, such as plates and napkins, then use a solid color table cover.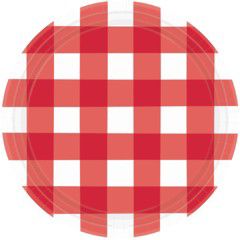 Use unique trays to serve your fabulous dishes in! These will also second as decorations. Use a flip flop shape serving tray, or any other serving tray that fits the theme or color scheme of the party.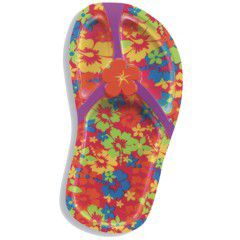 Add a few decorations to the table. You could place two sets of balloons—that match the color scheme—on the back corners of the buffet table. Drape a banner or garland across that front of the table. You could even hang decorations on the wall behind the buffet table! Or, if your party is under a pavilion or shelter, hang a few decorations from the ceiling to add some flair to the party.