Host a Costume Contest this Halloween
09/27/17
When throwing a Halloween party, one of the ways to get guests excited about showing up in costume is to tell them that there will be a costume contest and that the winner will receive a special prize. Some may get creative and construct a costume you might have never thought of! You, the party host, can decide what the prize will be, whether it's a small cash prize, a bottle of nice liquor or wine, a type of gift basket, etc.
In addition to an awesome prize, you can also reward your guests with an award in the form of a sash, so everyone will know they were the winner, and they will be able to take home a souvenir from the amazing Halloween party you threw. You can offer several different types of awards with sashes available for the funniest costume, the scariest costume, and, of course, the overall best costume. You, the host, can choose who will be awarded which title, or you can designate one of your guests to be the costume judge. You can also have each guest write down their favorite costume on a piece of paper during the party and collect them all to see which costume was mentioned the most!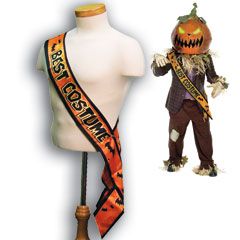 Teachers can also get their students excited about Halloween by holding a costume contest during their in-class Halloween parties. Instead of rewarding students with a special prize, teachers can reward them with a costume award ribbon—so other children do not get upset about not receiving a special gift. Also, these Halloween Award Ribbons come with a 1st place, 2nd place and 3rd place ribbon, allowing children a better chance of receiving a costume award! You can have the children participate in the Halloween costume contest by having them write down their favorite costume, and award the students that were mentioned the most.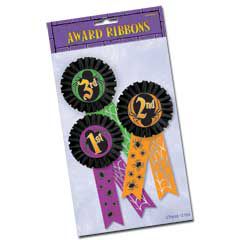 Bars and restaurants throwing Halloween parties also often have costume contests. If you own a bar or a restaurant, get your Halloween party participants involved by throwing your own costume contest! Have the employees be the judges of a select few that have great costumes, then get everyone else at the bar to root for their favorite. Reward the winner of the costume contest with a shiny "Best Costume" trophy. You can also provide a reward for sexiest costume with a "Sexiest Costume" trophy!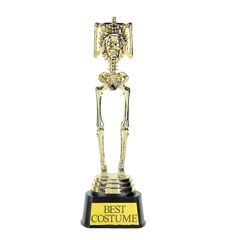 At Windy City Novelties, it's our hope that this article inspires you to create a fun and unique party for your loved ones. For more helpful tips on organizing your event, email our dedicated party planning experts at [email protected]. You may also subscribe to our emails for weekly party planning ideas, featured products and more at https://www.windycitynovelties.com/customer/account/create/