Oktoberfest Recipes
09/27/17
You don't need to travel all the way to Germany in order to experience all of the delicious fare and cold beer Oktoberfest has to offer. You can host your own Oktoberfest party and serve your version of Oktoberfest favorites! Set up a few Oktoberfest decorations, and then focus a majority of your time making the food—because the food and beer is the best part of Oktoberfest, and if you have these two things, your party is already a success! For large parties, serve your snacks on Oktoberfest themed paper plates and napkins to make it easier on yourself when it's time to clean up. Plus, these plates and napkins will match perfectly with your Oktoberfest decorations!
Choose from a few of these Oktoberfest recipes for your party menu. You can even incorporate your own cooking style into these delicious dishes!
Appetizers
Pretzel Sticks/Bites: Pretzels are a very common snack at Oktoberfest, so why not incorporate that into your Oktoberfest party menu? Instead of serving giant soft pretzels, you can make your own pretzel sticks, or bites, and serve them with beer cheese and/or mustard. Here is a recipe from gatherforbread.com: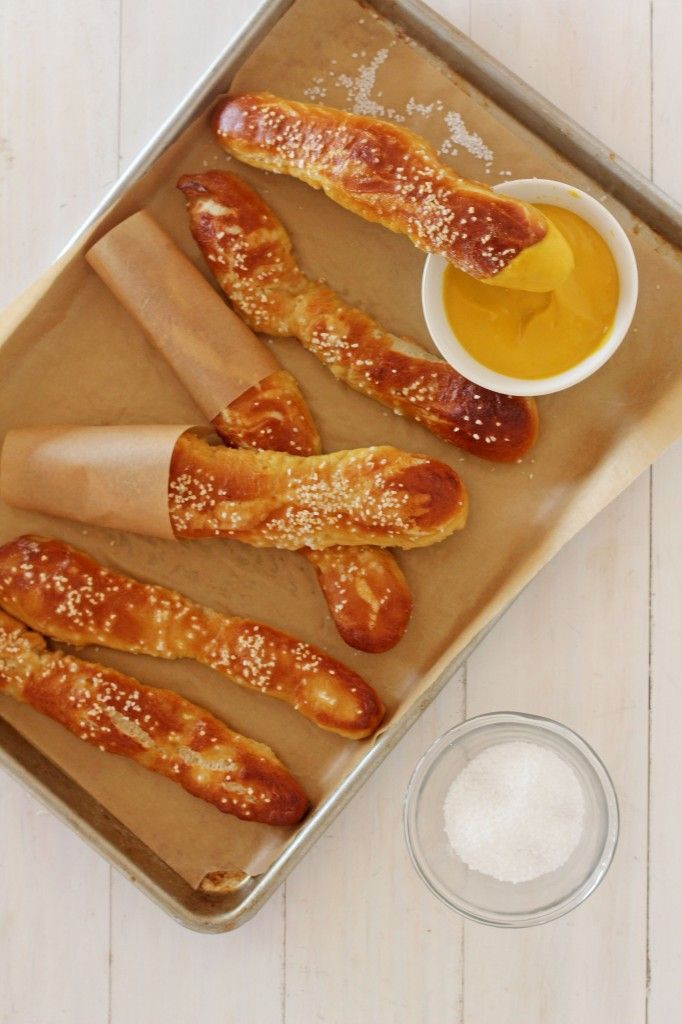 Ingredients:
-1/2 cup light brown sugar
-2 cups warm water
-5 ½ teaspoons active dry yeast
-1/4 cup vegetable oil
-5 ¾ cups all-purpose flour –more needed for kneading
-3/4 cup baking soda
-1 large egg, beaten, with 1 tablespoon of water added
-1 tablespoon of butter –for parchment
-parchment paper
Instructions:
- In a large bowl stand mixer, mix brown sugar and 2 cups warm water until the sugar is dissolved. Sprinkle yeast over the mixture and let it stand until foamy-5 minutes. Stir in the vegetable oil and 3 cups of the flour. Knead in the remaining flour until the dough is smooth and silky-3 minutes. If your dough is still sticky, knead in another ¼ cup of flour.
-Transfer the dough to a large, greased bowl, cover the bowl with plastic wrap and let stand at room temperature until it has doubled—about 45 minutes.
-Preheat the oven to 450 degrees Fahrenheit and line 3 large cookie sheets with parchment paper, buttering each piece of paper. On a separate floured surface, punch down the dough and turn it out. Knead the dough lightly, and then flatten it out into 24 equal pieces. Roll each piece into a 7 or 8 inch stick, about a ½ inch thick. (Chop each "stick" into smaller pieces in order to make bites, rather than sticks.) Transfer the sticks to the prepared cookie sheets, leaving at least 2 inches between them. Let stand uncovered until puffed—25 minutes.
-Heat up 1 cup of water on your stove or in your microwave. Keep it hot until needed.
-In a large, deep skillet, stir the baking soda into 2 quarts of water, and bring to a simmer over high heat. Reduce the heat to medium once it simmers. Using 2 slotted spoons, carefully transfer 6 pretzel sticks at a time to the simmering water. Let sit for 15 seconds then turn over for an additional 15 seconds. Add 1 cup of hot water before cooking the second batch of pretzels. Transfer the pretzel sticks to paper towels to drain and then return them to the cookie sheets, spacing them out evenly. Add 1 cup of water to the skillet in between each batch of pretzels.
-Brush the pretzel sticks with the egg wash and sprinkle with salt. Bake the pretzels until deeply browned—10 minutes.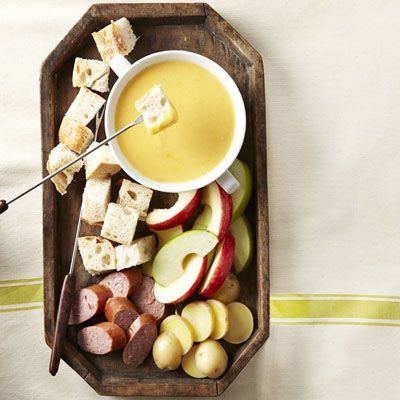 Beer Cheese Fondue: Whip up a beer cheese fondue as a perfect appetizer for your Oktoberfest celebration. This cheese fondue is simple to make, and you can double or triple the amounts—depending on your number of guests, or how much they enjoy the fondue! Be sure to set up quite the spread for dipping, such as diced bread, the pretzel bites/sticks from above, sausage slices, apple slices, cauliflower, etc. Try out this cheddar-beer fondue recipe from goodhousekeeping.com:
Ingredients:
-12 oz. light beer
-1/2 teaspoon Dijon mustard
-1 clove of garlic
-1/4 teaspoon hot sauce
-4 cups shredded sharp cheddar cheese
-2 tablespoons cornstarch
Instructions:
-Heat (on low) the beer, Dijon mustard, garlic and hot sauce in a 4 quart saucepan.
-Whisk in the cheddar cheese, tossed with cornstarch, until melted and smooth.
-Enjoy!
Cheese Plate: Another easy, yet enjoyable appetizer that pairs well with beer is a cheese plate. There are certain types of cheeses that pair best with certain types of beers. If you are planning on tapping a keg and serving one type of beer, then use this guide to determine the type of cheese to serve. If you are serving a variety of beer at your get-together, then you should offer a variety of cheeses, as well! Also be sure to add meats, grapes, apples, nuts, olives, and anything else you would like to add to your spread.
-Wheat beers or fruity beers pair well with soft and creamy cheeses, such as goat cheese or burrata.
-Amber ales, or other malty beers, pair well with aged Gouda or aged cheddar cheese.
-IPAs tend to pair well with blue cheeses.
Entrees
Bratwursts: To keep your celebration on the casual side, as well as to keep it authentic, grill a few bratwursts in the backyard and serve them as the main entrée. Butter and grill your buns, as well, for a toasty texture. Set out a variety of toppings, such as sauerkraut, grilled or sautéed onions, mustard, and any other toppings you think your guests may enjoy. You can also sear your brats in a skillet on the stove.
Side Dishes
Beer Mac 'n' Cheese: Who doesn't love mac 'n' cheese? And if you know someone that doesn't, tell them to try beer mac 'n' cheese! Serve this dish as a side option with your bratwursts. Here is a beer mac 'n' cheese recipe from wanderlustinthecity.com:
Ingredients:
-16 oz. box of pasta, macaroni shape
-3 tablespoons of butter
-3 tablespoons of flour
-1 cup German beer
-1 cup cream
-4 oz. cream cheese
-8 oz. shredded cheddar cheese
-8 oz. shredded mozzarella cheese
Instructions:
-Cook the pasta according to the direction on the box.
-While the pasta is cooking, melt butter in a large skillet and add in the flour, mixing it in until it becomes a thick paste. Next, add the beer and stir. Pour in the cream, as well, and stir. Bring the mixture to a low boil, and then add in the cream cheeses. Stir until the cream cheese is completely melted. Once the cream cheese has melted, add in both shredded cheeses. Keep stirring until everything has melted.
-Once the pasta has finished cooking, drain the pasta and set it aside until the cheese mixture is finished. Once cooked, add the cheese mixture to the pasta noodles and stir, making sure the noodles are coated.
German Potato Salad: Add a side of potatoes to your Oktoberfest meal with this delicious recipe from fivehearthome.com:
Ingredients:
-2 lbs red potatoes
-1 teaspoon salt, for boiling the potatoes
-12 oz. bacon
-1/3 cup apple cider vinegar
-3 tablespoons sugar
-1 tablespoon Dijon mustard
-1/2 teaspoon salt
-freshly ground black pepper
-1 tablespoon minced fresh garlic—about 3 cloves
-1/2 cup chopped fresh parsley
Instructions:
-Scrub potatoes and cut any large potatoes in half to make all the potatoes equal in size. Place the potatoes in a large pot and submerge them with cold water. Bring the water to a boil and stir in 1 teaspoon of salt. Reduce the heat and simmer the potatoes for 15 to 20 minutes, or until the potatoes are tender when stabbed with a fork. Turn off the burner, drain the water, and return the potatoes in the pan to the still hot burner, leaving the lid off to allow the potatoes to steam dry.
-Cut the strips of bacon into 1 inch pieces and cook them in a large pot over medium heat until crispy, stirring occasionally.
-While the bacon is cooking, cut the warm potatoes into ½ inch slices.
-Once the bacon is done cooking, remove the pot from the stove and use a slotted spoon to transfer the pieces of bacon to a bowl. Be sure to leave the bacon grease in the pot. Once the bacon has been removed, slowly and carefully add vinegar, sugar, Dijon, salt and pepper into the pan. Bring the mixture to a simmer and stir for a couple minutes. Stir in the minced garlic and cook for 30 seconds to 1 minute, or until the garlic starts to golden. Remove the pot from the stove and toss in the sliced potatoes, gently mixing until the potatoes have absorbed all of the liquid.
-Carefully toss in the cooked bacon pieces and chopped parsley. Transfer the potato salad to a serving dish and serve warm.
Desserts
Apple Strudel: This dessert is perfect for fall, as well as an Oktoberfest theme party. Check out this recipe from mrfood.com:
Ingredients:
-1 sheet of frozen puff pastry, thawed (from a 1.25 oz. package)
-1/3 cup sugar
-2 teaspoons ground cinnamon
-1 (20 oz.) can sliced apples, drained
-1/3 cup raisins
-1 egg, beaten
Instructions:
-Preheat oven to 400 degrees Fahrenheit. Place the pastry on a baking sheet and unfold. In a medium bowl, combine sugar and cinnamon and mix well.
-Reserve 2 teaspoons of the sugar mixture. Add apples and raisins to remaining mixture and mix well. Let it sit for about 2 minutes and drain off any excess liquid.
-Spoon the mixture down the center of the dough. Cut slits in the dough, 1 inch apart lengthwise, down each side of the filling. Brush each 1 inch dough strip with beaten egg, then crisscross the strips over filling. Brush the top of the pastry with remaining egg and sprinkle with reserved sugar mixture.
-Bake for 20 – 25 minutes, or until golden. Serve warm, or allow to cool before serving.  
At Windy City Novelties, it's our hope that this article inspires you to create a fun and unique party for your loved ones. For more helpful tips on organizing your event, email our dedicated party planning experts at [email protected]. You may also subscribe to our emails for weekly party planning ideas, featured products and more at https://www.windycitynovelties.com/customer/account/create/