The Best St. Patrick's Day Decorations for the Occasion
09/27/17
Unless you've got a powerful Blarney stone in your pocket or a squadron of leprechauns living at the end of a rainbow in your backyard, chances are you need a little help with decorating when St. Patrick's Day rolls around.  Whether you've got a bar, restaurant, or other business where you want to make a big deal of St. Patrick's Day, or just want to celebrate your Irish heritage, with the right St. Patrick's Day decorations you can make even the most diehard Irishman proud!  Here's a list of decorations to inspire you and some great ideas for using them to spice up your St. Patty's Day decor. 
- Start out by lighting up your party space with a few strands of shamrock electric lights.  With these 9-foot long strands, featuring 10 lights per strand, you can decorate the front porch and show your Irish pride or bring a little flair to a bar or window display.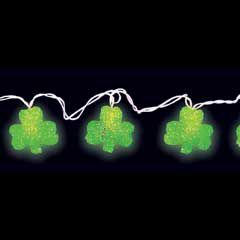 - A more elegant and unique lighting option is the St. Patrick's Day light up lantern.  Battery operated and sold in packs of three, these festive lanterns are perfect for St. Patrick's Day parties, retail displays, or when you want to add some intimate lighting to your restaurant space.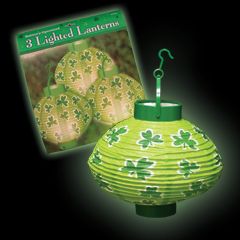 - When you need to transform your space quickly, try covering the ceiling with a few shamrock ceiling decorations.  Simply unroll a few of these 12-foot long decorations, which feature bright green shamrocks that will cover the ceiling as well as dangle merrily, and you'll be ready for the big day in no time!
- Bars make big money on St. Patrick's Day serving up green beer, so why not blend the two most popular symbols of the holiday—beer and shamrocks—with shamrock and beer stringers?  Cover doorways and windows, hang them from the bar, or create a festive backdrop with the help of these stringers featuring shamrocks and frothy beer mugs!
- When you just need some basic St. Patrick's Day decorations, you can't go wrong with a few packs of shamrock cutouts.  With nine shamrocks in assorted sizes, ranging from 5" to 12", these green shamrock cutouts are perfect for dressing up windows, doors, mirrors, bathrooms, classrooms, or retail display areas.  When you're looking for something subtle yet festive to celebrate the holiday, these shamrocks are the way to go!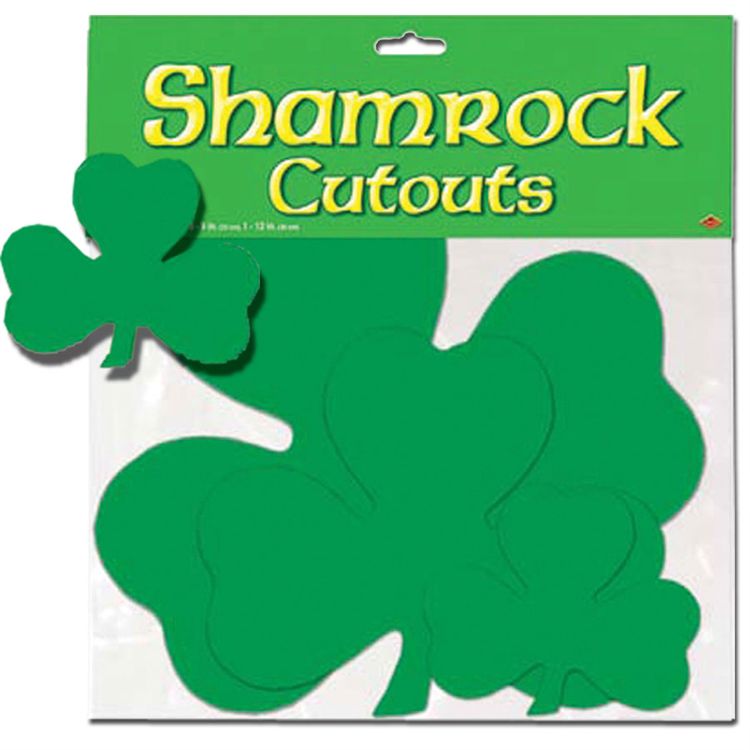 - Restaurants and bars that are planning a big St. Patrick's Day blowout should stock up on plenty of shamrock beads to pass out to patrons!  While it might not be Mardi Gras, party beads get everyone in the mood for fun and passing them out to customers as they enjoy their green beer and corned beef and cabbage will have them happy as a leprechaun all evening long!  You can also use these bright green shamrock beads to complement your party decor by draping them over railings, lights, door handles, and chair backs. 
- When you're planning a big bash for St. Patrick's Day, a St. Patrick's Day party pack for 50 makes it easy to get your party started!  With all the party extras you need, including 25 Irish derbies, 25, glitter tiaras, 50 foil horns, and 25 green poly leis, this party pack will get your guests in a party mood the minute they walk in the door! 
With these St. Patrick's Day decorations at your fingertips, you won't need the luck of the Irish to ensure your St. Patrick's Day celebration is a hit, whether you're celebrating at home or hosting an event at your business. 
At Windy City Novelties, it's our hope that this article inspires you to create a fun and unique party for your loved ones. For more helpful tips on organizing your event, email our dedicated party planning experts at [email protected]. You may also subscribe to our emails for weekly party planning ideas, featured products and more at https://www.windycitynovelties.com/customer/account/create/