St. Patrick's Day Costumes are a fantastic way to bust out of your late winter doldrums and make your friends green with envy on St. Patrick's Day. Windy City Novelties offer some last minute costume ideas for next week's big day.
- The Adult Leprechaun Costume is a great place to start getting all your Irish on. When you don a green jacket, green pants, white shirt and green hat and you never know what charms you might cast on the party. The white sleeveless shirt and green bow tie come with the getup.
- There's all kinds of leprechauns in this world, and the General Mills Lucky Charms Leprechaun outfit will let you live out your childhood dreams dressed as the lucky little character who sold us all cereal with multicolored crunchy marshmallows mixed with sugar coated shapes. Yes, those still are the good old days, and you'll be the height of the party wearing your Lucky Charms green blazer jacket, green scarf, blue mock shirt, black pants, green top hat with clover accent, shoe covers and a Lucky Charms prop. One size fits most adults.
- Green it up with the Cheers N'Beer Adult Costume, replete with green hat, green shirt emblazoned with CHEERS on the front, green suspenders and a green checkered kilt. But that means you're just dressed for the part. Let's talk about the function, because this kilted Shamrocking kit also comes with 2 shot glasses and a beverage belt with 6 can loops. Now that's preppin' for St. Patrick's Day style.
- The Green Plaid Kilt will put you in an Irish mood with a little breeze up above your leggings. This adult size green plaid kilt is only $22.20, and no one says you can't wear the rest of the year when you feel like it. Pair this one up with a Green Plaid Mini Skirt for your Irish gal!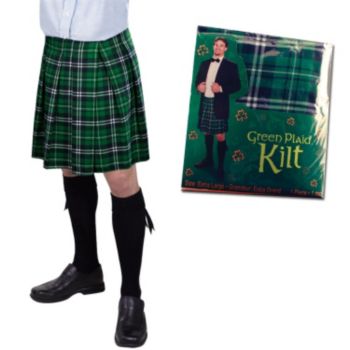 - Ladies should consider the Pretty Saint Patty Adult Costume. This dapper jacket and paints outfit works not only on St. Patrick's Day but any dress up occasion such as Halloween. The Emerald Green jacket with gold collar and matching gold underlay, black pants and coordinating bow tie are simply stunning.
- Perhaps you like a simple accent rather than a full getup, or want to make sure you're full-on Irish when the big day comes around? The Shamrock Green Stockings are elegant green with playful white shamrocks on the stretch to fit stocking. Just as stunning are these St. Patrick's Day Thigh Highs.
- Your stockings would look great with the Shamrock Green Adult Shoes. The Mary Jane styling and glimmery green design with large Shamrock Bow will make St. Patrick's Day a great day to run around and have fun.
- Add an accent to a costume or show the party how to string together some fun with Shamrock Beads in green clovers, and the Shamrock LED Necklace is a bright touch that will keep you flashing all night long.
When it's time to celebrate a holiday, a birthday, anniversary or special occasion, it's your lucky day at Windy City Novelties.
For tips, questions, help planning an event or for recipe and craft ideas, email our party experts at askanexpert@windycitynovelties.com for your personal party planner!