Part of the fun of the Halloween holiday is the frightfulness of it. People often visit haunted houses for the thrill. Provide your guests with that same excitement when throwing Halloween parties this year by transforming your home into a haunted house! Add eerie and gory decorations to your home that will freak out guests. Or, if you do not want to go through the trouble of planning and throwing a party, you can transform the foyer or front entrance of your home into a mini haunted house for trick-or-treaters on Halloween! With the help of Wind City Novelties' Halloween decorations, your home can easily be converted into a house of terror. Here are some ideas on how to transform your home into a haunted house!
Haunted House Scene Setters/Wall Cutouts
Set the scene with wall cutouts and scene setters! These stick-on items will instantly change the scenery of your home into a frightful image. Place figures from a haunted grave scene setter kit onto your walls to make it feel as if you are throwing this party in the middle of a graveyard.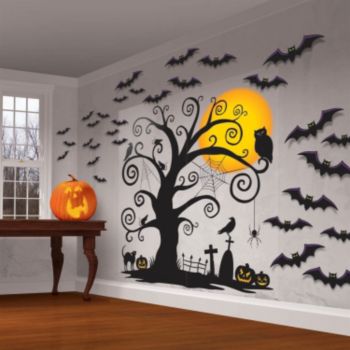 Scare guests with bloody handprint window clings on your front windows. Once they enter your home, lead them to the party area with a bloody footprints floor runner. In the same hallway, place body part cutouts along the bottom of the walls, as well as bloody weapon cutouts to make it look like a scene from a horror film.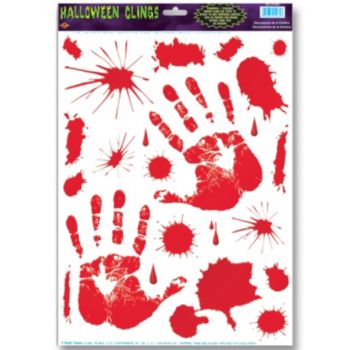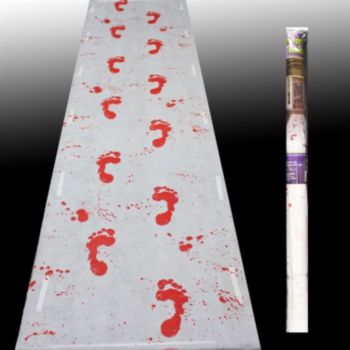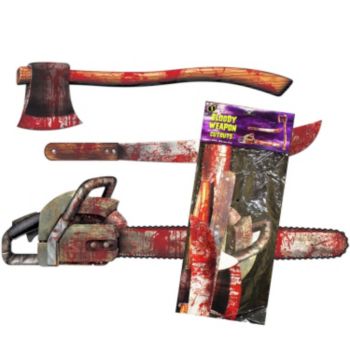 Hang a scary family portrait on the wall that turns into a rotting zombie once guests walk past it, and place Halloween caution tape on the doors, walls or windows of your home.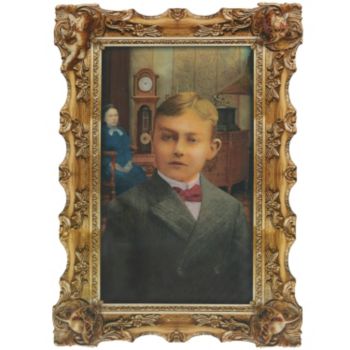 Haunted House Props
You will also want to add some creepy props around your home. In your front yard, you can place parts of a skeleton to make it look like he is emerging from underneath the ground.
Drape gauze over places inside your home, such as on the stairwell, over the door, over the corner of a table, etc. You can also place severed fingers and other body parts onto the gauze to make an eerie "decoration."
Hang a giant spider web in the corner of your home and add spider props to it. You could also drape the spider web over a stairwell or a table, as well.
Hanging Haunted House Decorations
Hang some decorations from the ceiling so guests will really feel like they are inside of a haunted house. Use a Halloween chandelier kit to create a spooky scene. The black hanging chandelier can be place in the center of the party space or above the dining area. Included in the kit are hanging spiders, bats and skulls that you can place around the area.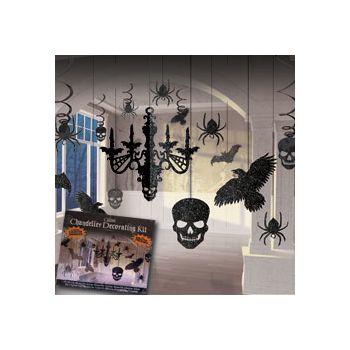 Haunted House Special Effects
Every haunted house has special effects. Place spooky flickering LED candles around your home—so you don't have to worry about real candles—and turn on a fog machine to create a creepy setting.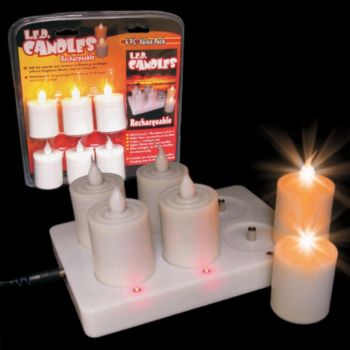 Replace your existing lighting fixtures with black light bulbs and use glow spray paint to write scary messages on the walls. You can also place glowing eyes onto the walls to make it seem like there are creatures watching your guests.
At Windy City Novelties, it's our hope that this article inspires you to create a fun and unique party for your loved ones. For more helpful tips on organizing your event, email our dedicated party planning experts at askanexpert@windycitynovelties.com. You may also subscribe to our emails for weekly party planning ideas, featured products and more at https://www.windycitynovelties.com/customer/account/create/