The summer holidays may be over until Labor Day, but that doesn't mean you need to stop celebrating. Throw a party, just for fun, and make it exciting by adding a theme to it. While some people may be fortunate enough to spend their summer days sailing away on their sailboats or yachts, others are not. Instead, throw a nautical theme party in the comfort of your own home! Transform the back deck into the upper deck with nautical decorations and foods. Adding a nautical theme to a bachelorette party or bridal shower is another great idea on transforming an ordinary party into something a little more unique. Here are some tips on how to throw a fabulous nautical party!
Nautical Themed Invitations
Invite guests to set sail with you with nautical invitations. You can tell them to dress up in their finest nautical attire. Or, if you have a swimming pool, make sure to let them know they'll be going overboard and to bring their swimsuits! For a bridal shower or bachelorette party, you can use a clever line such as "dropping her anchor and tying the knot!"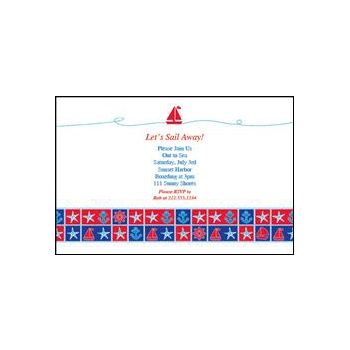 Nautical Themed Decorations
Convert your party area into your very own sailboat with nautical decorations. Hang a nautical flag banner on the walls of the party space or on the edges of the deck. You can also choose to place little props around the area, such as life preservers (actual ones or paper ones) and the ship's wheel.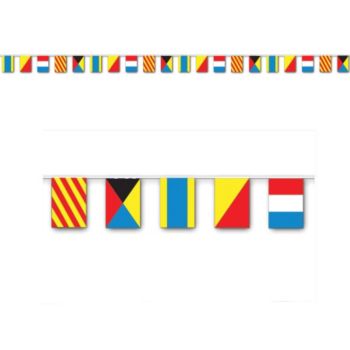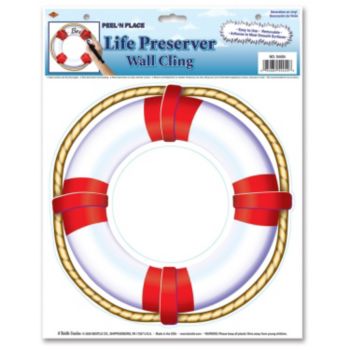 For an elegant addition to the decorations, wrap rope and a string of white lights together and hang up around the party area. Again, if the party is being held on your back deck, place it along the fence. You could also place the rope and lights around the umbrella of your outdoor dining area, if you have one. You could also hang paper lanterns around the party area, especially if the party is going to extend into the evening.
If you need more decorations, hang cruise ship danglers or nautical flag whirls from the ceiling.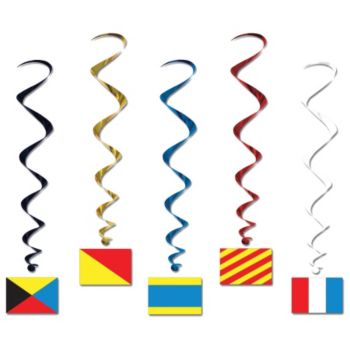 If you are throwing a dinner party, be sure to decorate the table, as it will be the focus of the party. Place a table cover over the dining table. On top of that, place a (fake) fishing net over the entire table. For a classier party, place seashells and candles randomly throughout the table. For a more relaxed and fun party, you can place little plastic sea creatures randomly across the table. Be sure to leave room for the dishes!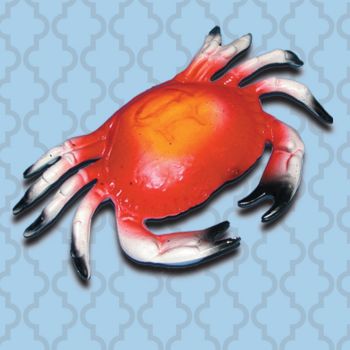 Foods
When it comes time to appetizers, you can serve them on nautical paper plates so guests can help themselves. Put out matching napkins and paper cups, as well. Put out a large tin pale, or two, full of ice and drinks. Place bottles of beer, wine coolers, sodas, waters, etc. so guests can help themselves.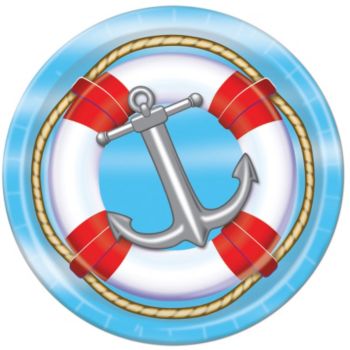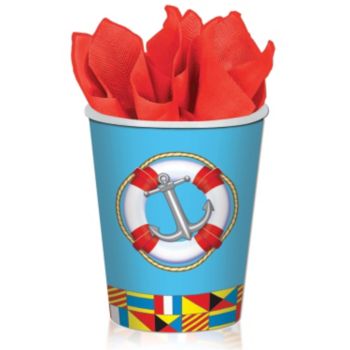 For appetizers, put out a few seafood options, depending on what you are making as the main course. Some appetizer ideas are:
- oysters
- deviled eggs with little sailing flags sticking out of them
- vegetable tray and dip
- shrimp cocktail
- mini crab cakes
For the main course, you'll want to make seafood. You can choose to boil crab legs or lobsters, or cook some type of fish on the grill. However, first make sure none of your guests are allergic to fish or shellfish. For sides to go with the meal, you can serve mashed potatoes, asparagus, or whatever else you'd like to add.
Some ideas for desserts are:

- cookies in the shapes of seashells served with sorbet
- white chocolate covered strawberries
For tips, questions, help planning an event or for recipe and craft ideas, email our party experts at askanexpert@windycitynovelties.com for your personal party planner!