It's burgoo and bourbon, hats, and oh yes, horses! For a two minute race, the Kentucky Derby is accompanied by enough excitement to keep crowds in a festive mood for nearly two weeks. If you and your friends just can't get away, there's no reason why you can't kick up a lot of fun by having your own Kentucky Derby party no matter where you live.
Some Fun Kentucky Derby Facts
- The Kentucky Derby is a Grade 1 Stakes race for three-year-old Thoroughbreds, run at Churchill Downs in Louisville, Kentucky, on the first Saturday in May. The 139th running of the Derby will take place May 4, 2013, adding to its record as the only horse race held every year without break since 1875.
- Colonel Meriwether Lewis Clark, the grandson of William Clark of Lewis and Clark fame, was inspired to organize the Louisville Jockey Club after attending the Epsom Derby during a visit to England in 1872. John and Henry Churchill provided the land for the track, and the first Kentucky Derby was run on May 17, 1875, in front of a crowd of ten thousand. The colt Aristides, with jockey Oliver Lewis, took home the first crown.
- The Kentucky Derby is also known as the Run for the Roses because of the blanket of 554 roses draped across the winning horse. It is the first in a series of races that has come to be known as the Triple Crown, along with the Preakness Stakes and Belmont Stakes. There have only been eleven Triple Crown winners in the history of the series, and none since 1978 when Affirmed claimed the prize.
- Famed horse Secretariat became the first Triple Crown winner in twenty-five years when he won in 1973, setting records in all three events. The American Thoroughbred amazed race watchers by running each segment of the one-and-a-quarter-mile Derby faster than the last—a nearly unheard-of feat. He was the first horse to run the race in under two minutes and held that record until 2001.
- While the race is certainly the main event, the accompanying Kentucky Derby Festival has become a huge attraction that includes the Pegasus Parade, marathons, and Thunder Over Louisville, the largest fireworks show in North America.
Plan Your Own Kentucky Derby Party
One of the most coveted sections of Churchill Downs for spectators is the aptly named Millionaire's Row and with all the extra cash you will save by staying home, why not plan a faux highbrow event? Start by sending out Run for the Roses personalized invitations. In the late19th and early 20th centuries, a day at the Downs provided a chance for women to showcase their style and see what everyone else was wearing. Although things have become less formal over the years, ask guests to give a nod to at least some part of Derby fashion, whether it be big-brimmed lavishly festooned hats, summery dresses, seersucker suits, or pastel ties.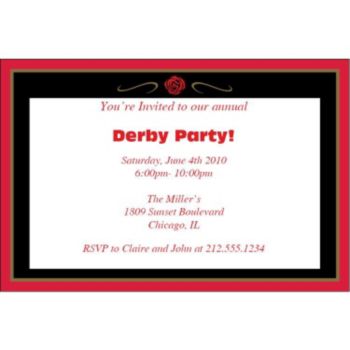 Kentucky Derby Decorations
Carry through with the traditional Derby colors of black, red, and gold for the rest of your decorations. Tie a bunch of Kentucky Derby balloons to your mailbox and hang a gold foil horseshoe cutout on the front door. If you are clever, craft a wreath from a couple of red roses leis and put the horseshoe in the center. Drape the party room with Kentucky Derby streamers and let more balloons with curled ribbons float across the ceiling.
Set up a beverage area where guests can serve themselves glasses of mint juleps or sweet tea. If you didn't happen to inherit a set of silver julep cups, plastic Kentucky Derby cups will do just fine. Adorn the drink table with a black plastic cover and skirt.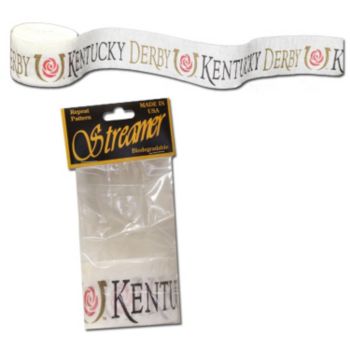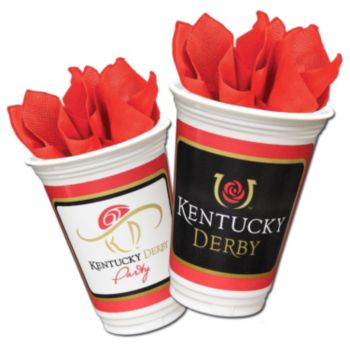 Snacks and Food
If your party is small, a sit-down dinner will be in order. There are many great dishes associated with the Derby, including burgoo, a thick stew of beef, pork, chicken, and vegetables; Benedictine spread, a cucumber, onion, and cream cheese concoction; barbeque shrimp on cheddar grits; lobster macaroni and cheese with truffle oil; Andouille sausage and black-eyed peas; and roasted squash salad. Go online to find recipes for these and other favorites.
Serve pumpkin cheesecake and/or bourbon pecan pie on Kentucky Derby dessert plates with matching napkins.
A mint julep will loosen anyone's tongue, but if you need conversation starters, the internet has plenty of facts to make up a trivia quiz. If watching the race is going to be part of the party, have guests make their predictions before the action begins. Win or lose you can place your bets on having a great time.
For tips, questions, help planning an event or for recipe and craft ideas, email our party experts at askanexpert@windycitynovelties.com for your personal party planner!