If you just can't leave the sixties behind, have no fear, Windy City Novelties is here with some fabulous hippie products to help you feed your need for flower power and all things hippie related! Whether you have a daughter who thinks anything hippie chic is totally rad, are planning a sixties-themed party, or just want a fabulous Halloween costume, these Top 10 Hippie Products are sure to please!
1) No sixties girl worth her salt would be caught dead without a kick butt pair of White Flower Power Boots! Whether you want to use them to finish off your Halloween costume or to jazz up your office attire, these sassy shoes feature a 4-inch heel, a ½-inch platform sole, and a side zipper to aid in getting them on and off. Any girl will look fabulous in these boots!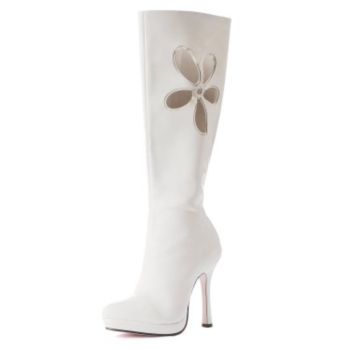 2) Our Hippie Girl Costume makes it easy to fit in when you want to travel back to a time when love was free and life was groovy! Perfect for your Halloween fun, a costume party, or a night on the town, this costume will make any hippie girl feel right at home!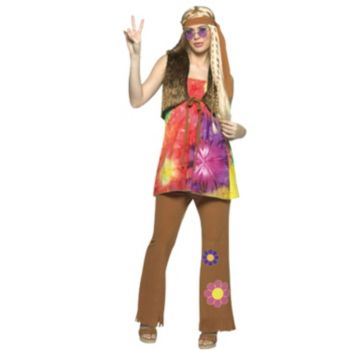 3) And no hippie girl wants to party alone, so our Hippie Guy costume will help her guy be just as stylish when it's time to dress up! With pants, a tie-dyed shirt, attached vest, and hat, your hippie guy will fit right in with any Flower Power crowd!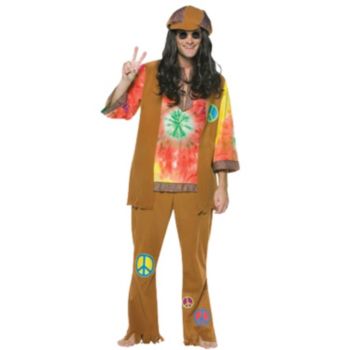 4) Those Hippie Guy and Girl costumes can be finished off with Lennon Glasses in assorted colors. These glasses were all the rage in the sixties, made popular by everyone's favorite rocker, and no hippie would be caught dead without them! Perfect as a costume accessory or to be used as a party favor, these glasses are sure to be a hit for any hippie fan!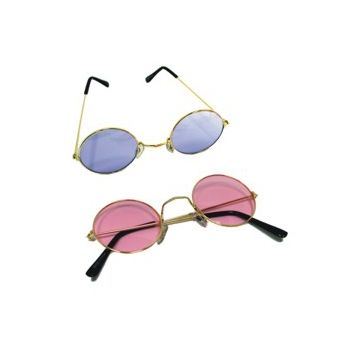 5) Anyone who wants to get groovy will need a few tie dyed t-shirts to round out their wardrobe! Available in a range of bright and bold colors, these shirts are perfect for everything from costume parties to a concert featuring your favorite band, or even a Saturday afternoon lounging at home!
6) Finish out your hippie wardrobe with this colorful Hippie Hat! The adorable biker style will make any hippie feel fashionable and stylish and the bright colors are sure to get anyone noticed! This Hippie Hat is soon to be a wardrobe essential for hippie chicks everywhere!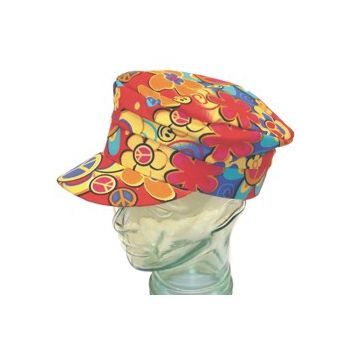 7) Every hippie needs a tambourine to play a song during a peace rally, for a flower power pow-wow, or when someone wants a little night music! Choose from a variety of tambourines that will work for any occasion, whether it's an LED light up tambourine for those nighttime parties, a neon tambourine to help them stand out in the crowd, or a 8-inch tambourine to help them rock out when the band gets back together!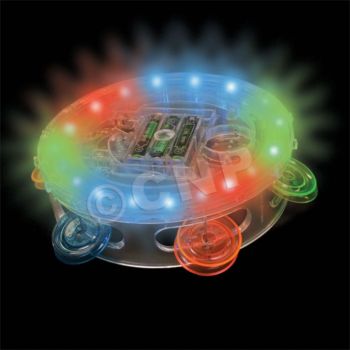 8) When you need some fabulous party supplies to round out your Woodstock era party or a sixties-themed event, why not give the crowd a sweet treat, as well as a sugar buzz, with these colorful tie-dyed lollipops? Perfect as party favors or prizes, everyone will loves these tasty treats, whether you're trying to appeal to the kids or just kids at heart!
9) Help your guests get in the mood for your sixties-themed event by passing out neon peace beads that will brighten up their party attire! Perfect for a Mardi Gras party with a sixties twist, these beads will also make great table decorations for your event!
10) Tie Dye Confetti is a great way to brighten up your party decor, whether you're sprinkling it on your tables as a way to brighten up your table decorations or adding a little to the party invitations. With peace signs, happy faces, and flowers, this tie dye confetti is a bright and colorful addition to your party decor!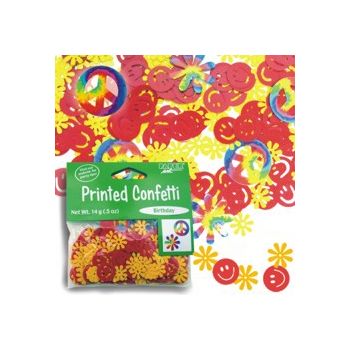 For tips, questions, help planning an event or for recipe and craft ideas, email our party experts at askanexpert@windycitynovelties.com for your personal party planner!