Revive the Summer of Love with a 60's Theme Party
09/27/17
Revive the Summer of Love with a 1960's themed party that brings back all the things you loved from the sixties!  An era filled with peace, love, understanding, and all things tie-dye, the sixties were a time of freedom and fun, and with a Summer of Love party, you and your friends can channel your inner Flower Child for an evening of excitement and good times. Follow these party tips and ideas in order to put together a night no one well ever forget! 
Decorate your party space with 1960's decorations
Unless you're lucky enough to live in a flower-filled meadow where your fellow hippies can roam free and dance to the music, you'll need to find the perfect 60's decorations for your Summer of Love party. Whether you're party space consists of a basement space where a group of teens will be gathering, or your backyard where you and your friends plan to dance to the songs you grew up with, the right decor will set the stage. Section off your party area with tie-dye pennant banner decorations--whether your party is being held indoors or outdoors. 
Hover peace sign hanging decorations over an open wall in your party space. This could make a great backdrop for photo opportunities! You can also hang a few matching retro paper lanterns over your dining table or buffet table. And no respectable 60s-themed party is complete without beaded door curtains!  Pull out the old lava lamps and maybe a black light or two and your decorations will be complete!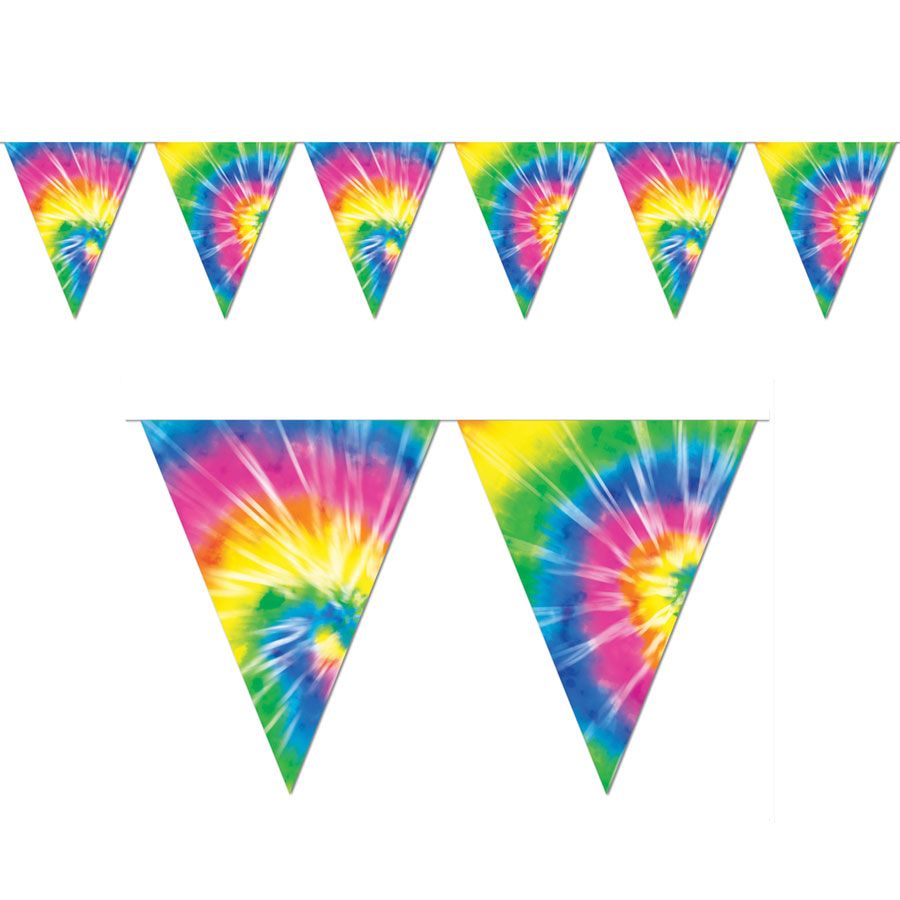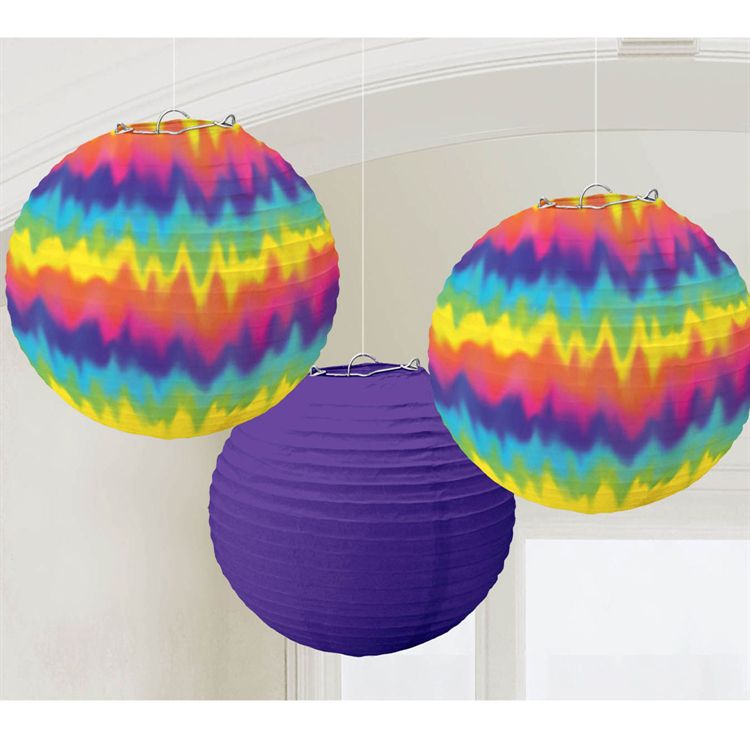 60's Paper Goods
Coordinate your paper goods with your Summer of Love party theme for perfectly matched decor that will wow your guests!  Top your tables with solid white tablecloths and retro flower table runners. Coordinate your place settings to match the rest of your decor.  Whether you're setting up a buffet table or planning a sit-down meal, bright and bold tie dye plates and matching napkins will look great with the rest of your decor.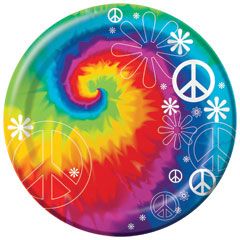 Food and Beverages
The Summer of Love deserves a hearty summer barbeque, so find someone to man the grill and stock up on hot dogs and burgers, or, if you want something a little more involved, you can make kabobs with chicken, beef, shrimp, and mixed vegetables for guests to enjoy.  Have plenty of sides available, including favorites from the 60s, such as potato salad, 7 layer salad, deviled eggs, fruit cocktail, and the always appreciated Jello salad!  For dessert, you can serve up a fancy apple pie or go with another American favorite and pile a platter with some decadent treats that came out in the 60s, like Twinkies, Ding Dongs, and Snow Balls!  As the sun starts to set, set up the fire pit and pull out the marshmallows, graham crackers, and chocolate and let everyone toast up some s'mores!   Serve up lemonade, beer, soda, and other drinks in festive LED drinkware that will delight all your guests!  If you're the creative type, build a signature cocktail for your Summer of Love party and wow your guests with your bartending skills!
Crank up the tune for your Summer of Love party, filling your MP3 player with all the hot hits of the 60s and be sure there's plenty of room for your guests to dance the night away!  You may want to have some tambourines on hand so your friends can make their own beautiful music! 
The perfect summer party theme, a Summer of Love event will have you and your friends reliving the heydays of your youth or traveling back in time to an era where peace, love, and understanding seemed just a little easier than it is today.  So toss on your favorite bell bottoms, weave a few daisy chains, and channel your inner flower child for a night of free love and fun with all your friends! 
At Windy City Novelties, it's our hope that this article inspires you to create a fun and unique party for your loved ones. For more helpful tips on organizing your event, email our dedicated party planning experts at [email protected]. You may also subscribe to our emails for weekly party planning ideas, featured products and more at https://www.windycitynovelties.com/customer/account/create/