DIY Fall Fireplace Mantel
09/27/17
Decorating for fall is one of the best reasons to celebrate the change of the seasons. The fall season is full of warmth and natural beauty. You can bring that natural beauty into your home with the help of fall-themed décor. Create a charming fall-theme fireplace mantel with this simple DIY tutorial.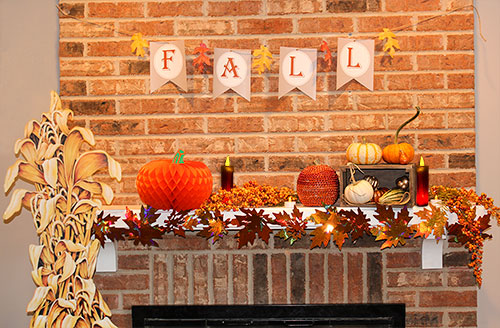 To recreate this fall look, you will need the following supplies:
-Twine
-Fake fall leaves
-Fall pennant banner printables
-Metallic fall leaf garland
-LED candles
-Honeycomb tissue pumpkin decoration
-Real mini pumpkins and gourds
-Beaded necklaces in gold, red and orange colors
-Fake fall branches
-Small wooden crate (optional)
-Cornstalk cutout (optional)
Step 1: Decorate the mini pumpkins and gourds.
Before placing your pumpkin and gourd decorations on your fireplace mantel, you can decorate them to enhance your décor.  Add a little sparkle to some of your pumpkins or gourds by wrapping them with the beaded necklaces and securing it with glue. You can also add sparkle by painting them with glue and covering them with glitter in fall colors.
Step 2: Construct your pennant banner.
Crafting a "FALL" pennant banner is easy when you download and print out this design. 
Cut out the pennants, punch a hole in each pennant and string the twine through. If you choose to add the fake leaves to the pennant banner, you'll have to punch holes in the leaves, as well, and string them onto the twine. Hang your banner above the mantel, or directly on the mantel.
Step 3: Hang your fall leaf garland.
Attach your fall leaf garland to the front of your fireplace mantel using tape.
Step 4: Arrange the rest of your decorations on top of the fireplace mantel.
Finally, place the rest of your fall decorations on the top of your fireplace mantel. Start with the branches and leaves if you have those to decorate with. Then place your decorated pumpkins on top of the leaves and branches. Fill in the empty spaces with the LED candles and the rest of your fall décor. Rearrange the decorations until you're satisified with the way your mantel looks. 
At Windy City Novelties, it's our hope that this article inspires you to create a fun and unique party for your loved ones. For more helpful tips on organizing your event, email our dedicated party planning experts at [email protected]. You may also subscribe to our emails for weekly party planning ideas, featured products and more at https://www.windycitynovelties.com/customer/account/create/