Windy City Novelties Top 10: Top 10 Thanksgiving and Turkey Themed Decorations
09/27/17
Are you hosting the big family Thanksgiving celebration this year?  Well then you'll need to make sure your decor is ready for the occasion with plenty of festive decorations!  Whether you're expecting an entire house full of friends and family for the holiday feast or will only be serving a few extra mouths this Thanksgiving, with Windy City Novelties' selection of Thanksgiving Decorations you'll find exactly what you need to ensure your home is all decked out for the holiday festivities!  And to help you get started on your Thanksgiving decorations, here's a list of our Top 10 favorites!
10.) Start out by getting the outside of your home holiday ready by draping our Leaf Garland along the porch railing or wrapping it around stair banisters or columns.  This elegant prismatic leaf garland is made up of two 22-inch pieces that will bring the colors of autumn to your home.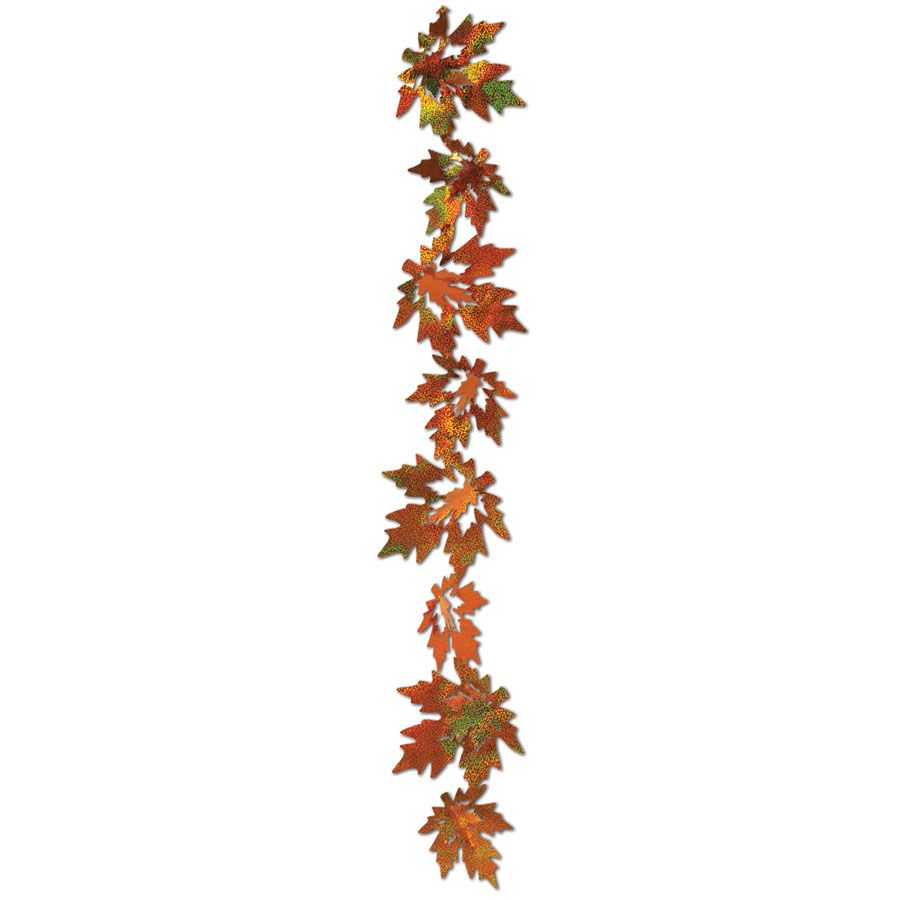 9.) Get the kids in on the decorating fun by letting them hang our Fall Leaf Window Clings on the front windows.  With 10 autumn themed clings per set, you'll have plenty of falling leaves to decorate your windows!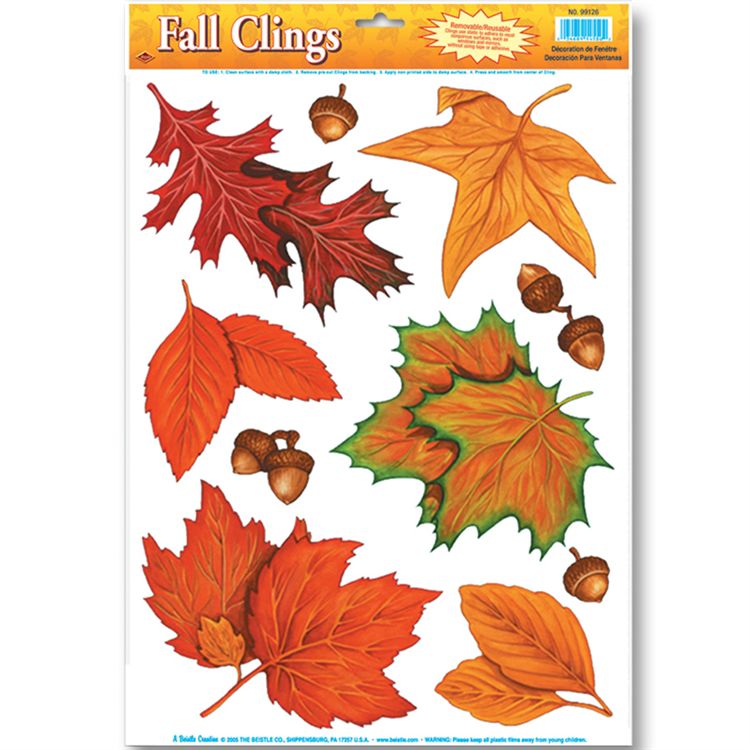 8.) Bring the colors of fall inside with our Fall Paper Fans.  Each pack comes with 6 paper fans in varying sizes and colors to spice up your holiday decor.  Hang them in your entry way for a festive greeting for guests or use them to decorate the kitchen or dining room.  Wherever you hang these colorful fall paper fans, they are sure to make a statement!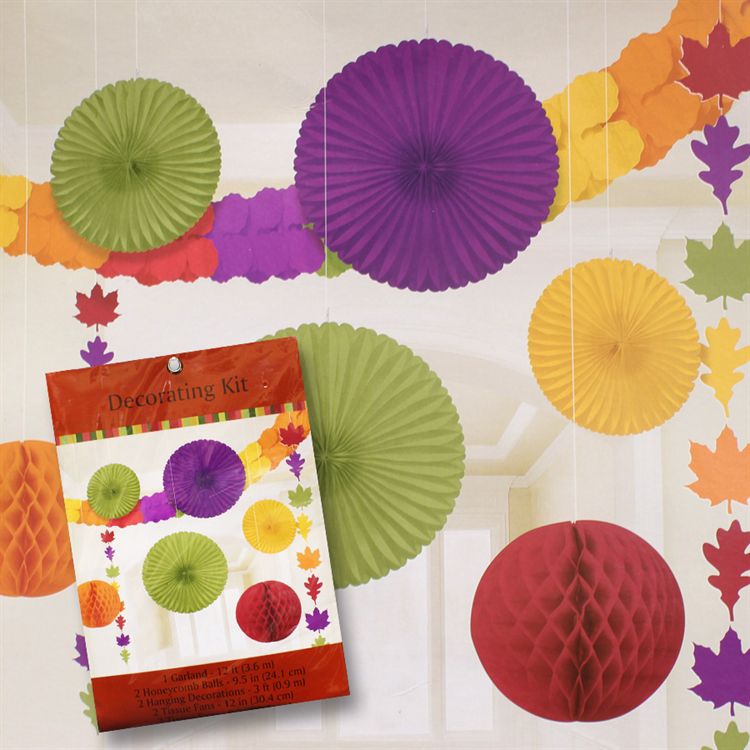 7.) Add a touch of whimsy to your decor with our Turkey & Fall Leaf Honeycomb Garland.    This 12-inch garland is perfect for draping over doorways or decorating the dining room entryway, and, with its honeycomb turkeys and paper leaves in autumn colors, it's sure to look great with the rest of your Turkey Day decor!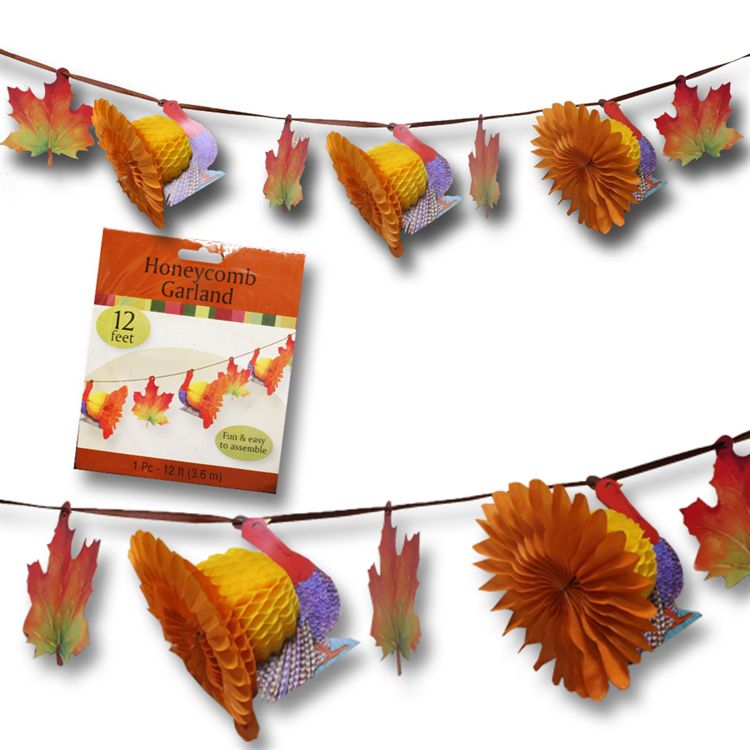 6.) An economical way to decorate for the Thanksgiving holiday is with our Thanksgiving Decoration Value Pack.  Perfect for classrooms, churches, restaurants, and other places where you need a lot of decorations, this economy pack of wall decorations includes 30 cutouts of various sizes featuring a variety of Thanksgiving related designs including turkeys, pumpkins, corn husks, and more.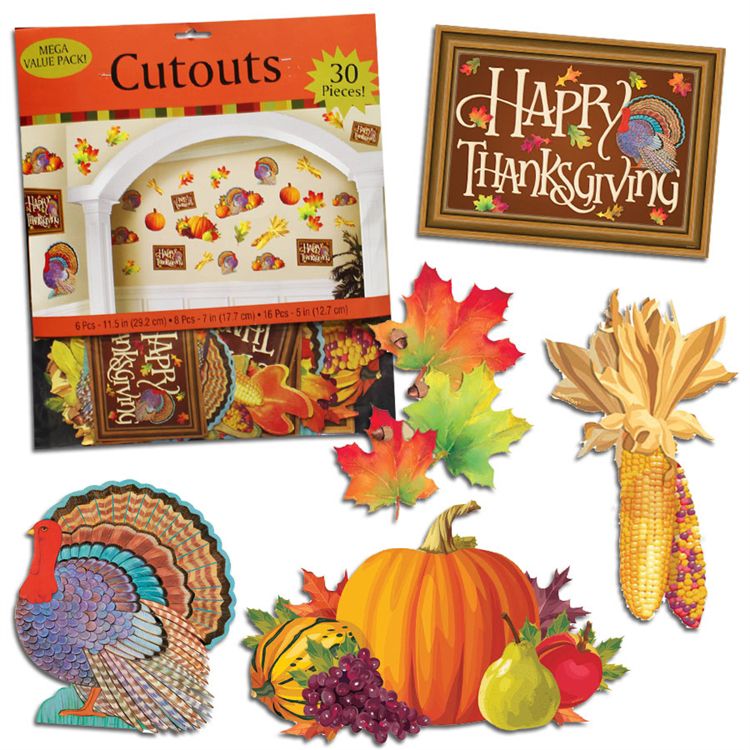 5.) Send Thanksgiving greetings in a big way with our Happy Thanksgiving Banner!  This 9.5-foot fringe banner is accented with large glitter letters spelling out "Happy Thanksgiving" and measures 10 inches wide by 9.5 inches long.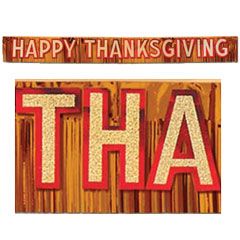 4.) Everyone knows Thanksgiving is all about the meal, so your table is going to be taking center stage.  Be sure it's looking as festive as possible with the right decorations.  Our Thanksgiving Turkey Decorating Kit is the perfect way to decorate your table in style!  With a 12-inch honeycomb turkey, two 5-inch honeycomb pumpkins, and twelve colorful fabric leaves, this decorating kit will leave your table looking fabulous!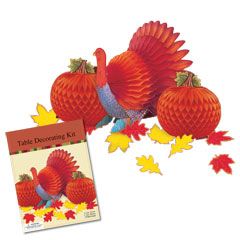 3.) However, if you're working with limited space on your table, something like our traditional Turkey Centerpiece may be a better choice.  Available in a variety of sizes, this honeycomb turkey decoration will work with tables of any size and look great as well, without upstaging the true turkey that will be taking center stage on everyone's plate!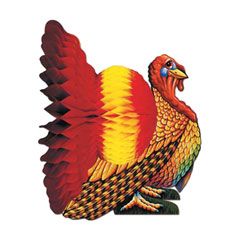 2.) Accent your table with our Pilgrims Taper Candle Set!  This pair of candlesticks will add a special touch to your table decor and look great as well.  With Mr. and Mrs. Mayflower lighting up your holiday meal, your dinner is bound to taste great!
1.) Finally, be sure to choose an official turkey carver for the meal and honor their position by presenting them with an Official Carver Ribbon.  This red award ribbon can  be passed on from year to year as the honor of carving the Thanksgiving turkey is passed down from one family member to another.  Soon, this Official Carver ribbon will be one of your family's most prized possessions!
At Windy City Novelties, it's our hope that this article inspires you to create a fun and unique party for your loved ones. For more helpful tips on organizing your event, email our dedicated party planning experts at [email protected]. You may also subscribe to our emails for weekly party planning ideas, featured products and more at https://www.windycitynovelties.com/customer/account/create/