If you're looking for a good reason to host an Oscars party, 2013 may be the year to get pumped, invite some friends and celebrate the best that Hollywood (and beyond) has to offer.
Of course every year when the Oscars come along there is excitement to know who will win the award for Best Actor, Supporting Actors and Best Picture. The 2013 Academy Awards are setting up to be a special year because of the quality of movies and competition for awards.
The Top 10 Oscar Nominated Movies are all great this year, and so diverse they will make guessing the winners more difficult than ever. So there will be suspense and excitement when this year's Academy Awards chooses one of these movies as its Best Picture.
- Amour—a story of family love, and the tests it brings.
- Argo—an American CIA thriller
- Beasts of the Southern Wild—a grand take on the ways of courage and love
- Django Unchained—Controversial movie about a freed slave
- Les Miserables—the classic tale of French revolution
- Life of Pi—a tale of survival at sea with a Bengal tiger
- Lincoln—Lincoln's fight for the Emancipation Proclamation
- Silver Linings Playbook—study of emotional challenges and mystery
- Zero Dark Thirty—compelling study of capturing terrorists
Excitement and suspense in 2013!
So you see, the movies up for awards make for a compelling year. That means it can be fun to roll out your own version of the Red Carpet and invite guests over for your 2013 Oscars Party. When you do, here are 5 great ways to spice up your 2013 Oscars Celebration:
1.) Dress the Part of Your Favorite Oscars Nominated Movie
You might want to invite your guests to your 2013 Oscars Party with personalized Hollywood Invitations listing the Top 10 nominated movies asking each person to dress in the style of the main characters or theme from the movie they like best.
2.)Roll Out a real Red Carpet
Personalized party invitations are always the best way to set the stage for your Oscars Party. You can use these Walk The Red Carpet Personalized Invitations to let your guests know the theme and the fun you plan to have.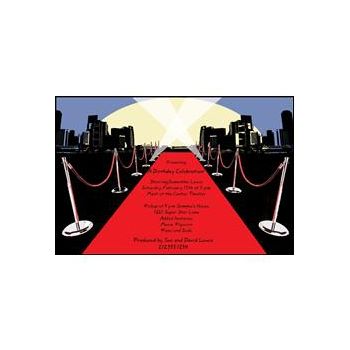 Then set up your own Hollywood Red Floor Runner at the entrance of your party. This 15' long and 24" wide red floor runner is only $7.30 and the price goes down to $6.95 if you want to increase the length of your Red Carpet celebrations. Set up the digital camera and capture your own Hollywood glam. Your Red Carpet will make everyone feel special. Line the Red Carpet with a Red Rope Stanchion Set for full effect!
You can even stoke the Red Carpet fever with this Papparazzi Cardboard Setup. Your guests will feel like real celebrities when they pose with these faux photographers!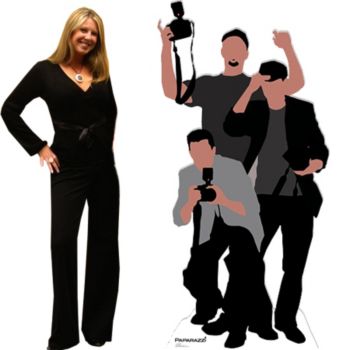 3.) Decorate Up Your Home in real Hollywood Style
It's always fun to add some Hollywood Decorations to an Oscars party. Decorate your home in style with the Hollywood Star Room Decorating Kit. These foil swirls, string decorations, stars, frills and decorations fill your room with black and gold Hollywood glamour.
You can even greet your arriving guests in full Hollywood style with the Black and Gold Satin Bunting kit. At 70" long and 30" at the largest part of the gather, this bunting looks great on a porch or fence.
4.) Make your Guests their very own Star of Fame
The Star of Fame says "you've arrived" for every major Hollywood Star.
Who among this year's nominees for Best Actor will have their own Star of Fame someday, if they don't already. 2013 nominees for Best Actor include Bradley Cooper, Daniel-Day Lewis, Hugh Jackman, Joaquin Phoenix and Denzel Washington. Best Actress nominees are Jessica Chastain, Jennifer Lawrence, Emmanuelle Riva, Quvenzhene Wallis and Naomi Watts.
The suspense to know who wins the Oscar is great this year, and someday the winning actor or actress may earn their own Star of Fame.
But you can create a Star of Fame for each of your guests with their very own name with a Stars of Fame Star Pack of 12. These 15" X 12' peel and place cards make great placecards and are perfect "take home" gifts that will be a keepsake from your party.
5.) Hold an Oscars 2013 Prediction Contest!
It's always fun to try to outguess the Academy. So make up your own entry forms and hold your own Prediction Contest. You can get all the nomination categories here at the Oscars website. Then give out awards at your own "Oscars Party Academy" with this Gold Award Statue in tribute to the 2013 Academy Awards.
Get excited! Hold a party! Dress Up! Have Fun! Give out awards. It's a great year to get excited about the Oscars. We hope you have a great time, and that your favorite movie, actor or actress or director brings home the Oscar!
For tips, questions, help planning an event or for recipe and craft ideas, email our party experts at askanexpert@windycitynovelties.com for your personal party planner!