Product Guides
An Inflatable Coolers Guide for Outdoor Summer Activities
Save on trunk and storage space when you use any of our awesome Inflatable Coolers to keep things extra chill at your upcoming parties and special events. These are perfect for all of your outdoor summer activities, including backyard barbecues, Fourth of July festivities, graduation parties, birthdays, anniversaries, and any special occasion where you are planning for fun in the sun. Any of these inflatable cooler options will be exceedingly excellent for sporting events and tailgating parties. Find a fun novelty shaped, inflatable cooler to match your party theme and celebrate with style at your upcoming special occasions.
Set up an Inflatable Baseball Fan Cooler at your son or daughter's little league games to make sure the team's water bottles stay cool for those hot summer afternoon games. It will stand up in a cube shape that is 9 inches high and 23 inches on each side. This inflatable cooler has a baseball motif that makes it perfect for any occasion that celebrates the sport, including World Series events or the birthday party of your favorite baseball fanatic. Or you can use them in your team's dugout to keep sports drinks and bottles of water on hand for thirsty players.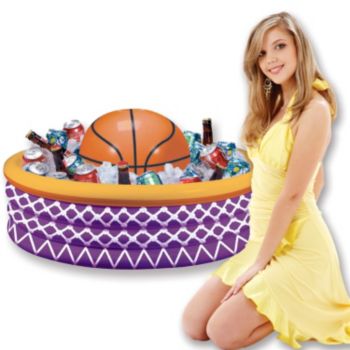 Bring our Inflatable Basketball Fan Cooler with you to your local court or team practice and take breaks to keep hydrated in the warm summer sun. You can fill this inflatable cooler up with ice and then use it to store any kind of canned or bottled beverage, as well as anything you want to keep on ice. This blow-up cooler stands 14 inches high and is 29 1/2 inches in diameter. It features a cool basketball detail in the center. Celebrate at the end of your season with a fun team party and make sure you have plenty of these coolers around for guests to grab icy cold beverages.
Get ready for any kind of fun in the sun and our Inflatable Beach Ball Cooler can help you stay cool and hydrated while you enjoy yourself outdoors with friends, family and loved ones at any special occasion. Celebrate a birthday or host a backyard barbecue. This fun beach ball motif is perfect for pool parties and beach parties, alike. This fun inflatable cooler has rings of red, green and blue with yellow accent stripes. The bold and vibrant colors will make it a cheerful addition to any party. It will stand 14 inches tall and measures 29 1/2 inches in diameter.
Check out our Inflatable Beer Mug Cooler and use it to keep all of your best oat sodas cool on a warm summer day or night. Set this fun cooler up on the ground or even set it up on a table. It stands 23 inches tall with a diameter of 19 inches and is shaped like a yellow beer mug. Celebrate your buddy's 21st with a fun barbecue and a round of ultimate Frisbee, topped off with a couple of cold ones outdoors. Wherever you go, you can bring this fun cooler with you. Impress your friends and neighbors when you bust out an Inflatable Beer Mug Cooler at your neighborhood block parties or use one to cool off with a cold drink after a rousing game of touch football with the guys.
Host a fun, summertime celebration for an extra special occasion and celebrate with the stars. We have an Inflatable Flat Awards Night Cooler that is decorated with gold and silver stars, along with star shapes that just have the gold outline to let the black color of the base of this inflatable cooler shine through. This low-standing cooler is perfect for picnics and buffets where you have cold foods and drinks to serve on ice. Set one out on a table to keep your hors d'oeuvres cold and beverages chilled throughout your event. The Inflatable Flat Awards Night Cooler is rectangular shaped with measurements of 4 feet in length by 28 inches and stands approximately 5 inches tall. Impress your guests and don't worry about your cold salads and drinks getting warm in the hot summer sun with this great blow-up cooler.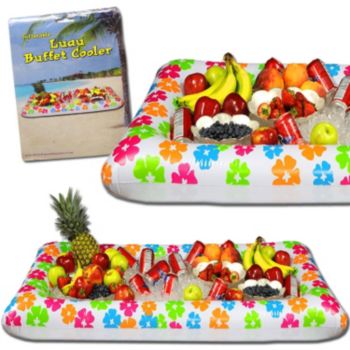 Pick a special date this summer to gather together distant relatives and generations of your family for a fun-filled family reunion event and be sure to bring along some inflatable coolers to keep your foods and beverages cool in the summer sun. Our Inflatable Flat Luau Cooler is a great choice for this occasion. You can set it up on a table to skip the bending over to reach for a cold drink. This also allows you to keep all your potato and pasta salads extra cool. It is sold individually and measures 28 inches high by 4 feet, 5 3/4 inches long. It's perfect for luau or tropical themed events and is decorated with pink, orange, blue and green neon colored hibiscus flowers that stand out against a white background.
Keep all of your fellow football fans impressed, hydrated and happy when you bust out an Inflatable Football Fan Cooler at your outdoor summer events. It stands 14 inches tall in a square shape when inflated and measures 29 1/2 inches on each side, making it a great choice to keep a multitude of canned and bottled beverages cool even on the warmest of summer days. Bring one with you to play a game of touch football with your buddies on a summer afternoon, or have one ready at your team's practice for thirsty players to stay hydrated in between plays on the field.
If you are having a football themed party this summer, our Inflatable Football Field Goal Cooler is a must-have item for your event! Check out the 56 1/2-inches of awesome this Inflatable Football Field Goal Cooler brings with it. It even comes with an inflatable football for you and your friends to have a friendly competition to see who can throw it through the yellow goal posts that are part of this rounded cooler display. The base of this cooler will hold all your favorite beverages and it features "The Party Zone" printed in blue letters that have a white outline against a green background reminiscent of a football field with white yardage markers.
Creep out your party guests in a fun way this Halloween and set out an Inflatable Haunted House Cooler to house all of your canned and bottled beverages at your event. It stands 64 inches tall and measures 27 inches in diameter. The orange base of this inflatable cooler is decorated with images of jack-o-lanterns in front of a creepy, black background image. This blow-up cooler features a cool haunted house shape that rises out of the center and features orange, purple and green window details. It even comes with 2 inflatable rings that you can use to have a friendly game by tossing them at the three towers of the haunted house to see who can score the most points!
Add some extra tiki to your summer luaus or tropical themed get-togethers and make sure you use our Inflatable Jumbo Tiki Cooler to keep all your beverages chilled, even on the warmest of summer days. It is decorated with bright colors and has a festive, tribal pattern around the round base with pink, blue, red, yellow and green accent details. It features a matching tiki totem face that appears to be rising out of the middle of the cooler. When fully inflated, the Inflatable Jumbo Tiki Cooler stands 4 feet tall and is sure to hold all of your favorite summertime beverages.
If you can't be at the beach this summer, why not bring a bit of the beach to you! Our massive, Inflatable Palm Tree Cooler stands 6 feet tall and has a wide, round base that you can fill up with ice to keep all of your favorite summer time drinks cool at any party or special event. You won't have to worry about people asking where the cans of soda or bottled waters are being kept when you set out this awesome inflatable cooler. Impress your friends and neighbors with this awesome blow-up cooler, which is shaped like a palm tree with 4 green, palm-leafy branches.
Ahoy, all ye thirsty landlubbers, here be the ultimate in inflatable coolers, fit for a pirate king! Our Inflatable Pirate Ship Cooler inflates in to a cool pirate ship shape that will hold all of your favorite summertime beverages and anything you want to keep on ice at your upcoming pirate themed parties and shindigs. Shaped and decorated like a boat in the base, there is a faux mast that comes up from the middle and a black pirate sail with a large skull and crossbones image in white. This blow-up pirate ship can go with you anywhere and measures 41 inches in length by 15 inches in width.
Add some spooky fun to your summertime affairs and host a macabre themed event filled with images of skeletons and quotations from H. P. Lovecraft or Edgar Allan Poe. Check out our Inflatable Skeleton Cooler and surprise and delight your guests at any special summertime event. This cool, inflatable cooler features a purple, coffin-shaped base with a black and white skeleton figure that appears to be sitting up. Fill this cooler with ice and use it to keep all your beverages cold at any special occasion. It is sold individually and stands 43 inches tall with a width of 23 inches and it runs 30 inches in length. Bring it out again in time for Halloween.
Soccer fans are sure to love our Inflatable Soccer Fan Cooler. It features solid green and blue and white goal images on the sides of the square shaped bass with an inflatable soccer ball coming up out of the middle. When you fully inflate this cool cooler you can fill it with ice and use it at your soccer matches and events to keep all your favorite summertime beverages on cold. Have one around to keep teammates hydrated on the day of a game or use one at your team's soccer practice. You could set one up at home for a fun, soccer themed party or birthday event. It's bound to be something your guests get a kick out of! The Inflatable Soccer Fan Cooler stands 14 inches tall and measures 29 1/2 inches on each side.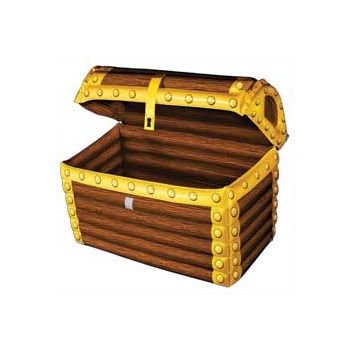 Use our Inflatable Treasure Chest Cooler to keep all of your beverages cold on a hot summer day. Bring this fun, inflatable cooler out for your pirate themed parties, or use one at your under the sea themed events. Deck out your patio, backyard or deck with images of tropical fish and hibiscus flowers to create a tropical feel for your event and use this cool cooler to hold all of your bottled and canned beverage options. A cool bottle of water will be a great treasure on a warm summer day. Stay hydrated and celebrate any occasion with our Inflatable Treasure Chest Cooler. It is designed to look like a real, wooden treasure chest with golden accents along the edges and an open lid that is connected in the back like a treasure chest hinge. When fully inflated it measures 24 inches by 17 inches, which should give you ample space for lots of ice and tasty beverages in cans and bottles.
Make all of your outdoor summer events even cooler when you break out any of our Inflatable Coolers to decorate your space and keep your drinks and party fair on ice. These novelty shaped items are space-saving, affordable alternatives to traditional plastic coolers or Styrofoam. Save trunk space when you travel and bust out a surprise that is sure to impress your friends, neighbors, and relatives at any special event or occasion this summer. Blow up a cool cooler and toss back a cold one with your buddies. These Inflatable Coolers are sure to help you cool down this summer at any outdoor event!
For tips, questions, help planning an event or for recipe and craft ideas, email our party experts at askanexpert@windycitynovelties.com for your personal party planner!