College basketball fans are getting ready for their favorite time of the year: March Madness. The "madness" will begin on Sunday, March 15th—Selection Sunday—when the tournament-qualifying schools will be announced, allowing March Madness fans to fill out their 2015 brackets. If you are a huge college basketball fan, invite friends and family members over to watch some of the basketball games! Create a fun party scene with the help of basketball decorations and serve your guests game-time snacks. Cheer for you team, place bets and enjoy the company of your friends with these party ideas for a March Madness party!
Inform guests of your party with basketball invitations.
Formally invite your guests to your March Madness party with invitations--no e-vites and no text messages. They'll feel special receiving an actual invitation in the mail. Use basketball themed invitations and include all of the details of your party. Also, let your guests know if you'd like them to bring a dish to share.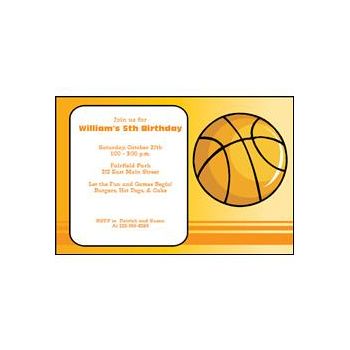 Use basketball decorations to liven up your party space.
Once you have figured out who is coming to your party, it's time to start the decorating process! Create a fun party setting with the help of basketball decorations. Stick basketball cutouts to the walls around the area your guests will be watching the TV. Or, if you want guests to sit around a table to view the game(s), use these basketball cutouts as placemats. Dangle several orange honeycomb decorations--that look like baseketballs--from your chandelier or ceiling. Also attach the net from your basketball hoop on the chandelier.
image via pinterest.com/mwhiteman/
If you have filled out a NCAA tournament bracket, or plan on filling one out, transfer it to a giant March Madness bracket banner. Write directly on the banner with a permanent or dry erase marker to let your guests know what your March Madness 2015 predictions are. You can also fill out the bracket as the tournament goes on, just to remind everyone who has played who in the tournament thus far. Place two bundles of orange and basketball balloons on either side of the bracket banner to draw attention to it.
If your favorite college basketball team has made it to the March Madness tournament, show support for your team by placing a few decorations around the party area in your team's colors. You can do this by hanging swirls from the ceiling, draping paper streamers around the area, or using solid color paper goods.
Set up a snack table and fill it with goodies and decorations.
Set up a table that guests can walk up to and help themselves to the delicious food you and your guests have made. Add a few decorations to the snack table to make it match the rest of the party decor. Create a cool backdrop for the snack table by hanging black and white paper streamers. Alternate the black and white colors to make it look like the stripes on a basketball referee's shirt. Place a basketball court table cover over the table to set the snacks and drinks on top of. Use Spalding basketball paper plates and matching napkins to serve food on, or choose solid color paper goods that match the colors of your college team.
image via ph.she.yahoo.com
Serve sports-type snacks, such as nachos, chicken wings, dips, and other finger foods. Set out an assortment of beer, soda and water bottles in a basketball cooler so guests are able to grab a new drink when necessary. Place the cooler next to the snack table.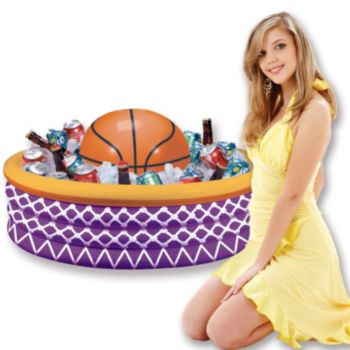 At Windy City Novelties, it's our hope that this article inspires you to create a fun and unique party for your loved ones. For more helpful tips on organizing your event, email our dedicated party planning experts at askanexpert@windycitynovelties.com. You may also subscribe to our emails for weekly party planning ideas, featured products and more at https://www.windycitynovelties.com/customer/account/create/