June is LGBT (lesbian, gay, bisexual, and transgender), Pride Month, an entire month dedicated to the recognition and reverence of those who have made an impact on history, as well as a time to take pride in self-affirmation and celebrate equal rights. Cities around the world hold a series of events for anyone to come and celebrate or show support. June is chosen as gay pride month because it commemorates the group of protestors marching through the streets of New York City in 1969 to protest the way gay men were treated by police at the Stonewall Inn.
At the various parades, rallies, concerts and festivals held in honor of LGBT Pride Month, participants tend to wear flashy accessories and vibrant colors, with some wearing full on costumes. One of the symbols of the LGBT community is a rainbow colored flag; therefore people dress in all colors of the rainbow while attending such events. The parades are generally loud and fun, comparable to Mardi Gras parades and celebrations, so if you are attending, you are going to have a good time! However, make sure you are prepared for such events with the help of rainbow attire, accessories or decorations!
Rainbow Accessories
Whether you are participating in one of the many events or attending to show support, or just want to have a great time, you are going to want to fit in with some brightly colored accessories! You can go all out by donning an entire rainbow-colored outfit, or ease into it by wearing a few rainbow pieces. Feathered boas are a popular item for people at Pride events. A rainbow feathered boa is the perfect accessory to sport at a Pride parade or party. Or, if boas aren't your thing, you can put on a few rainbow beads or a rainbow sash.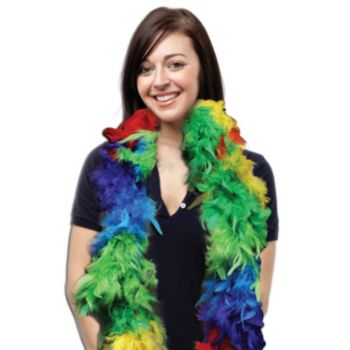 Rainbow suspenders are a great accessory for the men to wear, but of course women can wear them, too, with matching fishnet fingerless gloves.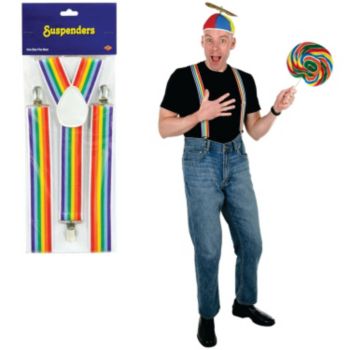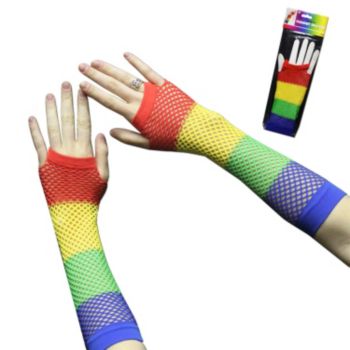 While most Pride events occur during the daytime, there are some parties at bars and clubs at night. Neon glow necklaces and bracelets are great accessories to wear at such parties,
Bright Wigs and Hats
Expect to see many brightly colored wigs when attending a Pride event. Both men and women can sport a hot pink wig or a neon green wig, or a multi-colored Nicki Minaj wig! Rainbow clown wigs are also a good choice.
Funky hats are also welcomed at Pride events! Find a fun and brightly colored hat, or stay cool with a rainbow stripe bandana.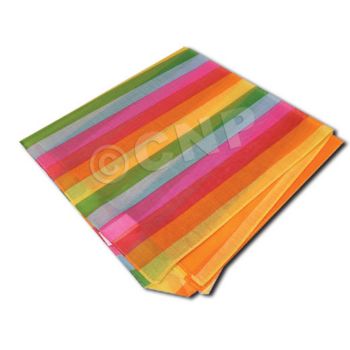 Rainbow Banners
Charities, businesses and other organizations in Pride parades will need a banner with their business or organization name on it. Rainbow custom banners allow these groups to print their title on banners, as well as adding a special message!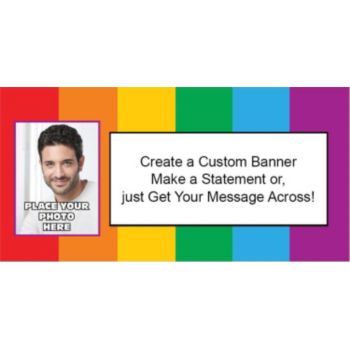 Rainbow Decorations
If you choose to host a Pride party at your restaurant or bar, or in the comfort of your own home or yard, you are going to need some fun rainbow decorations. Hang rainbow pennant banners around the party space and hang multi-colored ceiling decorations. Or if the party is outdoors, hang multi-colored lanterns as an exciting decoration and a light source.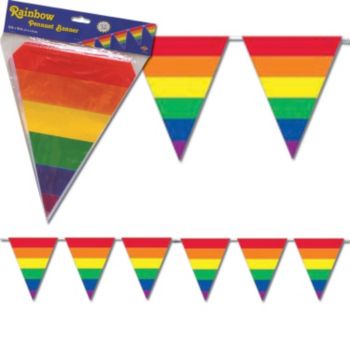 If food is being served at this party, cover the tables with a rainbow table cover to prevent a mess.
Because the rainbow flag is the symbol of the LGBT pride, a rainbow flag is necessary at Pride events. Hang a 3' x 5' rainbow flag from the flagpole outside your restaurant, home, etc. Or, place smaller rainbow cloth flags around the entertainment space. These smaller flags are also great items to carry in or at Pride parades!
For tips, questions, help planning an event or for recipe and craft ideas, email our party experts at askanexpert@windycitynovelties.com for your personal party planner!