"An opening is not like any other game. There's that little extra excitement, a faster beating of the heart. You have that anxiety to get off to a good start, for yourself and for the team. You know that when you win the first one, you can't lose 'em all."
-Hall of Fame pitcher Early Wynn
Opening day is right around the corner with the first game being played Sunday night, March 31st with the rest of the league kicking off Monday, April 1st. Opening Day may still be an unofficial holiday, but to the thousands of fans of America's favorite game, it is a time to celebrate. More and more people every year play hookey from classes or work in order to attend their home team's first game. Those who can't make it to the stadium can still kick off the season right with a winning baseball-themed party.
Invite the Baseball Faithful
What better way to invite friends and fans than with a personalized ticket invitation, with information on the place, date, and time? Encourage guests to wear their favorite team's colors, hats, or jerseys. Have some sports team face paint on hand to really get people in the spirit of the game.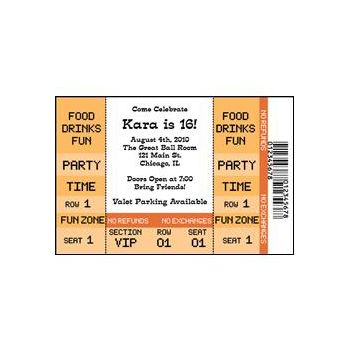 Baseball Themed Decorations and Tunes
A clutch of baseball balloons tied to the mailbox will help guests find the party and add to the festive atmosphere. Inside, create an authentic ballpark scene by covering one wall with a huge upper deck stadium banner. Laminate baseballs cards and use them as coasters. If you have a chalkboard easel, pull it out and use it to keep running track of the score during the game. Play a few baseball tunes while guests are mingling waiting for the game to start. There's nothing like "Take Me Out to the Ballgame," "Glory Days" and "We Are the Champions" to make fans want to yell "Play ball." Help guests settle in with an inflatable #1 hand in their favorite team's color before the ceremonial first pitch. This is one party where you don't need to worry about seating. If a person can sit on bleachers for hours, sitting on the floor or a folding chair won't be a problem.
Ballpark Snacks
You will want to have plenty of snacks on hand to munch during the game, including the traditional peanuts and Cracker Jacks. It is reported nearly six hundred million pounds of peanuts are sold each year at Major League baseball games, and fans still eat about one thousand bags of Cracker Jacks at every game played in the league's thirty stadiums.
Depending on where you live, you may not want to be partying outside during the first week of April, but it is still fun to keep a picnic-like feel to the food at an Opening Day party, no matter what the weather. Cover your table in a green plastic tablecloth that looks like a playing field. Plastic utensils come in a variety of colors to coordinate with team uniforms. Serve your guests on Rawling's official baseball plates that look just like the real thing, along with plenty of matching cups and napkins.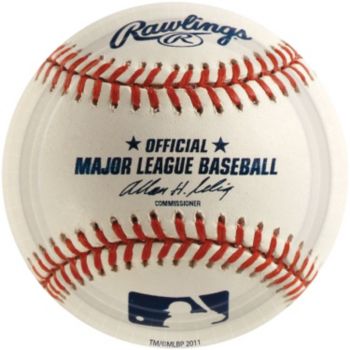 Hot dogs are a good, traditional choice for a baseball-themed party. Small hamburgers, or sliders, are certainly appropriate. Since it is still early in the year, make a big pot of chili in the crock pot and set out do-it-yourself garnishes, including cheese, onions, and corn chips. Make cupcakes that look like miniature baseballs by frosting them with white icing and decorating them with red "stitching." Keep beverages icy cold in handy inflatable baseball coolers.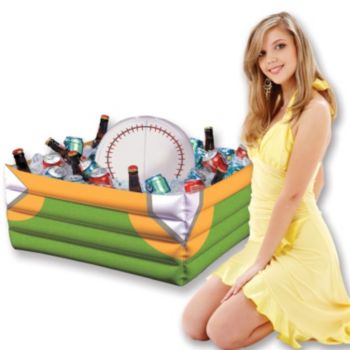 Baseball Themed Activities
A baseball piñata is the perfect activity for the Seventh Inning Stretch. Let guests take a swing to express their joy, or ease their frustration, with the way the game is going. There are plenty of fun facts on the internet and in books if you want to hold a baseball trivia contest. Compile a list of quotes from well-known players and coaches and have guests match the quote with the speaker. Winners could be awarded their very own baseball trophy.
Goodie Bags and Party Favors
Not every team can be a winner, but hosts can score big by sending guests home with a goodie bag stuffed with small bags of Cracker Jacks, decks of baseball cards, chewing gum shreds, and baseball stress balls.
As Joe DiMaggio said, "You always get a special kick on Opening Day, no matter how many you go through. You look forward to it like a birthday party when you're a kid. You think something wonderful is going to happen." And even if your team does not win, since Opening Day is also April Fool's Day in 2013, fans can always pretend the loss was just a joke. Play Ball!
For tips, questions, help planning an event or for recipe and craft ideas, email our party experts at askanexpert@windycitynovelties.com for your personal party planner!