The warmer weather of the spring and summer seasons generates a whole new collection of activities—one of these being music festivals. Soon enough, young individuals will be flocking to outdoor concert venues, parks or fields, stadiums, etc. all around the country in order to see some of their favorite artists perform. However, for most of these festival-goers, attending a music festival isn't just about the music. The music may be the main focus of the festival, but people enjoy the option of partaking in other activities at the festival, such as carnival rides and games, food, and more.
In the last several years, music festivals have gained a lot of attention and popularity, and will continue to do so. Some of the most popular music festivals in the country include South by Southwest (SXSW) in Austin, Ultra Music Festival in Miami, Coachella in Indio, CA, Electric Daisy Carnival (EDC) in New York City and Las Vegas, Bonnaroo in Manchester, TN, and Lollapalooza in Chicago. At these music festivals, a range of music genres are typically performed, attracting fans of all different types of music. However, there are an increasing number of festivals that are solely for electronic dance music (EDM) fans.
If you plan to attend any of these EDM music festivals—or any of the festivals, for that matter—you may want to accessorize your festival attire with some glow items. Festival-goers tend to wear glow sticks or glow paint, or wave around glowing objects in the crowd, especially once the sun goes down. Here is a list of the top ten glow or light up items you'll want at your music festivals:
1.) Glow Necklaces
Glow necklaces are commonly worn at music festivals and concerts. Wear yours around your neck for a touch of glow. A glow necklace can also double as a headband, another popular accessory worn by girls at music festivals.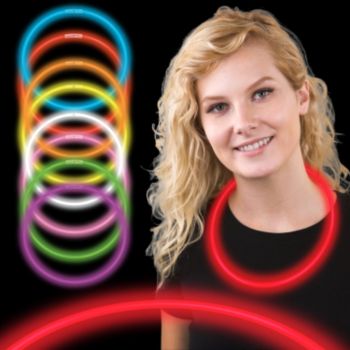 Red Supreme Glow Necklaces
2.) Glow Eyeglasses or Masks
Stand out from everyone else by wearing cool glow glasses, or a unique glowing mask. Everyone at the venue will be complimenting your choice of eyewear!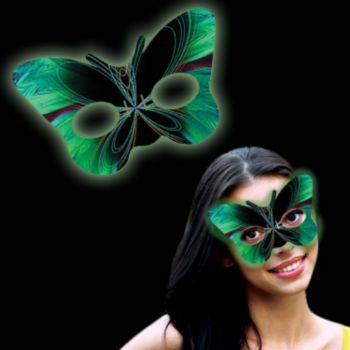 Green Butterfly Glow Mask
3.) Glow Paint
Glow paint is also commonly worn at music festivals, especially EDM festivals. Paint a cool design on your face or body. The paint will show up as normal paint in the daylight and will glow once you're in the darkness.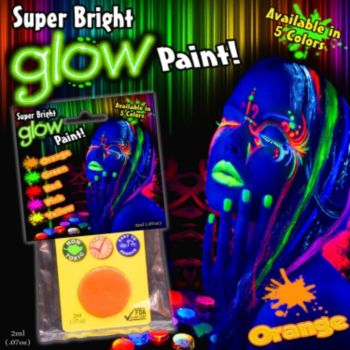 Orange Super Bright Glow Paint
4.) Glowing Beach Balls
Bring a light up beach ball to the festival you are attending and toss it around the crowd for some fun!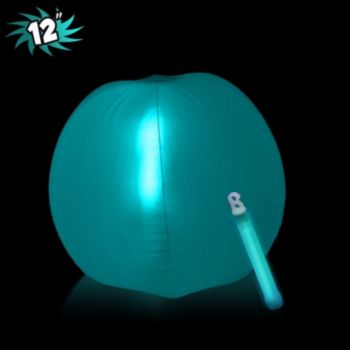 Aqua Glowing 12" Beach Ball
5.) LED Sunglasses
LED light up sunglasses will make a big hit at music festivals. These sunglasses light up with several LED lights and can flash in a few different modes. Wear these to your summer concerts so your friends won't lose you in the crowd!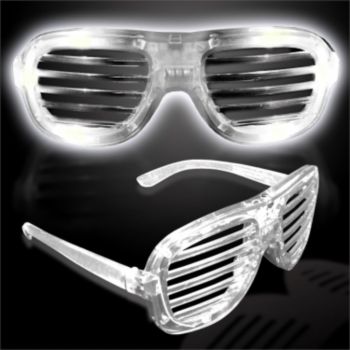 White LED Slotted Glasses
6.) Lumitons
Lumitons are light up batons that are typically handed out at night clubs or concerts. They are used to wave in the crowd while they light up, flash or blink. Bring one with you to your music fest and wave it around to the beat of the music!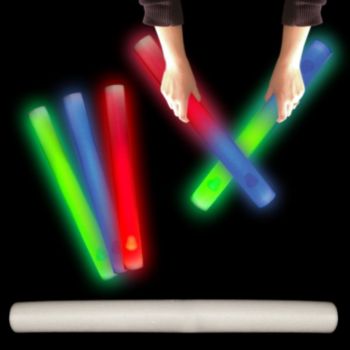 Multi-Color LED Lumiton
7.) LED Fans
Keep cool while looking cool at your outdoor concerts while using a LED fan. The LEDs on the fans create fun glowing designs while the fan keeps you cool from the summer heat.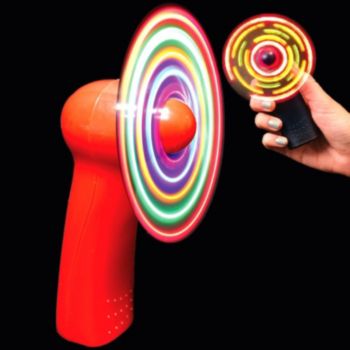 Handheld Red LED Fan
8.) Light Up Shoelaces
If you want to wear something that lights up but don't want to know it's there, light up shoelaces are the perfect additions to your festival attire. Choose ones that go directly on your shoelace and light up when you are in motion, or choose light up shoelaces that are constantly lit or flashing.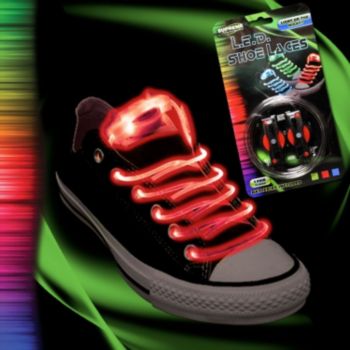 Flashing Red LED Shoelaces
9.) LED Rings
Light up rings are great to wear if you want to wear something small that glows. Choose from a variety of rings to find one that matches your outfit or type of concert.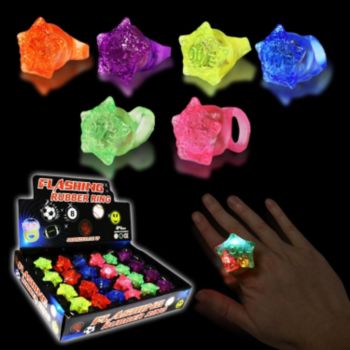 Star Shaped LED Jelly Rings
10.) LED Necklaces
Stand out from the traditional glow necklace crowd by wearing a unique light up LED necklace! Choose a shape and color and hang it around your neck for a festive look.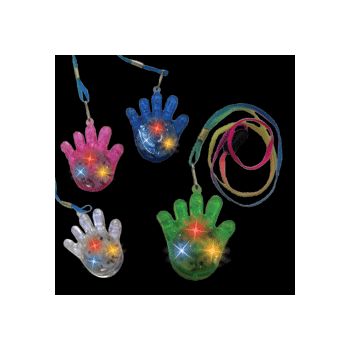 Flashing High Five On A Lanyard
For tips, questions, help planning an event or for recipe and craft ideas, email our party experts at askanexpert@windycitynovelties.com for your personal party planner!