Whether you live on the sandy shores of the ocean or have to soak up your summer rays in the middle of an urban area, the best way to celebrate the summer is with a luau! Invite your friends to come and enjoy these last weeks of summer with a fun and fabulous luau filled with festive party decorations, paper goods, and other luau themed supplies that will make your day complete.
10. Create a tropical vibe for your luau by hanging hibiscus paper lantern garlands around the perimeter of your party space. A fun way to add a pop of color, these 12-foot long garlands, with their bright pink, blue, and green color scheme, are a great start for your party decor!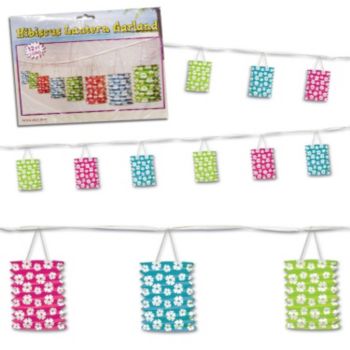 9. Even if your luau is taking place halfway across the country from the Hawaiian Islands, you can still transform your party space into the perfect island getaway with unique decorating touches like raffia umbrella covers, which will give your outdoor space a Tiki hut atmosphere!
8. Complete the transformation of your outdoor dining space into a tropical Tiki paradise with a flowered grass table skirt. Whether you're using it for your buffet tables or picnic tables, these table skirts, which use a raffia like material and are trimmed with bright silk flowers, will add a festive touch for your luau!
7. Top off your tables with flaming Tiki head decorations that will wow your guests! Battery operated and measuring 13-inches high and 9-inches wide, these flaming Tiki heads will make a statement whether they're sitting in the middle of the buffet table or resting on the deck railing!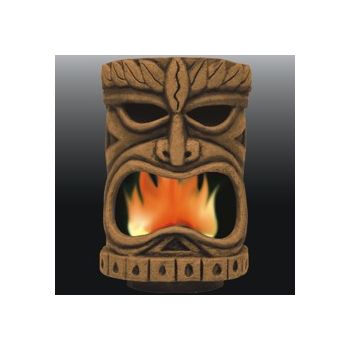 6. Whether your luau fare features a traditional pig roast and pineapple upside-down cake or burgers and brats on the grill, you'll need plenty of bright and bold paper goods to serve those delicious treats on! The Wild Hibiscus paper plates and coordinating napkins, cups, and other paper goods are the perfect choice for your party, with their bright pink, blue, orange, and green flowers and foliage on a white and black striped background.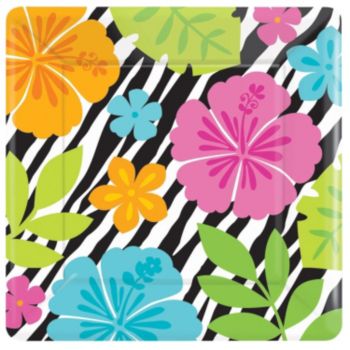 5. Break out the blender and try your hand at making some fabulous island-themed mixed drinks for your luau, like margaritas, daiquiris, mai tais, and frozen lemonade and serving them in festive Tiki cups that will match your Wild Hibiscus paper goods and tropical decor! These brightly colored 14-ounce cups will keep your guests well-hydrated and happy all day long!
4. What's a luau without a limbo? Our light up limbo game will keep your party hopping long after the sun goes down as your friends test their skills and see just how low they can go!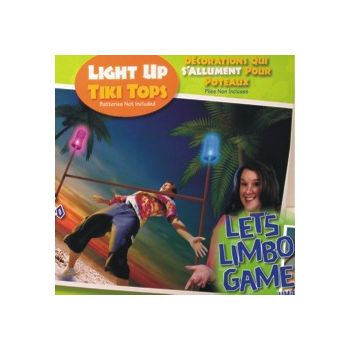 3. Brighten up your party attire with this bold blue Hawaiian shirt! The perfect way to match your clothes to your party theme, this bright Hawaiian shirt, which is also available in red, will have you looking island awesome!
2. Greet your guests in true island fashion with colorful leis. Choose from silk floral leis in assorted pastel colors, animal print leis for those wild parties, plastic leis in assorted colors, or even tie dye fringed leis for a 70s-themed luau. With leis in so many wild, wonderful patterns and colors you'll find one that fits perfectly with your party theme!
1. Get ready to see which of your friends knows how to shake their stuff by holding a hula contest! Outfit everyone-guys and girls-with their own hula skirt and crank up the tunes to test their skills to see who knows how to do the hula like a real islander!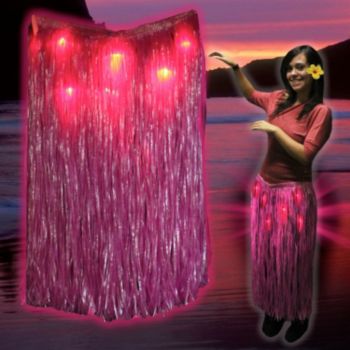 For tips, questions, help planning an event or for recipe and craft ideas, email our party experts at askanexpert@windycitynovelties.com for your personal party planner!