10 Must-Haves for a Glow Party
09/27/17
Glow Parties are becoming all the rage (again—remember in the 80's when they were called "raves?") Such parties are composed of a dark atmosphere illuminated by black lights, glow sticks and blinking, flashing, light-up objects, with electronic music blaring in the background. They became relevant when electronic dance music (EDM) skyrocketed in popularity over the past few years. Although they are most popular amongst teens and twenty-somethings, there's no stopping adults from getting in on the glow fun! So glo with the flow and throw a fabulous Glow Party. Take advantage of the summer weather and situate your Glow Party outdoors after the sun goes down. Or, maximize on party time and host your Glow Party in a basement. Wherever your party may be, you must have these party items in order to throw a successful Glow Party!
1.) Glow-Themed Custom Banners
A custom banner is a great way to welcome your guests to the party. Our bright and colorful Black Glow Party Custom Banner will get your guests in the glow party mood. Any bright or colorful banner will do, but this one gives it a little something special. Customize it and make it your own!
2.) Glow Stick Decorations
Glow sticks aren't just for hanging around your neck or waving back and forth at an EDM show. Incorporate them into your party decorations for a glow-tacular party setting! Crack them and toss them into your swimming pool—they'll sink to the bottom and will look amazing submerged underwater.  
If your party is going to be outdoors underneath a tent, create your very own glow stick chandelier to hang from the center. Take three wire circles that vary in size (you can even construct your own from wire hangers), and connect them using any type of sturdy string or thin rope, stacking them in size from smallest to largest. Add more string or rope to the top of the wire circle in order to hang it. Then, simply hook the glow sticks onto the wire circles, arranging them as you please.
If your party is indoors, and you don't have anywhere to hang a glow stick chandelier from, tape glow sticks to the bottom of your ceiling fan blades. Once you turn on the fan full speed, it will form an illusion of one giant, lit-up circle. Make sure the glow sticks are securely on the fan blades so they don't fly off while the fan is turned on.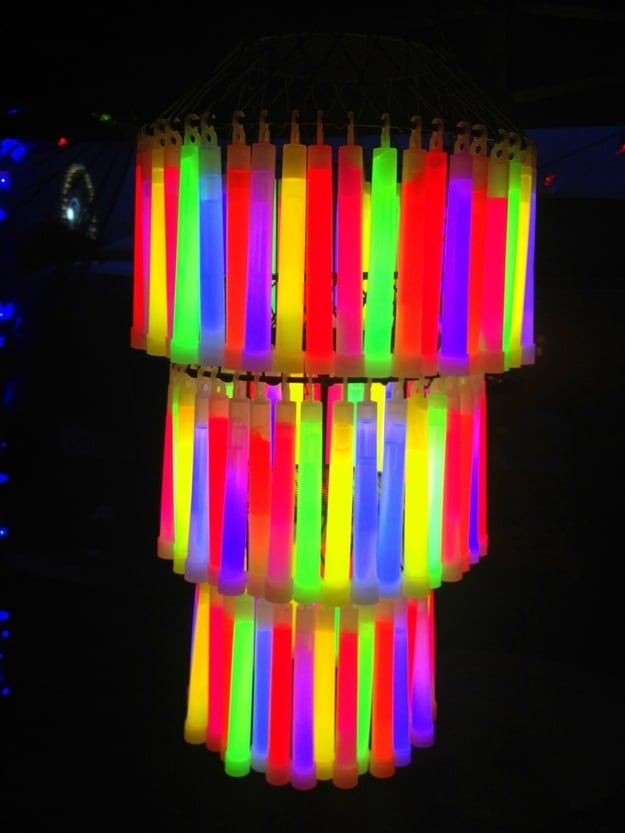 via catchmyparty.com
3.) Black Lights
Black Lights are essential to your Glow Party. They will allow neon colors and glow sticks to really stand out, creating bright and colorful scenery. They will also be a source of light at your party. Hang a few black lights around the party space. This is also the reason your guests should arrive in white or neon clothing.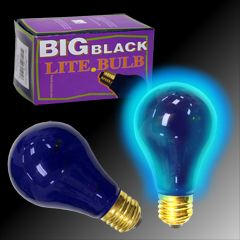 4.) Neon Decorations
As previously stated, anything of neon color will pop under black lights, so decorate your Glow Party with neon decorations. Hang neon paper streamers from the ceiling near an entrance way, or drape them like garland.
5.) Floating Glow Balls
Create the illusion of floating glow spheres by hanging glowing beach balls (clear plastic beach balls containing glow sticks) from your ceiling, tent, or other type of overhang. They can also float on the surface of your swimming pool.
A cheaper alternative to this would be to purchase white balloons, stick a glow stick into them and fill them with helium. 
6.) Glow Ice Cubes
Make a giant bowl of punch and drop a cluster of glowing ice cubes in it. The ice cubes won't keep beverages cool, but they will make them look cool!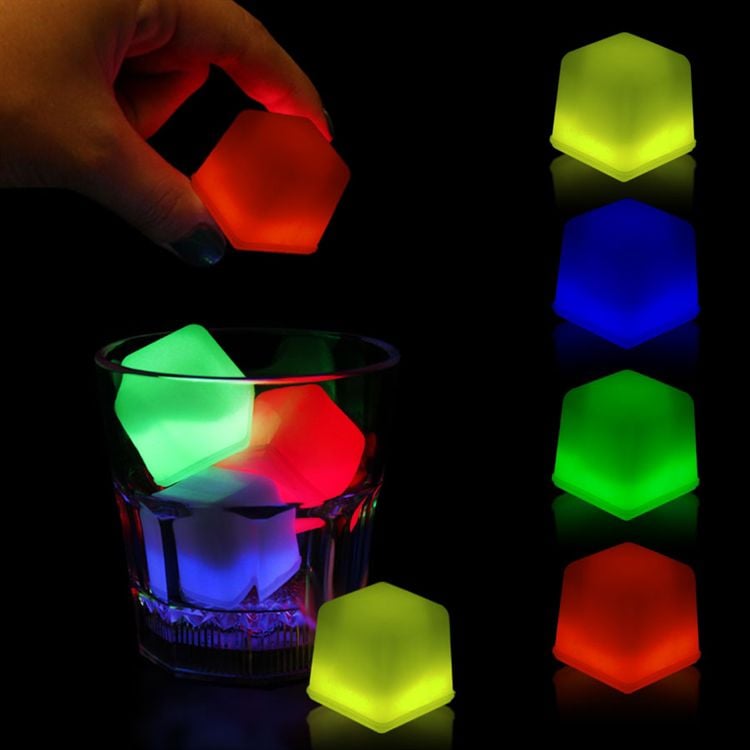 7.) Glow Barware
Your guests are going to need cups to drink your delicious punch out of, so set glow cups next to your punch bowl. You could also garnish regular glasses or clear plastic cups with glow straws. 
8.) Light-Up Cotton Candy
Serve up something sweet and bright when you serve cotton candy on a light-up stick! Purchase tubs of cotton candy, or make your own with a cotton candy maker, and wrap it around a light-up wand. Because cotton candy is so thin, the light will shine right through it. 
9.) Glow Paint
Reveal your artistic side by painting cool designs on the windows with glow paint. You can also splatter or paint a large piece of white construction paper (the day prior to the party to let it fully dry) and hang it in the party space as a backdrop. The glow paint will catch the light from the black lights and will glow in bright neon colors.
 It would also be fun to set up a glow painting station where guests can paint themselves and/or others with glow paint.
10.) Glow Accessories
And last, but not least, your guests are going to need to be provided with some glow accessories at your Glow Party! Set up a buffet of glow items—such as glow necklaces, glow bracelets, glow eyeglasses, etc.—that guests can help themselves to in order to create their own glow gear.
Now that you know the essentials to throwing a successful Glow Party, it's time to get glo-ing!