5 Steps to Keep Zombies Away During the Zombie Apocalypse
09/27/17
In recent years, zombies have become increasingly popular, to the point that many individuals believe they might actually take over the world one day. When word spread about the Mayan calendar ending on December 21st, 2012, many theorized the world would end from a zombie apocalypse. And while that didn't happen, it hasn't been ruled out as one of the world-ending scenarios. In fact, just recently, the governor of the state of Kansas signed a proclamation naming October "Zombie Preparedness Month," in which citizens must be prepared should a zombie apocalypse begin.
Because a zombie apocalypse is no laughing matter, we have come up with a list of precautions to take to deter zombies from your home and loved ones. Whether you believe in zombies or not, it wouldn't hurt to follow these steps and prepare for such an event, say around October 31st. 
Step 1: Inform everyone you know about the Zombie Apocalypse
If they don't already know, inform friends and loved ones about the Zombie Apocalypse. Invite them to take preventative measures with you and your family when honoring Zombie Preparedness Month. Keep them all safe in a particular area of your home, away from the zombies. Send the invites through the mail. You'll begin to receive calls and text messages from those that are willing to prepare for this horrific event with you.
Step 2: Disguise your home, inside and out
It is extremely important to disguise your home—especially the outside of it because it's what the zombies will see first. If they notice that your home has already been invaded by fellow zombies, they'll wander onto the next home in the neighborhood. Make it appear as if you had chained and boarded your front door, but that it was broken into by zombies. Do this by placing planks of wood hanging off the front door and laying pieces of broken wood on the ground, along with old rusty chains. Be sure to add splatters of (fake) blood along the entranceway. Put some on your hands to create bloody handprints on your door, as well. It also wouldn't hurt to throw some ripped articles of clothing and bloody limbs around your yard.
Place large images of zombies peering out of your windows on the exterior of your actual windows to make it look like zombies are already occupying your home. If you would like to warn others about the Zombie Apocalypse, you can hang subliminal messaging in the form of banners. These banners are splattered with blood, and have the word "Beware" written in blood across them. Zombies won't think anything unusual about them, and humans will understand exactly what they mean.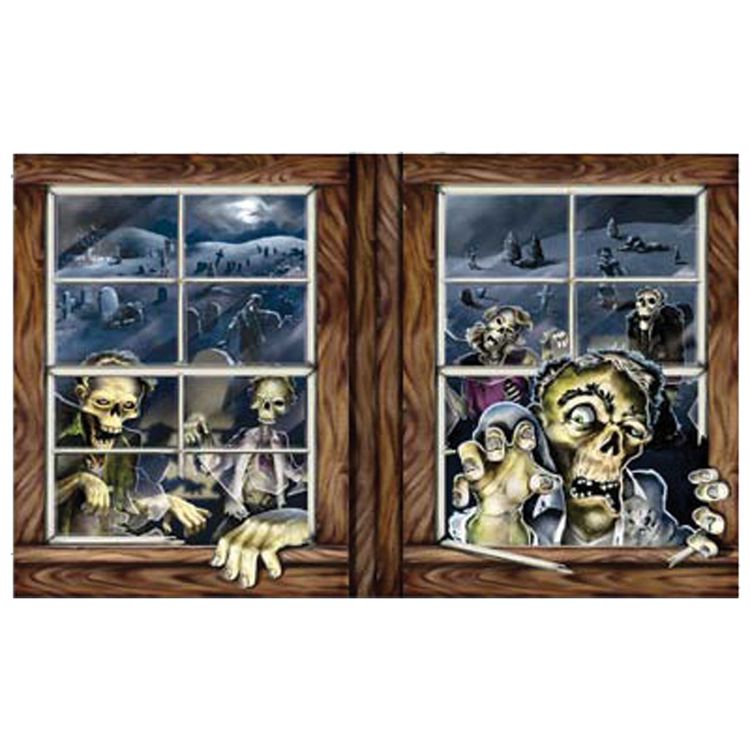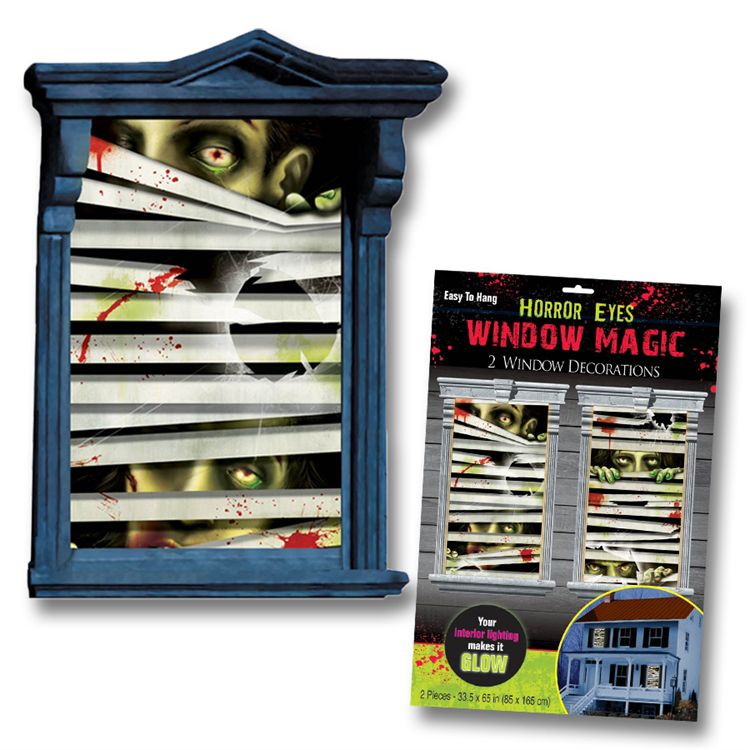 Should zombies enter your home, you need to be prepared and disguise the inside of your home, as well. The new décor of your home should be blood, blood and more blood—especially in the room where you and your loved ones are going to be taking cover. Set out a bloody footprint floor runner that will lead your friends to the safe room, BUT will make zombies believe this house has already been taken over. Continue to add bloody handprints and splatters to the windows and walls.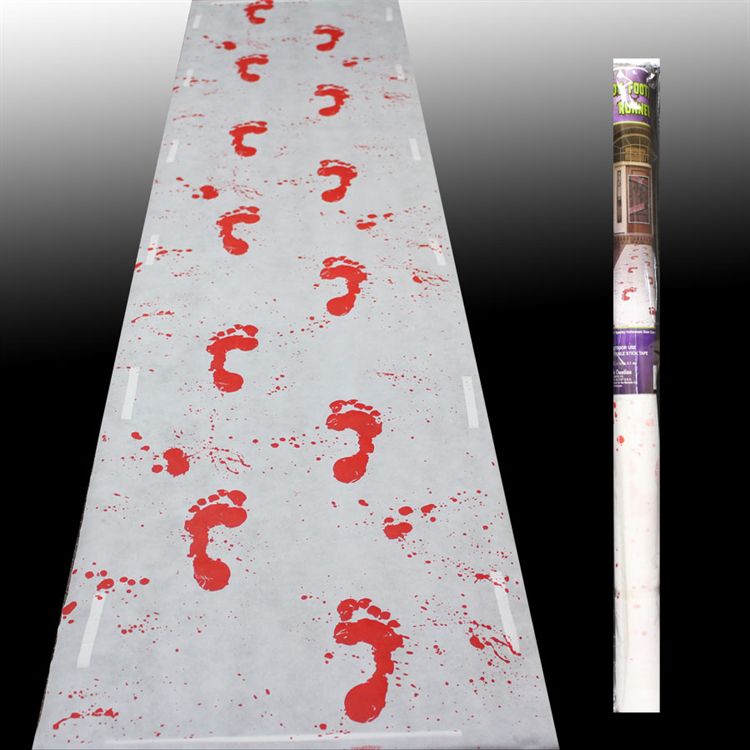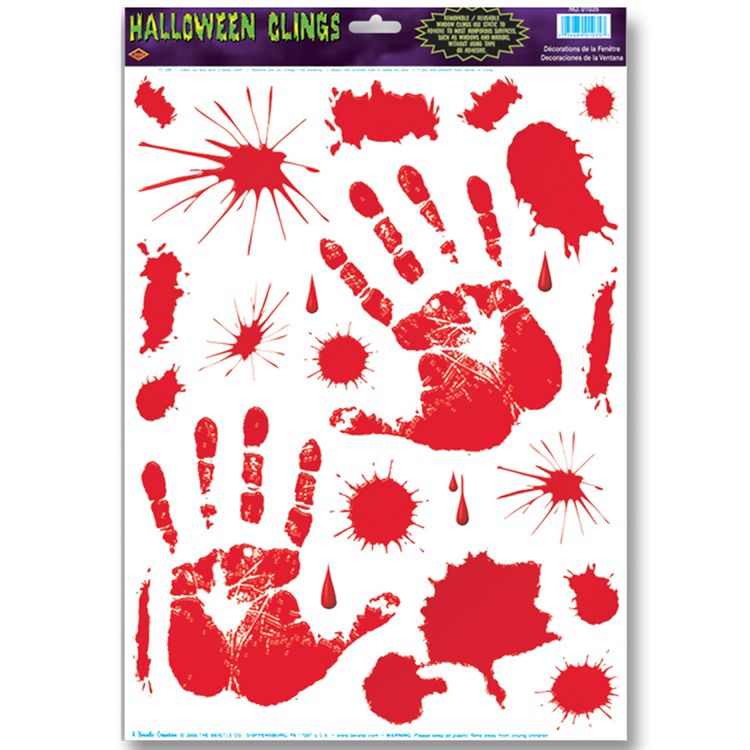 Set the scene in your "safe space" by hanging up a large image of zombiesbreaking through the wall. Zombies aren't intelligent enough to know it is merely an image, and they will assume they are fellow zombie friends in search of food. You can also find—or create your own—life-size zombie creatures and place them throughout your home; if you think it will help keep your family safe. Again, it wouldn't hurt to position bloody limbs along the hallways and floor, and splatter fake bloodeverywhere.
Because you don't want to draw much attention to your home, keep the inside of your home lit by candlelight, flashlight, and/or green glow sticks. Place them on your food table, in the punch bowl, along the floor, hanging from the walls, etc. Zombies won't be able to see these lights from the outside of your home.
Step 3: Blend in with the zombies
If zombies enter your home, you and your friends are going to want to look and act as zombies. You will want to make them believe that you, too, are zombies and are in search of human brains to devour. Do this by adding zombie makeup to your face—make your face pale with white face paint, darken your eyes with black eye shadow or face paint, and add fake blood, or red face paint, to areas of your skin. You can also add dark spots to your skin with the dark shadow or face paint.
Wear bloody and ripped articles of clothing. You can easily make your own with a plain white tee.
images via thissillygirlslife.com and etsy.com
Step 4: Feast on foods that resemble zombie food
Because you don't want your friends to starve to death while hiding out from zombies, you're going to need to offer them food and beverages. However, you don't want to serve them ordinary food—you'll need to make zombie-like foods (out of human foods) so the zombies won't notice any unusual human behavior. Make dishes like human brains (light pink rice crispy treats with red food coloring veins), roasted eyeballs (meatballs), and severed fingers (hot dogs with onions and ketchup). Serve your "zombie foods" on bloody handprint paper plates and napkins. Allow your friends to stay refreshed with a red punch, complete with floating eyeballs or a human hand (ice).
via catchmyparty.com
Step 5: Keep calm and zombie on
If you follow the previous steps, the next thing you must do is remain in zombie mode and enjoy the company of your friends and loved ones while consuming the delicious food you've prepared. Have fun! :) 
At Windy City Novelties, it's our hope that this article inspires you to create a fun and unique party for your loved ones. For more helpful tips on organizing your event, email our dedicated party planning experts at [email protected]. You may also subscribe to our emails for weekly party planning ideas, featured products and more at https://www.windycitynovelties.com/customer/account/create/