5 Things You'll Need for Your Mardi Gras Celebrations
09/27/17
New Orleans hosts one of the biggest Mardi Gras celebrations in the world, complete with parades, masked balls, and a variety of other activities. Each year, many flock to the city to take part in the merriment of Mardi Gras. The first Mardi Gras celebrations in America were held in New Orleans, the reason the holiday is so widely celebrated in the area. However, many other cities have come to celebrate Mardi Gras in an extravagant way, bringing along the traditions from the original Mardi Gras celebrations.   
Whether you plan to experience Mardi Gras first hand in New Orleans or wish to host a Mardi Gras celebration of your own, you are going to want to have some traditional Mardi Gras party items at your celebration. Here are the five most important items you are going to need in order to take part in Mardi Gras:
1.) Beads
Mardi Gras beads are a long-standing tradition at Mardi Gras events, and are a necessary item for any type of Mardi Gras celebration. During the actual Mardi Gras parades, float riders will throw out strands of beads to the people in the crowds as they pass by. Beads are typically purple, green and gold—the traditional colors of Mardi Gras.
Stock up on Mardi Gras beads to throw into the crowd at the parades, or simply wear them around your neck while you are celebrating.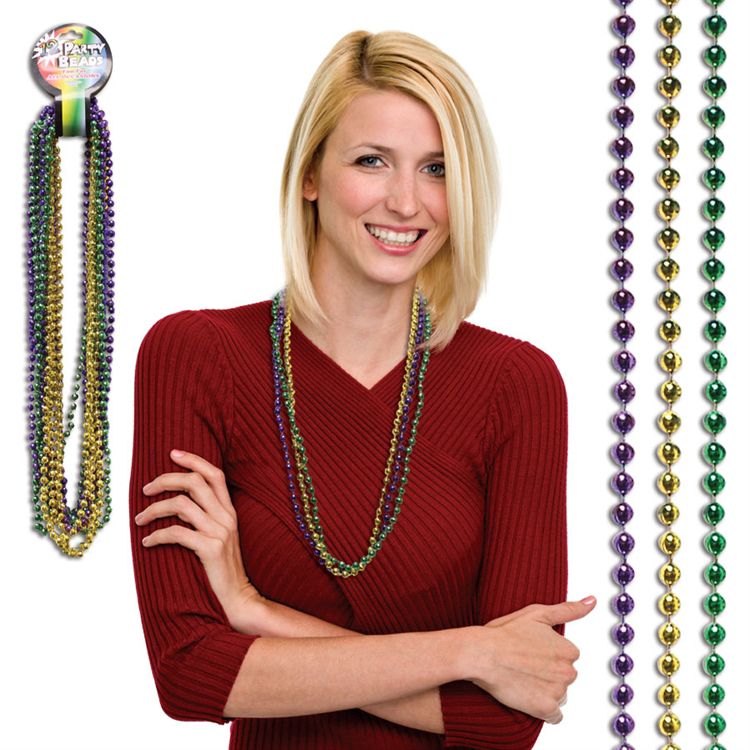 2.) Masquerade Mask
During the 1800s, many of the wealthy individuals used to host or attend masquerade balls during the season of Mardi Gras. These balls were hosted by secret society members, and the only way individuals could attend was through invitation. These masked balls are still held today, but to a lesser extent, and not everyone attends them. However, because of this masquerade ball tradition, many people don feathered masquerade masks during Mardi Gras. In fact, float riders are required to wear masquerade masks. Find or construct a Mardi Gras mask of your own to wear at your Mardi Gras party!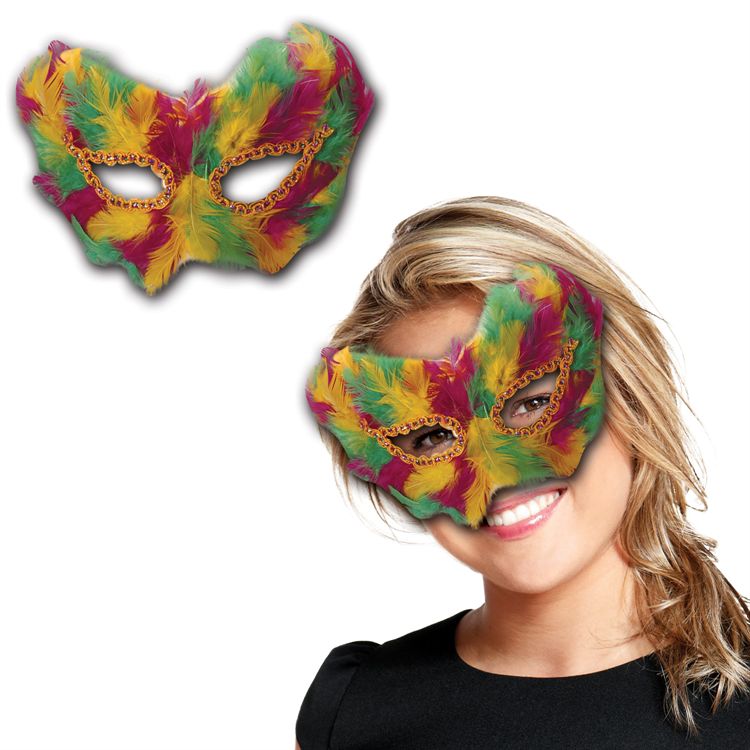 Jesters and kings have also become symbols of Mardi Gras. Instead of wearing a masquerade mask, you can also sport a jester hat or a king's crown! 
3.) Doubloons
Along with throwing beads, float riders would also throw giant cold coins, called doubloons, into the crowd. This tradition still stands, only many of the doubloons are Mardi Gras colors—purple, green and gold. Pass out Mardi Gras doubloons at your party, or throw them into the crowd at the Mardi Gras parade your are attending!
4.) Glow Items
Once the sun goes down, you are going to want some glow items for your Mardi Gras outfit. Wear a purple and green glow stick around your neck, or put on purple, green and yellow glow stick necklaces, bracelets and more! 
5.) Cool Drinkware
Mardi Gras revelers tend to drink heavily during celebrations, so drink your beverage out of a fun and festive light up glass! Serve drinks in exciting purple, green and gold glasses at your Mardi Gras party, or keep your drink cool while you watch the Mardi Gras parade. 
At Windy City Novelties, it's our hope that this article inspires you to create a fun and unique party for your loved ones. For more helpful tips on organizing your event, email our dedicated party planning experts at [email protected]. You may also subscribe to our emails for weekly party planning ideas, featured products and more at https://www.windycitynovelties.com/customer/account/create/