8 Steps to Planning a Bachelorette Party
09/27/17
Planning a bachelorette party can be stressful—but it pales in comparison to planning a wedding. A bachelorette party is the chance for the bride-to-be to take a break from planning her wedding and spend a fun night out—or in—with all of her best girlfriends and relatives. When planning a bachelorette party, there are a series of steps you must take in order for the night to run smoothly. If you've been given the task of planning a bachelorette party, follow this party planning process!
1) Figure out what the bride wants.
The job of the Maid of Honor, or bridesmaids, is to give the bride-to-be a night she will never forget—in addition to her actual wedding day—so make sure the party follows her tastes. What you want in a bachelorette party may differ from what she is envisioning, so be sure to talk with her before you start preparing anything. Ask her what she would like to do and where she would like to go. Maybe she would like to do a whole weekend getaway trip, or maybe she just wants to go to a nice dinner. Be sure you get a feel for her limitations—you don't want to embarrass her or make her night miserable with strippers if she doesn't want them. Ask her if she wants the party to be more flashy, or more sophisticated and subdued. Maybe a day at the spa is just what she needs, or maybe she wants to get a table at the hottest nightclub. Or maybe she wants both! Make a list of the things she's looking for so you can have an idea of the type of bachelorette party to plan.
2) Pick your destinations.  
This step will require you to do some research. Now that you have gotten a feel for what the bride-to-be is looking for in a bachelorette party, you can start planning what you will do. If she wants a destination bachelorette party, begin searching for hotels. You'll want the hotel to be nice, but not too expensive. You should also keep in mind the location of the hotel. If it's in a downtown area close to restaurants, bars and shops, you won't need to spend money on transportation. Also mention that you are reserving the room(s) for a bachelorette party. The hotel may give you some free or discounted amenities, and possibly even accommodations. You also need to research the price of flights or car rentals. Just remember, if you are planning a destination bachelorette party, be sure to give the attendees enough notice for them to take off work and book flights and hotels at a decent price.
If the bachelorette wants to stay in-town, you get to skip the first step! Next, you need to decide where you guys will go. Maybe the bride-to-be needs a day to relax, making a spa day ideal. Book a day at the spa where she can get a massage, get her nails done, get a facial—and possibly even her hair and makeup done! Or maybe she'll want to skip the spa and do a day of sipping cocktails by the pool or at the beach, weather permitting. Or, gather the girls for a bar crawl around the city. Add in a few monumental places, or must-see attractions, into the mix to make this day differ from any other.
Pick a nice place for all of you to have dinner. Choose a restaurant she's been dying to go to, or a restaurant that fits the theme of her wedding. Just be sure it fits her taste. If she doesn't want to go to a fancy restaurant, choose a place she'll feel comfortable in. The same goes for the location after dinner. Maybe she'll be please with a reserved table and bottle service at the hottest nightclub in the city, or maybe she prefers to have a comfortable girls' night in.
3) Figure out the costs.
After you have done your research, you'll get a good sense of what everything will cost. Decide what you are willing to pay for personally, and then factor in what you want all of the bridesmaids to chip in. Take into account the transportation (limos, cabs, flights), the accommodations (if any), restaurants, bottle service, decorations, party accessories, party favors, etc. Make sure you know how much the event will cost each person.
4) Send out the invites.
Now that you know the details of the bachelorette party, you can send out the invites. Coordinate with the bride to see if she would like to invite anyone outside of the bridal party. Typically, the bride will want to invite family members and other close friends that are not in the bridal party. Once you know the guest list, send out the invites! Send out a cute and girly invitation in the mail, or send out an electronic invitation. Be sure to include all of the details, especially the itinerary and the estimated cost per person. Include the websites to flights and hotels if the guests are expected to pay for these themselves. Specify if you want each guest to bring a gift or not, and if so, the type of gift they should bring, depending on the personality of the bachelorette.
5) Pick up a few decorations.
The bachelorette will have to have a few decorations in order to make this evening special from any other evening. Plan your flight earlier then the other guests, or arrive earlier than the other guests, to decorate the hotel room that the bachelorette will be staying in, or the hotel room you designate as the meeting place. If there is no hotel room, ask the restaurant manager if you can add a few decorations to the private room of the restaurant. Or, if you plan to have a pre-party to open gifts and have a few glasses of champagne, decorate the party space in order to liven it up a bit. Hang a pink and black martini and heels garland around the party space, or drape it in the entranceway. Additionally, hang a mixture of pink and black fluffy tissue decorations from the ceiling or above the snack table or dining table.
6) Hand out party accessories.
Again, depending on what type of bachelorette party the bride told you she wanted, hand out a few party accessories for the group to wear all night. Sometimes, you can tell a bachelorette party apart from others because they'll all be wearing a customized shirt and pink, flashy party accessories. You could have all of the guests wear black dresses, while the bride-to-be wears white, and make everyone wear a hot pink wig. Give the bachelorette a "bride to be" tiara and a pink boa, letting everyone at the club know who the guest of honor is. Give each guest a light up diamond ring as another fun party favor.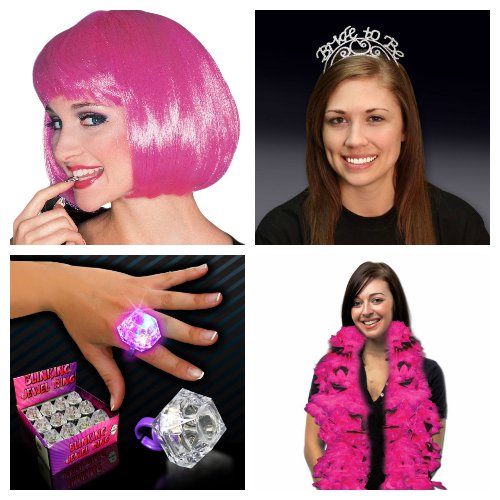 7) Plan out some party games.
Depending on the bride, plan a few party games to keep your guests entertained. If you plan to have a pre-party at your place or in your hotel room before you go out, have everyone bring a piece of lingerie for the bride that best fits their personality. Tell each guest to wrap their gift anonymously, with no card, and have the bachelorette guess who each piece of lingerie is from.
Another activity you could partake in is a scavenger hunt. Have each guest complete a list of things to do during your night out, such as take a shot at the bar, dance on a table, take a selfie with the bouncer, make up a goofy dance move and bust it out on the center of the dance floor, get a guy's phone number, etc. Have each guest document each item with a photo, and the first one to complete all of them wins a prize. If the party consists of a close group of friends, it would be fun to make each request something funny or embarrassing that each guest has done before!
8) Give each guest something to cure their hangover the next morning.
As one final party favor, gift each lady with their own hangover cure bag. Include bottled water, Gatorade, some sort of pain reliever, and makeup remover wipes. Virgin Bloody Marys and some toast with honey are said to be great hangover remedies, as well. If you are staying in a hotel, try ordering these items from room service the next morning. 
At Windy City Novelties, it's our hope that this article inspires you to create a fun and unique party for your loved ones. For more helpful tips on organizing your event, email our dedicated party planning experts at [email protected]. You may also subscribe to our emails for weekly party planning ideas, featured products and more at https://www.windycitynovelties.com/customer/account/create/