A Breakdown of Our Costume Accessories
09/27/17
We can help you find all the best Costume Accessories to help you get all those great, finishing touch items to complete any fun costumed look for Halloween, or any special costumed event.  With a whole range of products to choose from, conveniently categorized by bracelets, necklaces, rings, mustaches, jewelry accessories, hair extensions, hula skirts, temporary tattoos, gloves, shoes, and more, you can take any costume to the next level.  There are categories for decade inspired looks from the 1920s, the 1950s, the 1960s, the 1970s, and the 1980s.  We have sections for women's, men's, and children's costume accessories.   There are pirate accessories and witch accessories.  We have accessories to get you styled and ready to celebrate Mardi Gras.  Windy City Novelties has an extensive collection of medieval accessories for those who want to dress up like the kings and queens of old, or anyone who wants to dress up like their favorite characters from television shows like "Game of Thrones" or "The Tudors."  Be a rock star, or at least dress like one, with great Rock Star Accessories.  We have some fantastic superhero flair for you to wear when you want to dress up like Batman, Spider-Man, Wonder Woman, or any super-powered hero.  We have some awesome accessories for horror themed costume ideas, including novelty weaponry, masks and makeup kits. 
We also carry a variety of great options for costume contest awards.  Windy City Novelties can help you get dressed up with style to impress the crowds this Halloween.  Host a fabulous costume party to celebrate any special occasion.  Encourage students at your school to come dressed up in costume and host a fun costume parade to show off their cool, funny, and scary costume designs.  Whether you want to find a rainbow colored wig and red nose accessory to clown around or are in the market for a lovely cloche style hat to match your fringed flapper style dress, we have everything you could ever want right here, among our hundreds of Costume Accessories!
Kids Costume Accessories
We have over 200 products to help your kids get suited up with style this Halloween!  Check out all of our great Kids Costume Accessories and help your child make their costume dreams become a reality with wigs, gloves, masks, fairy wings, novelty weapons, hats, capes, scarves and a whole line of fancy treat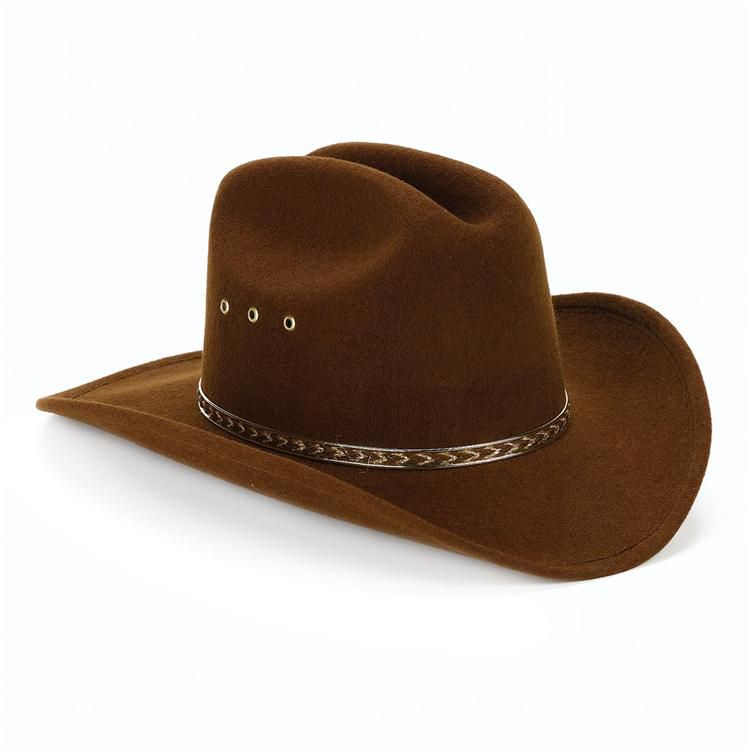 buckets they can take out trick-or-treating this year!  You can use special items as party favors for your child's themed birthday parties.  Pick up a set of Spiderman Party Masks, which come in packs of eight lightweight cardboard masks with attached elastic bands that feature the facial details of your favorite, friendly neighborhood Spider-Man!  We have a Brown Cowboy Hat that is great for boys or girls!  This brown felt hat features a silver arrow patterned trim and an elastic band that you can adjust to secure the hat atop your child's head.  We have a variety of officially licensed costume items to help your child get dressed up like their favorite popular culture characters, including options for fans of "Toy Story," "The Cat in the Hat," Marvel superheroes, Strawberry Shortcake,  Harry Potter, and more.  Send your Gryffindor fans out in Hogwarts robes with our Harry Potter Hogwarts Hat & Scarf Set and they can stay warm on chilly Halloween and winter nights.  This hat and scarf sets features the gold and red colors of the fictional house from the Harry Potter series of books and films from the mind of J. K. Rowling.  Each set provides your child with a 54-inch scarf and matching knit hat with embroidered-on "Hogwarts" insignias to have them looking as though they have been officially selected to attend Hogwarts School of Witchcraft and Wizardry.  A great accessory item to go out trick-or-treating this year is our Flashing Blue LED Shoe Beatz, which also come in green, purple, red, and white; or a pair of our Flashing Blue LED Shoe Laces. Flashing Shoe Laces are also available in green.  These light-up accessories will help keep your child safer as it starts to get darker and are super fun to wear.  You can attach them to their regular tennis shoes or any lace-up pair.  Find all of this and more under our Kids Costume Accessories page! 
Men's Costume Accessories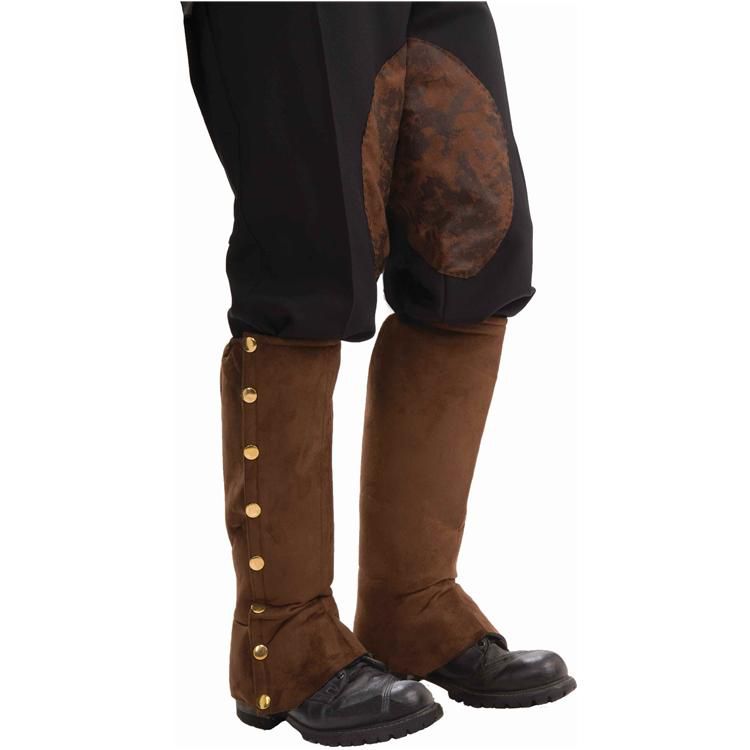 Our Men's Costume Accessories give adult males the ultimate selection to have fun on Halloween, or to dress up for any special costumed event with hundreds of great products to choose from.  We have dozens of great wigs, gloves, boots, and wearable accessories to help you complete any special costumed look, whether you are going for a fun superhero look or want to find the finishing touch items to match your leading lady for a couple's costume contest.  Shopping for steampunk accessories?  Check out our Steampunk Brown Men's Spats, which feature a cool, steampunk inspired style with brassy button accents that run the length of the outer sides.  Wear them over your pants and boots to create a cool effect worthy of Edwardian admiration.  They are designed to be one size fits most for adults and are sold by the pair.  Get a fantastic cape accessory to complete a special Dracula inspired look or any number of fun costume ideas.  Our Black & Red Reversible Deluxe Cape is a great choice!  It measures approximately 56 inches in length and will look great paired with a fancy top hat and suit.  We also carry a number of officially licensed costume accessories for men, like our Captain America Movie- Adult Shield. It features rings of red and white circles leading into the blue center with a large, white star detail in the middle, just like the one used by the iconic Marvel superhero, Captain America.  Fans of the film and comics will love this great accessory, which is an officially licensed Captain America product.  This read, white and blue shield measures approximately 24 inches in diameter and will be a fun prop to have if you plan to dress up like Steve Rogers in his red, white, and blue superhero suit this year.  Get inspired and get ready to have fun, with great Men's Costume Accessories that will help you stand out with style this Halloween!  
Women's Costume Accessories
Windy City Novelties has more than 100 great Women's Costume Accessories to help ladies get dressed up in fun, fancy, flirty, scary, or silly attire for Halloween, or any special costumed event.  Check out our grand selection of wigs, boots and shoes, tiaras, capes, headbands, stockings and foundation pieces, handbags and purses, jewelry, and other great accessory items that you can use to complete any fun costumed look this year.  Get dressed up with style and set out to impress the crowds at all your costumed Halloween events with a head-to-toe look that has all the trimmings when you shop our Women's Costume Accessories.  Female fans of the Star Wars films can get dressed up like Princess Leia with our easy-to-wear Star Wars-Princess Leia Headband. This great accessory will help you achieve this iconic hair style without the hassle of wearing a wig and it will keep your ears warm on chilly Halloween nights!  This officially licensed Star Wars ™ product features a simple plastic headband with two hair synthetic hair buns mounted to both sides that will cover your ears and help you look just like actress Carrie Fisher in the Star Wars films.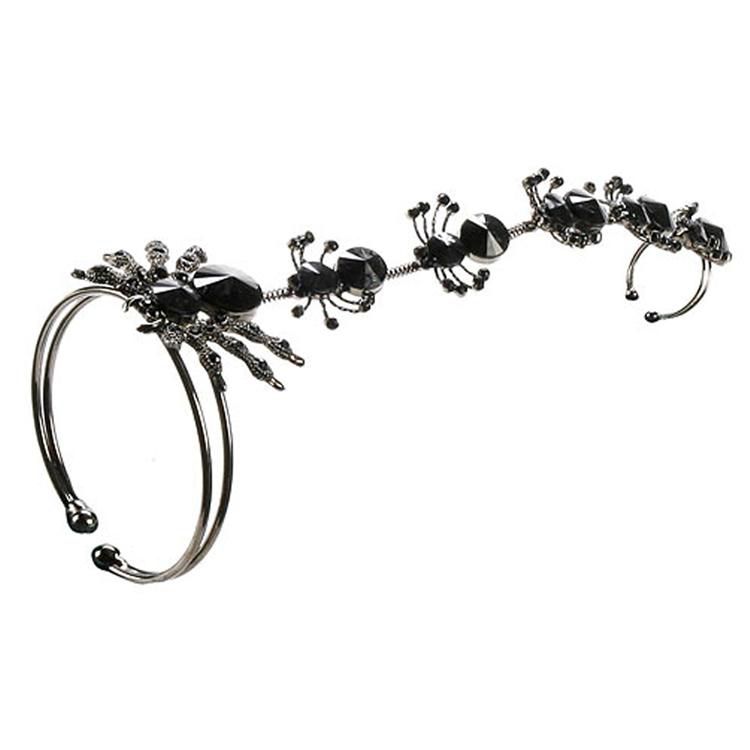 We have a White Deluxe Feather Angel Accessory Adult Kit that you can use to achieve an angelic look for special costumed events.  This kit includes a pair of faux feather wings that measure approximately 16 1/2 inches in length by 34 inches in width and come with a matching marabou halo headpiece that you can wear with a styled wig or your natural hair.  Wear these great accessories with a fancy white dress, leotard, or any style dress to create a unique, angelic look that is all your own for Halloween, plays, pageants, or any costumed event.  Windy City Novelties has great jewelry pieces for you to dress up fun themed looks.  Our Spider Bracelet will look awesome for witch or vampire inspired costumes this year.  It features a silver hoop bracelet with a connected line of metal spider accents that lead down to an attached ring for super charged Halloween bling that is sure to impress.  Look for all of this and more to get suited up with style this Halloween, with special items from our Women's Costume Accessories.
Costume Accessories by Theme
We can help you find great accessories for the whole family, and, perhaps even the family dog, among our Pirate Costume Accessories, Witch Costume Accessories, Medieval Costume Accessories, Rock Star Costume Accessories, Super Hero Costume Accessories, and Horror Theme Costume Accessories. Within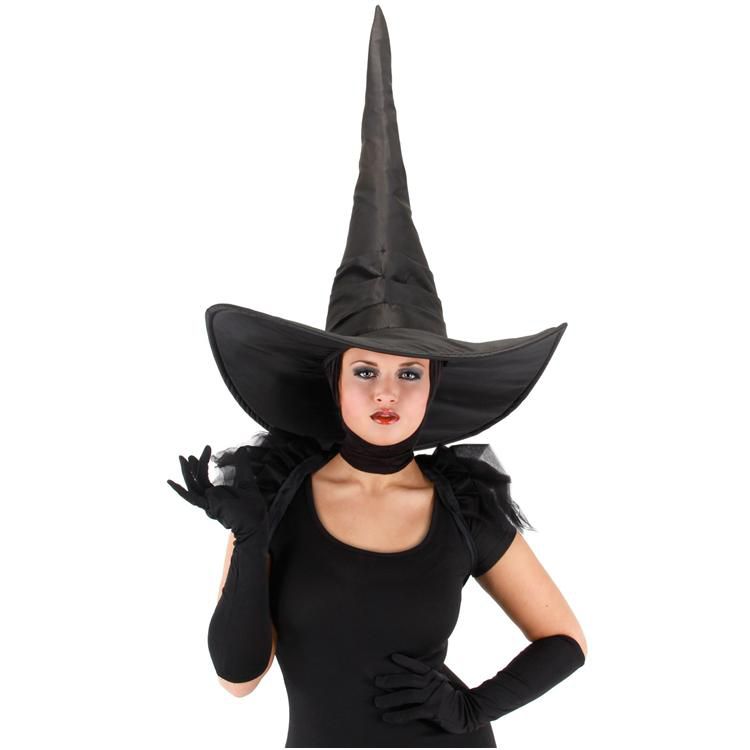 each of these fun subcategories there are dozens of great items to inspire and help you finish off special costumed looks to delight the crowds this season.  Find great options to help you complete individual and couple's costumes to take home first prize in all the contests on Halloween.  We have a great selection of officially licensed products from franchises and fandoms for character costumes from popular culture.  Consider our Pirates Of The Caribbean - Jack Sparrow Pirate Hat With Beaded Braids from the pirate category, which can help you achieve the iconic pirate look made famous by actor Johnny Depp in the series of Disney live action films.  We have a The Great And Powerful Oz Wicked Witch Deluxe Hat for fans of the 2014 feature "The Great and Powerful Oz."   You can get accessories to complete a Michael Jackson, Lady Gaga or KISS band member costume among our Rock Star accessories.  We also have a huge assortment of superhero flair for people looking to get dressed up like their favorite superheroes from films and comic books.  Check out our Dark Knight Rises Batman Cape And Mask Kit and the Spider-Man Adult Boot Covers.  For those who like to take advantage of the holiday and dress up like their favorite villains and monsters, we have all sorts of fun props and accessories to help you pay homage to your most beloved movie monsters, including a Deluxe Freddy Metal Glove. This is a great accessory for fans of Freddy Krueger and "A Nightmare on Elm Street." 
Costume Awards
Windy City Novelties also carries dozens of great Costume Awards if you plan to host any special costumed events this year.  We have statues, ribbons, sashes, and other great styles to choose from to muster up enthusiasm and competition among participants on Halloween or at any special costumed event.  Host a fun masquerade ball or gather the masses to see who can show up in the best funny, scary, sexy, and super costume this year.  Our Halloween Award Ribbon is a great place to start your shopping.  This great award option features black ruffles surrounding a lime green button that measures approximately 3 3/4 inches in diameter.  It is decorated with illustrated images of jack-o-lanterns and black bats with "Winner" printed in bold letters and black and orange layered streamers that hang down for extra style.  The Best Costume Sash is another great choice.  This 33-inch sash features "Best Costume" printed in bold, creepy letters down the front on an orange background that has black stripe edges and black bat accent details, making it a perfect choice for a Halloween event!  We also have a similar Funniest Costume Sash in yellow and purple with black accents that you can use at your event.  Windy City Novelties also carries a trio of ribbons that you can get to reward 1st, 2nd, and 3rd place winners at your costume contests.  The Halloween Award Ribbons come with a pack of 3 that are brightly colored with purple for 1st place, orange for 2nd place and bright green for 3rd.  Each one has matching colored streamers that are decorated with fun images of spiders and spider webs.  We can help you find all the best Costume Awards to get ready when you plan to host a costume contest for Halloween for friends, at your school, or for the general public. 
Windy City Novelties has a fantastic assortment of costume accessories for you to check out and sift through to get ready for Halloween or any special costumed event this year!  Have fun sorting through all of the individual categories to find all those finishing touch items you'll want to create head-to-toe looks that are sure to impress.