A Guide to Our Funky Hats and Wigs
09/27/17
Getting together with the gang is always a good time, but you can add a lot of laughter to your next gathering by making it a funky hat and wig party! Wearing a wild hat or crazy wig seems to free people of their inhibitions – if you can go out wearing something that silly, there's no telling what you might do next! Funky hat or wig parties are a great theme for decade birthdays or bachelor/bachelorette celebrations. Those are occasions when you actually want to attract attention, and why settle for a big button or a tiny tiara when you can look fabulous in spikes, lights and feathers?
Kids love wearing funny hats and wigs as well, and don't have any problem wearing them when it's not even Halloween. Windy City Novelties has plenty of funky hats and wigs to choose from in an array of fabrics, materials, and colors. When you are ready to send out invitations to your party, just add the link to Windy City and tell guests head gear is required. Friends who groan when they get an invitation to a party requiring formal wear will find a funky hat and wig party a fun alternative.
What better way to advertise that you are forty and fabulous than wearing the Purple Velvet Hat with Multi Color Feathers? People will be offering to buy you drinks at the bar, not only because it's your birthday, but because you are so brave. The purple velvet hat has a tall, rounded crown and a wide brim lushly trimmed in blue, green, red, and orange feathers. The big, bold purple velvet hat comes with its own header card and is sold by the piece.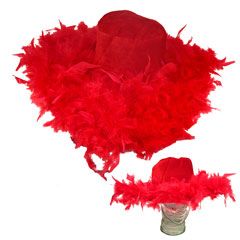 The Red Hat Society was founded in 1997 by Sue Ellen Cooper, an artist who was inspired by the first lines of Jenny Joseph's poem "Warning," which reads "When I am an old woman I shall wear purple, with a red hat that doesn't go and doesn't suit me." There's no question the Big Brim Red Feather Show Daddy Hats will be a big hit at the organization's annual convention. The big brim red feather hat has a tall, rounded, red velvety crown and an oversized brim liberally covered with bright red feathers. Ladies who are far enough away from 50 to find it funny, could use the red feather hat as part of a Red Hat Society costume on Halloween. The red hat would also keep your head warm and add to the fun while holiday shopping. The red feather show daddy hats are sold by the piece and are also available in purple.
Travel back to the 60s in the Neon Green Vinyl Newsboy Hat. Pair the newsboy hat with a pair of white vinyl knee-high boots and a plaid mini skirt if you want to be a Go-Go Girl. Spike up those eyelashes and get mistaken for Twiggy! The neon green vinyl newsboy hat is similar to a baseball cap with a roomier crown and an extended brim. The hat is one-size-fits-most and is sold by the piece. The vinyl newsboy hat is also available in pink.
The Psychedelic Newsboy Hat has some serious cuteness going on. Although it has retro styling that makes it a great choice for a funky hat party, the psychedelic newsboy cap will also complement your everyday wardrobe of jeans and t-shirts. The psychedelic cap is made of bright blue metallic fabric with silver, pink, and orange polka dots covering the full crown and extra-long brim. The psychedelic newsboy hat is one-size-fits most and is sold individually.
You may not have a Harley parked in the garage, but that doesn't mean you can't wear the Pink Furry Biker Hat. This tender and tough hat will appeal to girls at a Sweet 16 birthday party, and is sure to gain admirers when worn on a Walk for the Cure. The pink furry biker hat has a round, flat crown with wide brim, and has a chain and button trim. One size fits most adults. Purchase the pink furry biker hat by the piece. The pink furry biker hat is also available in white.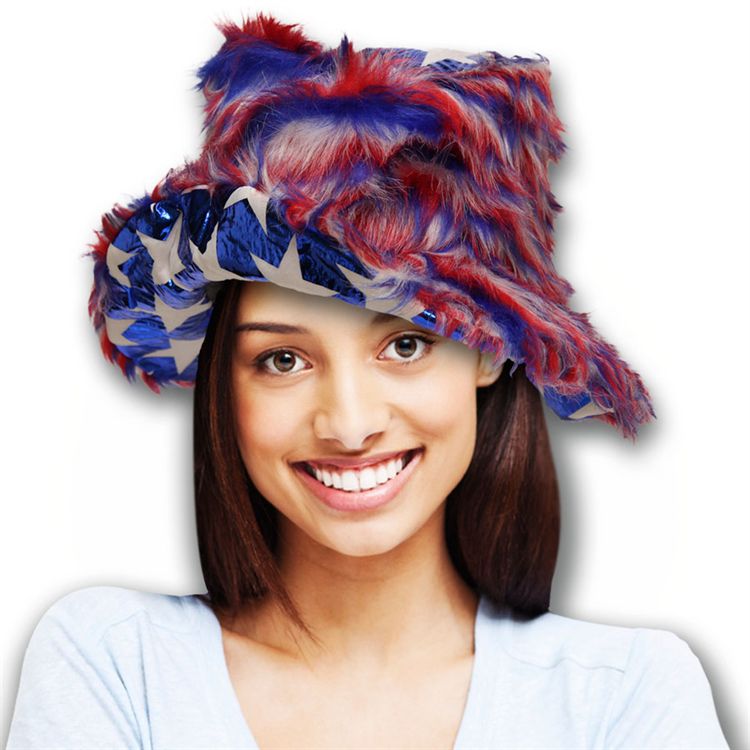 Stand up and stand out for the grand old flag in the Red, White, and Blue Fuzzy Patriotic Bucket Hat. The fuzzy, furry hat will protect your head from ashes if you get too close to the fireworks on Fourth of July, and will get you noticed in the crowd when you stand up for the national anthem at a chilly football game! The bucket-shaped crown is made of furry fabric in blurred red, white, and blue stripes. The star-spangled blue velvety lining on the turned-up brim makes this hat even more special. The adult-sized hat is sold by the piece. 
The Deluxe Pink Furry Bucket Hat looks a lot like hats ladies used to wear to church – only it's furry, and hot, hot pink. What a distraction this hat would be to a pastor looking out over the congregation! Best to save this hat for a party with your besties at the neighborhood pub. The deluxe pink furry bucket hat has a bucket-shaped crown and all-around brim, crafted in shaggy pink fur fabric. The top of the hat is made of velvety material in hot pink with a decorative black swirl design. One size fits most. Please order the pink bucket hat in increments of one.
If you're tired of losing your friends in the craft show crowd at the famous Warrens Cranberry Festival in Wisconsin, have everyone put on one of Windy City's Neon Plastic Mini Fedoras before hitting the tents. The neon pink, green, orange, and yellow will make you easy to spot in the masses of shoppers. The mini fedoras have the traditional tear-drop crown with dented top, and sports a black paper band. The small hats will keep kids entertained at birthday parties when you turn them into a craft project, letting each guest decorate his or her own hat with paint, markers, feathers, buttons, sequins, and other doodads. Flip the fedoras upside down to use as bowls for candy and nuts, or scatter them around as decorations at your bangin' 80's party. The mini fedoras are 4 ¾ inches long and 1 ¾ inches tall. They are sold in color assortments of one dozen.
Emmett Kelly might not have gone around with that sad face all the time if he had been able to add the Rainbow LED Spirit Wig to his clown costume. The rainbow LED spirit wig will light up any dance floor and will draw cheers from the sidelines when you wear it in the gay pride parade. The rainbow LED spirit wig is a rounded mass of synthetic curls in a mix of yellow, red, blue, green, and aqua. The wig has nine powerful red, blue, and green LEDs nestled in amongst the curls to really make it shine. The rainbow LED spirit wig is sized to fit most adults. The wig comes with three AG13 batteries included and installed and is sold by the piece.
When all else has failed, try picking up chicks with the help of the Rock and Roll Wig. The black pompadour worked for Elvis, and seems to still be doing the trick for Bruno Mars, so why not give it a try? You might not get a number but you're sure to get a laugh. The rock and roll wig has attached sideburns that are substantial, while still falling short of Wolverine territory. The rock and roll wig will look great with a zip-front white jumpsuit on Halloween, or gather a pack of Elvises for a fun bar-hopping bachelor party. The one-size wig fits most heads and is sold by the piece.
Huge Afro hairstyles come and go, with Lenny Kravitz and Ludacris having apparently given their 'fros up for more cropped looks; while Diana Ross has never quite let go of her Afro and Prince has recently gone back to the style. If you just can't get "Raspberry Beret" out of your head, the Super Afro Wig might be for you. The super Afro wig is a great piece around which to build a Halloween costume, or you can put it on next time it rains and you can't find your umbrella. The black super Afro wig, which will just about triple the size of your head, is sold by the piece.
Spread a little peace and love in the Blonde Flower Child Adult Wig. Although this wig is inspired by the 70's, the long, flowing white-blonde locks will look equally as lovely on a Grecian goddess or a country music queen. Put the wig on next time you are heading out for a night on the town to find out once and for all whether blondes really do have more fun. The long wavy blonde flower child wig has two thin braids that start at the center part and wrap around the head, meeting in the back. One size fits most adults. Please order the flower child wig in increments of one.
Windy City Novelties is proud to say the beehive hairstyle was created by Chicago salon owner, Margaret Vinci Heidi, who won the National Coiffure Championship in 1954 with her idea of what women would be wearing in the coming decade. It's only right that Windy City offers the Beehive Black Wig, with a blonde version available as well. Popular in the 1960s, the beehive has never gone away, with stars like Jennifer Lopez and Amy Winehouse sporting the sky-high 'dos. The beehive black wig is an impressive pile of hair, with escaped curls falling onto the forehead and down the neck. The beehive black wig is sized to fit most adults. It is sold by the piece.
The Founding Fathers would be proud to claim you as one of their own in the Colonial Man Economy Wig. The colonial man wig would be perfect for the groom's dad to wear at a bachelor party – someone has to maintain a little dignity. The wavy white wig would also be great for patriotic parades and plays. The colonial man wig features hair loosely swept back from the forehead and secured in a ponytail at the nape of the neck. One size fits most.
Do you have a sneaking suspicion that a lot of those big-haired 80's rock stars are hiding balding heads under those stylish hats and bandanas? They would be wise to invest in a Heavy Metal Rocker Blonde Adult Wig. If you want to look like Bret Michaels before he started wearing the cowboy hat, or Jon Bon Jovi before he decided to look like a grown-up, the heavy metal rocker will do the trick. The blonde rocker wig is a wild tangle of permed and ratted hair – great for Halloween or a night out clubbing. One size fits most adults.
Let kids in on the fun with the Luau Bucket Hat – Child Size.  The luau bucket hat has a bucket-shaped crown that flows into a slightly flared brim. The luau hats, which would be great favors to hand out at a beach or pool party, come in assorted colors with a hibiscus pattern. The hats are sold in color assortments of one dozen.
The Harry Potter 'Dumbledore' Tassel Hat is a little bit weird and wonderful. The hat, which looks like a modified fez, is fashioned from soft gray fabric with a covered button in the center of the top. A gold tassel hangs from the button. The bottom edge of the Dumbledore hat is printed with an intricate gold, blue, orange, and lavender design. The hat has a secret pocket in the lining. Wizards would be honored to wear this hat, but its exotic look will make it a conversation starter wherever it is worn. The hat is sized for ages 12 and up.
The Monster High – Frankie Stein Child Wig is what the bride of Frankenstein must have looked like before she got the shock of her life. The black and white streaked wig would also work for budding Cruella de Vils. The Frankie wig has the hair pulled back from the forehead and sides and secured at the crown, while the back is left hanging long. The child-sized wig is sold by the piece.
Witches and rock stars alike will love the Kids Rave Green Wave wig. The long, straight black hair has a center part, with a crinkly green extension on one side, and lime green streaks in the other. The child-sized wig is sold in increments of one.
Whether you are dressing up for a costume party, Halloween, a night on the town, or a special occasion, let Windy City put the crowning touch on your event with its fun and funky hats and wigs.