A Guide to our Glow and LED Barware
09/27/17
You can pick from a great selection of special barware and drinkware items that have cool glow or LED effects to add some fun drama to any festivity.  Use our Glow Barware and LED Barware items to create some glowing fun at your upcoming special events and celebrate with style!  All of these fun barware items and accessories from Windy City Novelties are perfect for special occasions, including birthday parties or a New Year's Eve bash!  Light up the night, whether you are celebrating indoors or outside with our Glow and LED barware and drinkware items!  Stock up on your favorite style glasses and accessories to provide your guests with a beverage experience they won't soon forget.  Our LED and Glow barware and drinkware items are great for holidays, backyard barbecues, and any special event.  Add some shine, glow and style to your party with styles of barware to suit anyone's palate. 
-        We have a superb selection of Glow Drinkware items that you and your guests are sure to love.  Stock up on your favorite styles and let your guests enjoy a delightful cocktail or mock-tail at your party that is served in a super cool, plastic glass that glows in any number of colors.  We carry a number of tumbler styles, margarita styles, and martini styles of glow glasses that you can pick from for your party. 
-        We have 12oz Neon Glow Cups  that are available as a 4 pack and come in 4 different colors; pink, orange, green and blue.  Stock up on these awesome plastic glow glasses for your holidays and special events!  Simply insert the provided glow stick in to the cup then just add your favorite beverage and enjoy the experience! These cups look great under black lights too! 
-        We even have a special luau themed 12 ounce glass that will be perfect for tropical themed events, like a summer pool or beach party!  The Glow Luau 12 Oz. Glasses come in red, blue or green colors and feature a frosted hibiscus pattern on the outside that will shine through when the cup's glow effect is activated. 
-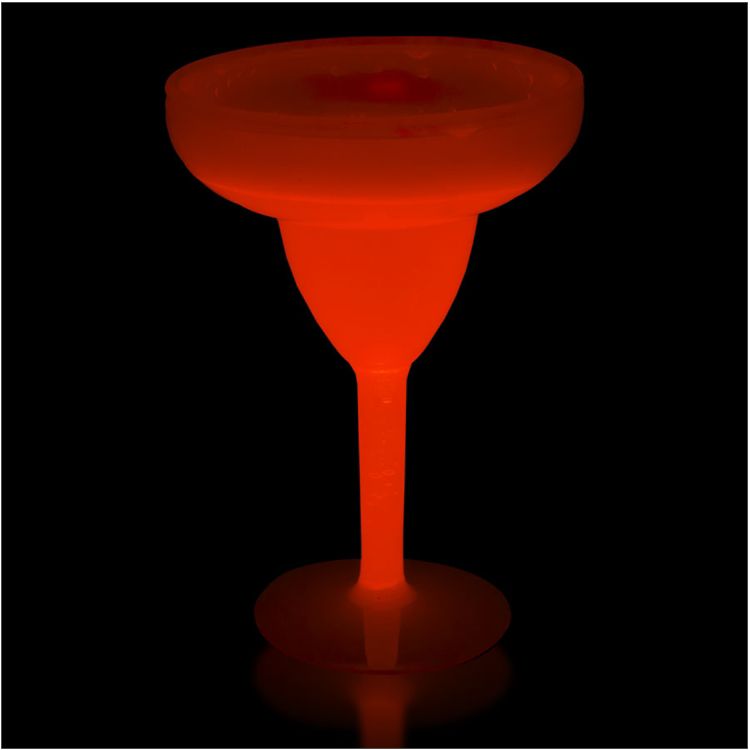 You can serve up 10 ounces of delicious when you blend up a batch of margaritas and serve them in our Margarita Glow 10 Oz. Cups at your party!  Just carefully bend the stem of the cup to activate the ampule and give your cup a bit of a shake to distribute the glow effect neatly throughout the cup.  We even have a YouTube video that shows you just how it is done!  Pick from red, blue, green and yellow Margarita Glow Cups or stock up on all 4 color options to add diversity to the fun at your special event. 
-        The Glow Martini Glasses are sold in packs of 4 cups and you can take your pick from blue, green, orange and red color options!  Pick a color to match a particular drink, like apple martinis in a green Glow Martini Glass and Cosmopolitans in a red Glow Martini Glass, or just stock up on your favorite or an appropriate option to match your event's theme or color scheme.  These glasses glow from the stems and there are Glow Martini Glass Glow Stick Replacements available in packs of 10 for future uses.  Just remember to start the glow effect before you pour the drinks! 
If you are looking for extra glow, you should check out our selection of Glow Party Extras. Here you will discover all cups and glasses, along with other specialty barware items like our Glow Cocktail Swizzle Sticks, which come in a rainbow of colors.  Pick from blue, green, orange, pink, and red.  As with each of the color options available, the Blue Glow Swizzle Sticks are a great choice for any party and come with 50 5-inch cocktail stirrer sticks that you can use with any special glass or cup.  They will look especially awesome paired with a blue glow cup, or pair the blue with red to be extra festive at your Fourth of July events!  We also sell fun Glow Straws for your parties and special events.  You can purchase a Variety Pack Glow Straws, which will provide you and your event with 25 5-inch glow straws.  Great for the kids and fun for adults, as well, these fun glow straws are available in yellow, pink, orange, red, blue, purple, and green.  Place your order for your favorite color and let the fun begin as soon as you activate the glow effect at your party!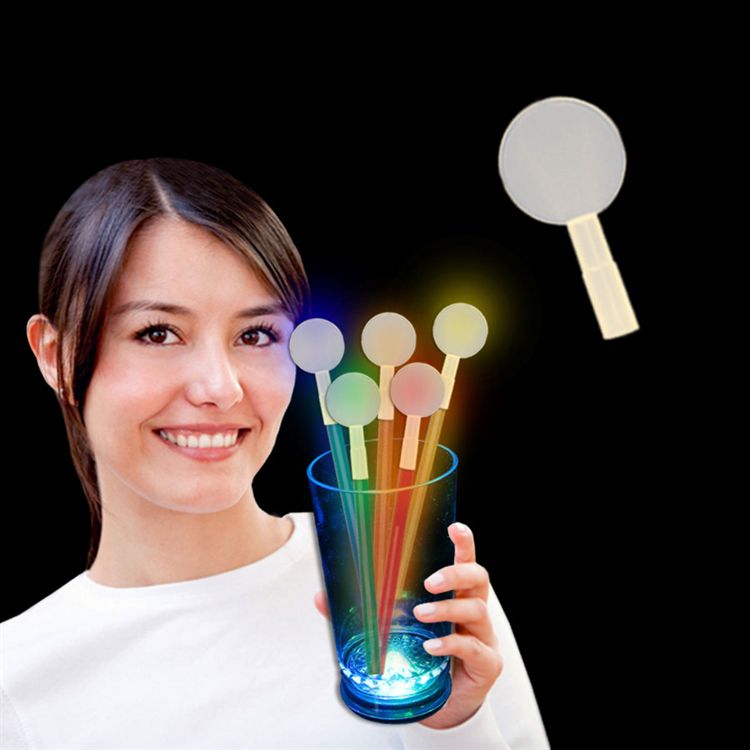 The glow doesn't have to stop here.  Windy City Novelties carries Glowing Ice Cubes that will glow for up to 6 hours!  Choose from red, yellow, blue or green options; or pick up a variety pack with one of each of the four color options and add them to all of your tumblers and rocks glasses at your party.  Our Glowing Ice Cubes are priced by the dozen and sold in batches of two dozen.   Stock up for your party!  Windy City Novelties can help you find and add some cool Glow Drinkware Extras to your event, which are perfect for parties.  We have number of clear, plastic toppers you can use to top off a glow swizzle stick, glow straw, or even an end of fun glow bracelets that you can stick into your drinks.  Pick from round, oval, square, martini shaped, and shamrock shaped toppers for your event!  All of these great toppers are sold in packs with 50 toppers of your chosen shape.  You can decorate them with names to mark glasses at your parties and the clear plastic will reflect the glow effect of the cup.  The Shamrock Toppers are shaped like 3-leaf clovers and will look great paired with a green glow cup in any style.  Bring them out on St. Patrick's Day to add to your festivities and make the party extra special!  Meanwhile, the Round Circle Toppers can be used for any occasion.  Celebrate with style and stock up on these fun beverage toppers for all your upcoming special events!  
When a simple glowing cup isn't enough, pick out a special LED option that can blink, flash, or just shine with a constant-on option.  Check out all of our amazing LED Drinkware options to add some pizazz to your upcoming parties and special occasions.  All of these fun products are lit with special LEDs that come installed in your choice of cup or barware accessory item.  We have a variety of special LED shot glasses to choose from, including our 2 ounce Multi-Color Rainbow LED Shot Glasses. The Multi-Color Rainbow LED Shot Glasses are made of an opaque, white plastic that light up with red, green and blue LEDs installed in the bottom.  They also come with 3, replaceable AG13 batteries already installed.  Or you could step up your game a little and go with our 1 1/2 ounce Assorted Color LED Pedestal Shot Glasses. The LED Pedestal Shot Glasses stand 4 inches tall and hold 1 1/1 ounces of liquid.  They are perfect for any drinking game!  Pick from green, blue, and red LEDs that will light up the shot glass from the base.  These items feature a multi-switch function that will allow you to control the type of lighting effect your shot glasses will display.  Set them to flash a single color, a combination of colors or pick the fun, rainbow light mode to enjoy all the color options at once! 
-        Windy City Novelties also carries Flashing Red (Dice-On-Bottom) LED Shot Glass, which will be perfect for any Las Vegas or casino themed events!  There are electronic dice built into the bottom of this plastic shot glass and they will shine with red LEDs.  Don't gamble on your party's success.  Stock up on these great shot glasses and watch as your guests enjoy your event. 
-        Our Square Bottom LED Rock Glasses will help you dress up any cocktail.  These classy cups have a fun and funky feature that everyone can enjoy.   Light up your whiskey or libation of choice with the LEDs installed in the prism bottoms of these 10 ounce, acrylic glasses.  You can pick between a variety of lighting effects and they will shine with red, green and blue LEDs that are installed in the base of the glass.   Use them to market a new signature drink at your bar or restaurant.  Everyone will want to know about the fancy drink in the LED glass!  We also have a crazy-cool Multi-Color LED Disco Ball Rocks Glass that will be awesome at your 1970s and disco themed events.  This 8 ounce glass is made of clear plastic and you can choose between a multicolor solid setting, a rainbow cycle, solid red, blue, or green, a combination of colors, or constant on for your LED display.  You can even add an imprint of words or a custom logo to this rocks glass style. 
-        We have various martini glasses for you to choose from, as well.  Pick our Multi-Color LED Martini Glass to light up all your Manhattans and Cosmopolitans.  They have LEDs installed into the stem of the plastic glass, include a green, a red, and a blue light that you can set to flash, cycle through each of the colors, or remain constantly on.  They are sold individually, so stock up and host a fun martini making party for you and all your friends to enjoy experimenting with your favorite cocktail ingredients.  We also carry Multi-Color LED Martini Glass With Black Stem, which harbors 3 LEDs—red, blue and green—in the black acrylic stem that shine up into the clear bowl where your beverage awaits.  Both of these options come with 3, replaceable AG13 batteries already installed. 
-        You can find similar styles for margarita glasses, wine glasses, and Champagne glasses!  Stir up something delicious and enjoy the fruity flavors when you serve up an awesome hurricane of flavor in our Flashing Multi-Color LED Hurricane Glass. It holds 16 ounces is made of high quality acrylic with high powered LEDs installed into the base, along with 3, replaceable AG13 batteries.  Our Multi-Color LED Skull Cup is a fancy choice for a pirate themed party or any Halloween event.  Sold individually, these awesome, skull shaped cups are made of clear acrylic and make fantastic party favors.  They are even and washable for future use.  Just click on the on/off button to change up the LED features, which have 3 separate light functions that include slow flash, fast flash and constant on.  Windy City Novelties also has a variety of fun 16-ounce cups that feature a themed LED logo bottom.  Pick from more than a dozen design options, including a great selection of special images fit for a number of national holidays.  All of these special cups feature a logo image that is installed into the bottom of the cup which light up with high-powered LEDs.  Pick one to match your event theme and stock up on these fun cups, which are hand washable to use again next year or at any upcoming special occasion. 
Check out all of these fun glow and LED barware items, and more at Windy City Novelties.  Use them to really highlight your specialty drinks or incorporate them into your parties to add a special touch to the night that is sure to impress your guests.  Celebrate all of your great occasions with some fun and festive glassware and barware items that shine and glow, from Windy City Novelties.
For tips, questions, help planning an event or for recipe and craft ideas, email our party experts at [email protected] for your personal party planner!