A Guide to our Glow Products
09/27/17
Light up the night at a summer bonfire event with all of the awesome glow products and LED products that Windy City Novelties has to offer.  We have a whole line of glow sticks, glow and LED necklaces, and glow and LED bracelets that you can pass around for friends and family to wear.  You won't lose track of anyone or their drinks in the dark when they are wearing a glow or LED accessories and using a special cup that glows or blinks with LEDs.   Get stocked up on our glow and LED barware, and enjoy a delicious beverage by the fire in a special cup that has a cool glow or light up feature.    All of our glow and LED products are great fun for everyone when the sun goes down.  Enjoy the warmth of a bonfire on a cool summer night and have fun with friends and family decked out in all of our cool Glow and LED products.  You can stock up on all of your favorite Glow and LED items to make any outdoor summertime gathering a special one.  They are safe and fun for the whole family!  Stock up for the Fourth of July or plan a backyard event and build up a nice bonfire to toast marshmallows and sing the night away.
Windy City Novelties has a great selection of glow sticks in a rainbow of colors that you can choose from for your summertime bonfires or any special occasion.  Pick out your favorite color or procure a multitude of colors and let everyone pick out their favorites to celebrate at your special event.  When you are hosting an outdoor, nighttime event it can be tricky to keep track of all your guests in the dark.  Help light up the night with help from our fun glow sticks!  We have a variety of glow stick color options that come in 4-inch and 6-inch options.  Check out our pack of Premium Assorted Color Glow Sticks, which comes with 50 4-inch glow sticks in red, blue, green, pink and purple.  Hand them out to guests as they arrive.  Windy City Novelties also has glow sticks that feature cool designs that you can use to match your event theme or décor, like our Premium White Checkered Flag Glow Sticks or the Premium Orange Tiger Stripe Glow Sticks.  Both of these items are available in packs of 25 6-inch glow sticks.  Be sure to break out some Red, White, And Blue Glow Sticks available to pass out to all of your attending partygoers if you happen to be hosting a cool bonfire event for the 4th of July.  These 6-inch glow sticks come in a pack of 25 and include an assortment of red, white and blue colors for you to wave and play when the night starts.  You could attach strings so guests can wear them around their necks like a necklace, or just let everyone have fun dancing with them in the moonlight.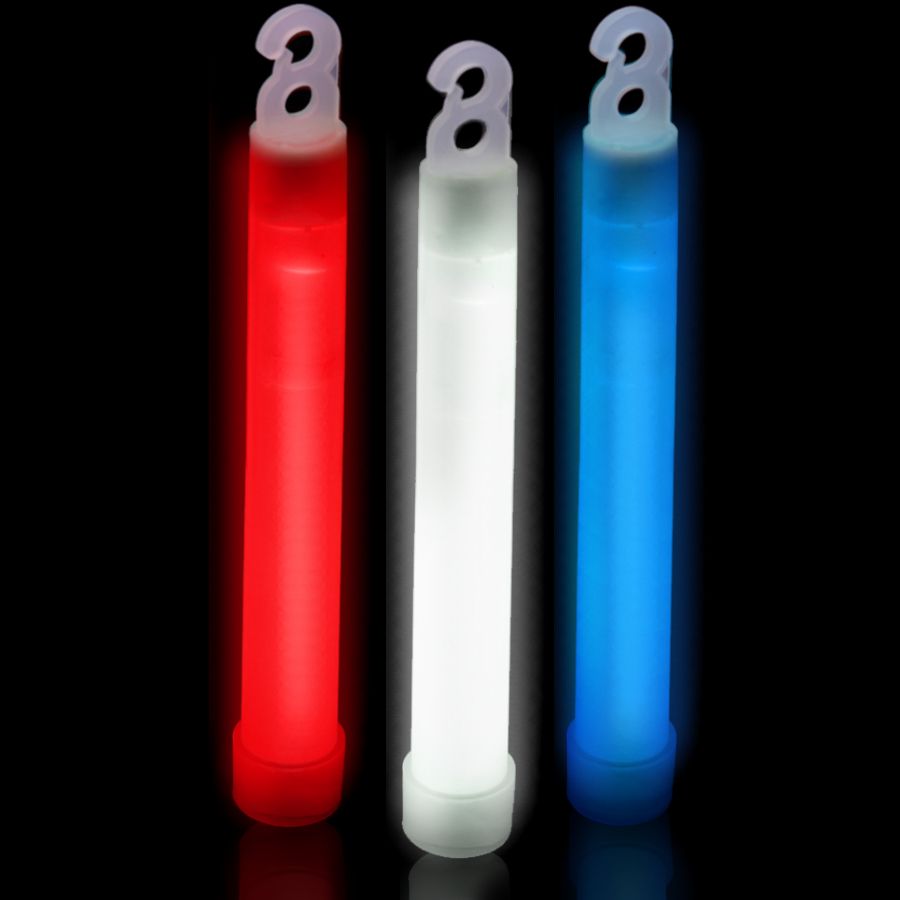 Red, White and Blue Glow Sticks
You can find the perfect event accessories, and pass out some special glow and LED wearable items for your guests to enjoy, at your summertime bonfire event!  Light up the night with more than just the flames of your bonfire.  Add the light of a fun personal style and wear special glow and LED items from head to toe.  Stand out in the dark with Glow Necklaces that will illuminate your face in cool neon shades of blue, green, orange, pink, purple, yellow, white, and red.  Wear a combination of colors or pick out your favorite.  These 22-inch glow necklaces can be purchased by color or pick out a variety pack with all of the colors included.  Our 22" Variety Pack Supreme Glow Necklaces come with 50 glow necklaces in a tube.  Connectors are pre-attached on this pack of necklaces, making them super easy to start off your party right.  Windy City Novelties also has a great selection of LED Necklaces for you to choose from for you nighttime event.  Pick out a cool Green Led Fiber Optic Necklace, which is similar in style to our glow necklaces, but are powered by six high-powered LEDs attached to state of the art fiber optics. The LED Fiber Optic Necklaces also have five light-up variations for you to choose from.  Display a cool light show around your neck and have your necklace flash and glow with the click of a button on the back of the necklace.  We also offer a variety of LED Pendant style necklaces with different shapes that are simple or feature fun designs to brighten up your event and add even more style.  Celebrate a summertime birthday with a bonfire event and pass around our Assorted Color Happy Birthday LED Pendant necklaces to all your guests.  They come in packs of 12 with red, blue and green LED lights and replaceable batteries already installed.  There is an image of a birthday cake with "Happy Birthday!" on these round, clear pendants that will light up in the various styles when you flip the multi-mode switch.  Pass them out to your guests as the sun starts to go down and party under the stars wearing any of these cool accessories.
Assorted Color Happy Birthday LED Pendant - 12 Pack
Pass around a super cool glow or LED bracelet to each of your party guests and have fun dancing in the dark while wearing any of these light-up accessories.  We have more than two dozen Glow Bracelet options to choose from, including 8-inch and 9-inch size options.  They are sold in tubes of 50 bracelets and you can pick from a rainbow of color options.  Match your event décor or pick out a bunch of your favorite colors to satisfy everyone's favorite colors.  Windy City Novelties even has 9" Red-White-Blue 6mm Tri Color Glow Bracelets that come with equal sections of red, white and blue. It comes with plenty of connectors.  The 9" Deluxe Assorted Color Triple Wide Glow Bracelets are a great option for any outdoor event!  Have fun wearing these triple wide glow bracelets that are 3/4 of an inch wide.  This pack will provide you with a tube of 25 bracelets in an assortment of green, blue, red, purple, and orange colors.  You can also pick out a single color in your favorite style to feature a single or special color combination at your event.  If a simple glow isn't enough for you, check out our LED Bracelets and Earrings! These wearable accessories will light up any special event with a fun style you can play with.  We have a variety of LED Bangle style bracelets in blue, green, pink, red, and white.  Windy City Novelties even has special sound activated LED Bangles, like our Blue Sound Activated Led Bangle Bracelet. This 8-inch bracelet features high-powered LEDs that can pulse or flash to the beat of the music, which makes them perfect for outdoor jam sessions with your friends as you sit around a big bonfire on a warm summer night.  You can flip a switch to turn the sound activation on or off and even set your bracelet to be constantly on and avoid all that flashing.  These are the perfect accessory for any fun dance-offs or playful banter at any nighttime event.  Collect all six color options, including blue, green, orange, pink, red, and white.  
Blue Sound Activated LED Bangle Bracelet
Your outdoor activities will be even brighter when you serve up some special beverages that will be aglow with our cool glow and LED barware items.  Never misplace your drink in the dark.  We have a variety of cup styles to accommodate anyone's taste, with tumblers, champagne glasses, martini glasses, margarita glasses, shot glasses, and all sorts of fun barware accessories.  Check out all of our Glow Barware items.   The Glow 16 Oz. Glass is a perfect choice because it can hold any type of beverage.  Pick from green, red, yellow, purple, blue and orange colors and stock up for your party.  Just squeeze the sides of the glass or press the ampules into the side of a table or counter top to release the glow agent and shake to distribute the effect.  They are hand washable so you can reuse them, even if the glow doesn't work after the first use.  If you are looking to invest in a light-up cup that you can reuse time and again, go with one of our LED Drinkware options.  Check out our Flashing Multi-Color LED Pint Glass and stock up on this cool item for all of your parties and nighttime events.  This high quality acrylic glass has LEDs installed in the bottom that will glow or flash in a variety of color options.  Choose between our red, blue or green LEDs or go with a cool seven color combination.  Each glass comes with replaceable batteries already installed and you can hand wash them at the end of the night and use them again at future events.  Windy City Novelties also carries LED options for martini and margarita glasses, along with pilsner glasses, beer mugs, champagne flutes, and more.  Check out our selection of Logo LED Bottom Lit Cups!  Each style features a different logo design installed in the bottom of the cup that will light up with high powered LEDs.  Pick one to match your occasion, like our Birthday Stars Logo LED Bottom Lit Cup, with a colorful "Happy Birthday" image; or our Congrats Grad Logo LED Bottom Lit Cup, which has an illustrated image of a blue graduation cap and diploma with "Congrats!" printed in bold letters.  Any of these 16 ounce cups will be a hit at your upcoming special events.  Find the perfect style to enjoy a tasty beverage out under the night sky with your friends all around and the stars shining high in the sky.    Windy City Novelties also has a variety of drink accessories for the glow and LED options.  Mix and match and pick out all of your favorites to get ready for a wild night outdoors!
Congrats Grad Logo LED Bottom Lit Cup - 16 Ounce
If you are still looking for more glow and LED fun, be sure to check out our selection of Glow Novelties and LED Toys. The kids will love them and the adults won't be able to resist.  We have a variety of fun light up toys and accessories you can bust out when the sun goes down to have fun with the starlight.  Pick up a few pairs of our Glow Eyeglasses or some fun Glow Wands.  We have Blue Glow Eyeglasses that are super easy to assemble.  They also come in red, green, pink, purple, and yellow color options.  We have a selection of fun glow wands with different shapes and glow colors to match.  There is a Yellow Star Glow Wand, a Red Butterfly Glow Wand, and even a Green Shamrock Glow Wand that you can have out at your event for the kids to play with.  Each of these 10-inch wands comes with its own 9 1/2 inch glow stick.  They are each sold individually.  Windy City Novelties has dozens of LED Wands that you can use for play or safety.  We have Multi-Color LED Star Wands that are 16 inches in length and the beveled star shape at the top measures 4 1/2 inches.  It features LEDs installed that have a variety of fun lighting options, including circle strobe, a fabulous pulse of lights, a bright pulse of color, or a combination of the three.  Turn the light feature on and off with the click of a button.  Our 12" Green LED New Yardage Markers With Spikes are great items to have around.  They are sold individually so order several and use them to illuminate your pathways and entrances to buildings with these 12 inch tall markers, which will glow a pretty green with LEDs that can either flash or be constantly on with the flip of a switch.  Each of these Yardage Markers with Spikes run on AAA Batteries, which will come already installed when your order arrives.  Note that these ground markers have very sharp ground spikes and this item is not to be used as a toy.  
12" Green LED New Yardage Markers with Spikes
You can hang glow accessories on trees to help light up the area, or plan a fun nighttime scavenger hunt and invite friends to go off and look for special glow and LED clues.  No matter the occasion, Windy City Novelties can help you find a variety of fun Glow and LED items and accessories to brighten up any event.  So relax, enjoy the firelight, and have fun with your friends on warm summer night with these fun items and wearable accessories!
For tips, questions, help planning an event or for recipe and craft ideas, email our party experts at [email protected] for your personal party planner!