A Guide to our Memorial Day Party Supplies
09/27/17
Memorial Day is an annual holiday held in the United States on the final Monday of the month of May.  On this day we take time to remember the men and women who have fallen while serving in the United States Armed Forces.  Take time this May to celebrate all that America stands for and what those who have fallen have fought for.  It has been a tradition and a holiday since after the American Civil War.  Backyard barbecues on Memorial Day have become an American tradition, and Windy City Novelties can help you host a great Memorial Day Cookout to entertain all of your friends and loved ones and celebrate on this special holiday.  Check out all of our Memorial Day party supplies to get ready for your event!  We have a variety of patriotic themed party supplies and decorations to choose from.  Pick out your favorite personalized invitations, customize a special banner, and serve up something delicious on our red, white, and blue paper goods.  We have hats, toys, costumes and more for you to show off your patriotic pride.  Let the kids play and the dogs bark.  It's time to celebrate America and Windy City Novelties wants to help you get set up for the best Memorial Day Cookout event the nation has ever seen!  The summer months always fill up quickly with events and obligations.  Take this holiday opportunity to gather together all of your friends and family for an afternoon of fun in the sun.  Finalize your guest list, pick out your party supply favorites, and fire up your grill.  Get ready to have a great time this May, with help from Windy City Novelties!
Encourage your guests to travel from near or far when you send out Personalized Patriotic Invitations for your Memorial Day Cookout event.  Choose from a variety of stars and stripes options with everything in red, white and blue.  They will be shipped to you on high quality card stock with matching envelopes.  Send out something special to your guests that has a more personal touch than an email.  These invitations make perfect save the date cards.  Follow a few simple steps to customize your design choice with 12 font types and 24 ink colors.  Add your own headline and greeting, along with specific party details.  Let your guests know if they should bring their bathing suits or if your event is pot luck by including details about your party on these fantastic invitations.  Check out our Patriotic Events Personalized Invitations. These festive invitations have stars and stripes on top of stars and stripes!  There is a row of white stars against a blue background at the top and a section of red and white stripes on the bottom with star images that have stars and stripes details inside them.  Your event information will be displayed in the center in your choice of font.  The Patriotic Personalized Invitations are designed to resemble Old Glory with stars on the left and stripes on the right.  We also have a 4th of July BBQ Personalized Invitations that will work perfectly for a Memorial Day Cookout event.  There is a great backyard scene depicted on these festive invitations, including an illustration of a red, charcoal grill, a pennant banner and balloons.  They have "BBQ" printed in large letters on the top right corner.  We sell personalized invitations in batches of 10, with additional invitations to be ordered in increments of two.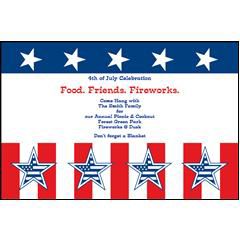 We have a variety of Patriotic Theme Banners for you to choose from to add something extra to your event decorations.  Create the perfect Memorial Day party banner with any of these great design options.  You will be amazed at how easy and affordable it can be to customize any of our heavy duty vinyl banners for your special events.  Create something special that you can use again and again in the years to come.  Our eye-catching custom banners are made to last and great to hang, indoors or outside.  Pick out your favorite design and choose from the five size options.  Our Stars & Stripes Custom Banner is an excellent choice for your Memorial Day Cookout event.  You can add any special message to this custom banner and it will be displayed among the traditional symbols of the American flag.  It has "USA" printed in the center at the bottom in blue and red alternating letters.  Go for a classic look this Memorial Day and customize the banner that most resembles the flag of the United States.  Our Patriotic Flag Custom Banner is designed to closely resemble Old Glory and your message will be displayed in the center, among all the familiar stars and stripes.  We also have a Patriotic American Stars Custom Banner, which is decorated with a bold border of blue and white stars against a bright red background.  Add your festive Memorial Day message to the middle of this eye-catching banner.  Our high quality banners are tough and made to last and withstand inclement weather.  Any and all of these banners will look great hanging up at your party.  Use one to welcome guests as they arrive, or hang one over the table where you plan to lay out all of the delicious treats you plan to serve to your guests.  A custom banner will be a real show stopper at your event.  Impress your friends and neighbors with this great decoration!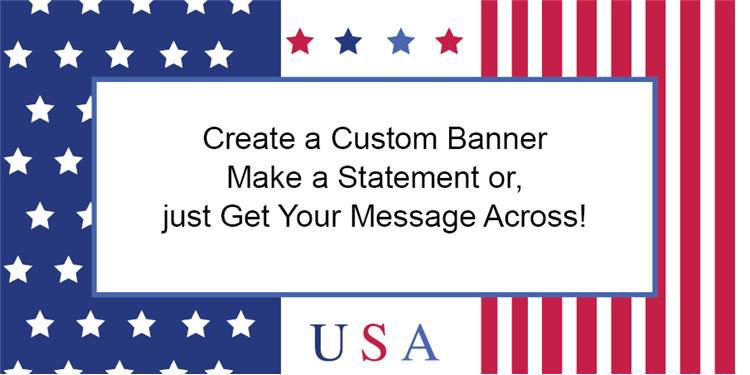 Decorate for your Memorial Day Cookout with items from our collection of Patriotic Decorations. Add some extra flair to your backyard setting and get ready to celebrate this national holiday with all sorts of patriotic decoration items that will pep up your party and impress your guests.  We have traditional items, like satin bunting, pennant style banners, American flag door covers, crepe paper streams, twirly whirls, and more.  Our American Summer Fans will look amazing at your event when you hang them anywhere in your space.  This decorating kit comes with six fan decorations that are made of a thick, quality paper.  Simply unfurl each fan and hang them anywhere at your event, indoors or outside.  They come in 8-inch, 12-inch, and 16-inch sizes and feature red and white and blue and white patterns of stripes and polka dots.  Add some balloons to your celebration and our Patriotic Star Metallic Balloon will be the star of the bunch.  This 18-inch metallic balloon is star shaped and features elements of the American flag that will go perfect with your party's patriotic motif.  Add some simple latex balloons in red, white and blue and tie them all together with curling ribbon attached to a festive balloon weight to create a fun and traditional party decoration everyone can appreciate.  Patriotic Star Metallic Balloons come individually folded and are sold in units of 10.  Dress up your space with our American Flag Centerpiece. This shining cascade-style centerpiece is embellished with red, white and blue stars, along with miniature American Flag details.  Set one out on your buffet table or place an order for several of these festive decorative items and distribute them throughout your space.  They will look great outside when the breeze interacts with all the foil details.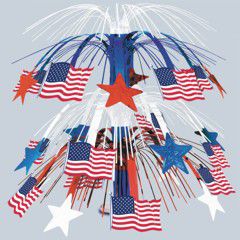 We have everything you need in the way of paper plates, cups, napkins, and everything else for your tables among our selection of Patriotic Paper Goods. Pick out your favorite design and then stock up on a whole matching set of quality party supplies that will help you serve up something delicious with style.  Add some red, white and blue to your tables for your Memorial Day Cookout and check out our Stars & Stripes 10" Plates. These quality paper plates are perfect for backyard meals on Memorial Day.  They are decorated with red and white stripes surrounded by a blue and white polka dot border, as a festive take on the American flag.  Set out stacks of these plates, which are sold in packs of eight, wherever you plan to serve food and let guests help themselves.  We also have some great Americana 9" Plates, which have bold red and white stripes with a blue and white star center.  These round shaped plates will be able to handle whatever comes off your grill, with some potato salad on the side.  Celebrate with these patriotic plates.  Food Baskets are another great option for your party.  Use them to set out snacks and let guests use them in lieu of paper plates.  These reusable plastic food baskets are 9 inches long and approximately 6 inches wide at the middle and approximately 1 1/2 inches deep.   We sell them in packs of four baskets.  They are stackable for easy storage, so stock up and bring them out for every backyard barbecue event.  And don't worry about ordering too many.   There's no such thing!  Windy City Novelties can handle any size order and you can always use what you have left over at your Fourth of July events later in the year.
Check out all of our Patriotic Party Goods to add a little something extra to your Memorial Day Cookout.  Here you will find all sorts of fun party items and wearable accessories to help your event stand out.  We have hats, sunglasses, glow sticks, metal buttons, bead necklaces, inflatables, costumes, balloons, and some personalized message pens to choose from.  Stock up on our favorites and consider giving them away as party favors for all who attend your cookout event.  Let man's best friend welcome your guests in our Uncle Sam Dog Costume.  This great pet costume is available in small, medium, large and XL sizes to accommodate any size dog.  It includes a polyester red, white, and blue bodysuit with a matching hat.  Your pup will be the star of the party in this patriotic costume.  Shorten your trek from the grill to the fridge with our 26 1/2" Inflatable USA Cooler. This inflatable cooler will help you beat the heat and keep all your beverages cold.  It is easy to inflate and is sold individually.  The USA Cooler stands 26 1/2 inches tall and is 18 inches in diameter.  Gather together all your guests and take a fun group photo in front of our Patriotic Stars Backdrop. This 30 foot by 4 foot scene setter roll will allow you to cover your walls in blue with white stars.  Mix and match it with the red and white stripe backdrop to complete the flag image for your background.  You can easily stick up this backdrop with sticky tack, which will be a safe choice for to prevent your walls from being harmed by tape.  Be sure to pick up a roll of our Patriotic Stars Backdrop for your party!
We have a variety of fun party favors to liven up your Memorial Day Cookout!  Windy City Novelties has a great variety of small toys and special items to fit your theme and delight guests of all ages.  Beat the summer heat and show off your American pride at the same time with our Patriotic Folding Fans. Leave these out on your tables for guests to help themselves and use throughout the event.  These folding fans measure 9 3/4 inches and come with an assortment of red and blue handles with an American flag pattern that is sure to please.  Our Patriotic Folding Fans are sold by the dozen.  Please order in increments of two dozen.  We also have 9" Red-White-Blue 6mm Tri Color Glow Bracelets to help you carry the fun over from day to evening.  Guests of all ages are sure to love these fun glow bracelets that have a patriotic motif fit for the occasion.  The glow should last anywhere from four to six hours after they are activated.  Just be sure not to shake these glow bracelets, unless you want the colors to mix!  They are available for your party in increments of one tube with 50 bracelets.  You could also incorporate glow bracelets into your party's decorations!  You can't beat an American Flags on Memorial Day.  We have miniature American Flags that you can pass out to your guests and use in your party's décor.  These 4 inch by 6 inch American flags are fun to wave at parades.  They come with a wooden stick handle and are sold by the dozen.   Stock up and add them to planters.  Line your walkway with these little flags.  You can use them anywhere!  
Get ready for this special May holiday and celebrate Memorial Day with all of your friends and family around to share the day.  It will be a perfect day to fire up the grill and get everyone you love together.  Honor this special day with a fun filled event that is busting at the seams with red, white and blue.  Celebrate Memorial Day and show off your American pride, with great party supplies from Windy City Novelties.  
At Windy City Novelties, it's our hope that this article inspires you to create a fun and unique party for your loved ones. For more helpful tips on organizing your event, email our dedicated party planning experts at [email protected]. You may also subscribe to our emails for weekly party planning ideas, featured products and more at https://www.windycitynovelties.com/customer/account/create/