A Guide to our Patriotic Tableware
09/27/17
Let Windy City Novelties help you get ready for all of your Fourth of July festivities--or any other special patriotic event, like Memorial Day, inauguration events, Veteran's Day, and more! We have a variety of Patriotic Tableware Themes and matching party supplies that you can use to get set up to serve a giant slice of American flair and fare to all of your event guests and partygoers. Here you can find all a variety of matching paper goods that are designed with all the red, white and blue you'll want to see at any special, patriotic occasion. Mix and match these with red, white and blue party supplies or stock up on all of the great items under themed headings of "American Flag," "Americana," "Red Gingham," and "Stars and Stripes," for a totally unified look to impress your guests.
American Flag Themed Tableware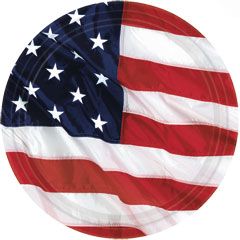 Check out our whole line of American Flag themed tableware items and get ready to treat your guests to some delicious American fare!  Delight everyone who attends your special patriotic events with decorations, tableware, and custom invitations that all match in design. Our American Flag themed Patriotic Party Supplies feature a close-up image of a waving Old Glory, complete with red and white stripes and white stars against a blue color block in the corner.  We have a variety of paper goods you can choose from that will be perfect for backyard barbecue events or any special party menu. Pick from two different sizes of paper plates and paper napkins to best suit your menu plans, or stock up on both for the occasion!  Both the American Flag 7" Plates and the American Flag 10 1/2" Plates come in packs of eight and feature the same American flag image. The larger size is best for main course menus and will be perfect for when you want to grill up some hot dogs and hamburgers and have guests help themselves to your special potato salad recipe. You can use the 7-inch plates for dessert items and small plate appetizers for parties where you lay out a buffet of snacks and finger foods. You can pair them with our American Flag Beverage Napkins and the larger American Flag Luncheon Napkins, each sold in packs of 16. We also have American Flag 9 Oz. Cups for all your beverage needs, which come in packs of eight and will look great in stacks left out for guests to help themselves to soda, punch, or whatever delightful beverage you want to have available for them to enjoy at your event. Continue the American flag theme with some special, matching decorations, including our American Flag Door Cover, which you can display on any standard size door, or anywhere in your space, really. The American Flag Door Cover is a plastic decoration designed to be a replica of the nation's flag, with measurements of 60 inches by 30 inches. It is sold individually. We can help you add some extra pizazz to your patriotic parties with our fun American flag themed centerpieces. Consider our American Flag Centerpiece, which features two tiers of cascading foil fringe with American flag cutouts and star shaped accents.  
Americana Themed Tableware
Our Americana themed party supplies add a fun rustic look to the stars and stripes motif that you'll love for any patriotic event.  Each of these festive party items features a close-up image of a section of the national flag of the United States of America, with a weathered look to add additional character. Once you have the invitations covered, be sure to stock up on all of our matching Americana tableware items so you can be ready to feed all those hungry partygoers who show up to your event. Pick items to best match your planned menu, including our value packs of Patriotic Americana Theme Party 9 Oz Paper Cups, which are a spot-on match to the rest of the Americana products. These paper cups come in packs of 25 and will look great when you leave them out on your bar for guests to help themselves. You could also use them to create some cute and portable place settings by rolling plasticware in one of the matching napkins and placing the whole thing in one of the cups for guests to grab with their plates of food.  You can unify your space with ease when you line your tables, countertops and flat surfaces with our Patriotic Americana Theme Party Plastic Table Covers. Sold individually, these plastic table covers measure 96 inches in length by 54 inches in width.  You can fold or trim them down to better cover smaller size surfaces.
Red Gingham Themed Tableware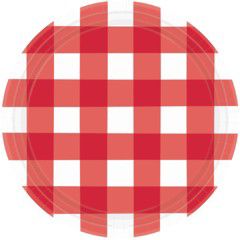 Bring some country-chic gingham print to your patriotic occasions for a casual look and feel that all your guests can appreciate. Our Red Gingham print tableware items will help you to be ready to serve up slices of apple pie, sandwiches, snacks, treats from the grill, and any tasty delight you plan to serve at a special patriotic event this year. All of these bright and festive tableware items boast a bold red colored print that can help you unify your space when you pick out a matching set of paper plates, cups and napkins. We can help you get stocked up on two sizes of paper plates, including our Red Gingham 7" Plates and the larger Red Gingham 10.5" Plates. Both the 7-inch and the 10 1/2-inch plates come in packs of eight.  Stock up on one or both size options based the number of people you expect to attend your event and don't worry about ordering too many. You can always use them again next year or at any other patriotic themed event in the future. We offer two different sizes of paper napkins to match our Red Gingham theme. Our Red Gingham Beverage Napkins and Red Gingham Lunch Napkins both are available for you with 16 napkins to a pack. Fan out the Red Gingham Beverage Napkins on your bar or wherever you plan to have beverages available for guest consumption. You can use the larger size Red Gingham Lunch Napkins to accompany any food items you plan to serve. Roll them up with matching plasticware for a compact place setting your guests can grab when they help themselves to your snacks and food items. We also have matching Red Gingham 9 Oz. Cups, which come in packs of eight. These are great for hot or cold beverages and will provide you with a fun and festive print to enjoy soda, iced tea, or any type of beverage you plan to make available to quench the thirst of partygoers at your patriotic affairs. Combine the rolled up napkins and plasticware with a cup to create a portable place setting that will look great sitting out on your buffet table for guests to grab and take to their chosen seat where they can fully enjoy the fruits of your festivities.
Stars and Stripes Themed Tableware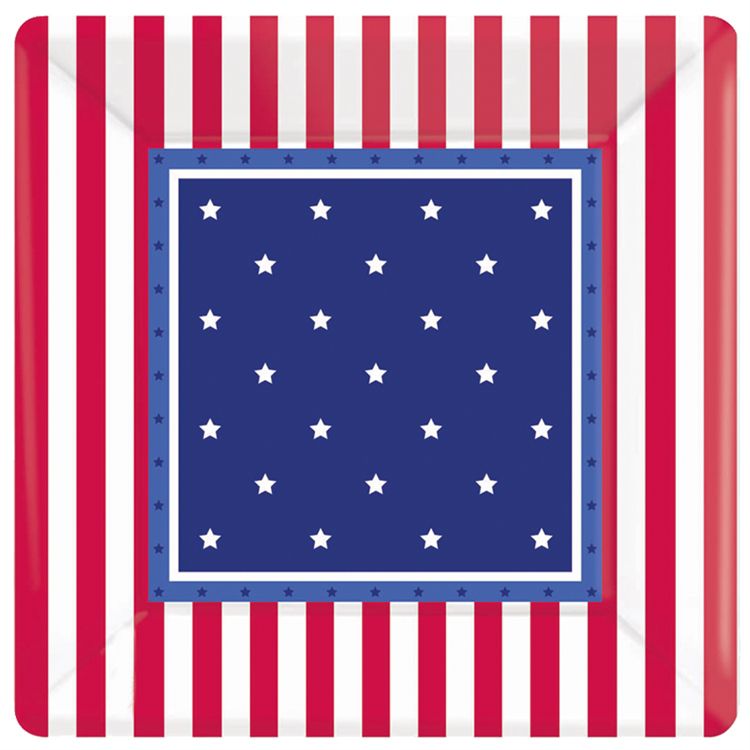 The Stars and Stripes themed tableware items boast a smart representation of the American flag, with red and white strips and blue color blocks with small scale white star accent details. Stars and Stripes themed napkins and personalized invitations feature "USA" printed in red, white and blue letters with star accent details to match. These items are perfect for a classier patriotic event, with durable square shaped plates that come in two select sizes to choose from for your event. The Stars & Stripes 7" Plates are perfect for small menu items, including any desserts you plan to serve.  They come in packs of eight and are a cool square shape with a blue and white star center and feature red and white stripes on the border. The Stars & Stripes 10" Plates are better suited for main course meals, with plenty of room for all the American fare you plan to serve up to sate the appetites of hungry guests.  These larger sized paper plates are durable and feature a reverse of the small plate pattern with blue and white on the outer edge and red and white stripes in the center.  Pick them up in packs of eight.  You can never have too many napkins at a party, and with two sizes to choose from you will be ready to offer guests a festive option to dab stray barbecue sauce or clean up any accidental spills. Our Stars And Stripes Beverage Napkins are a perfect accessory to any beverage item you plan to serve.  Fan these smaller sized beverage napkins, sold in packs of 16 napkins, out on your bar and let guests grab them when they go to get a drink.  The top section of red and white stripes is separated from the blue and white star bottom section with a repeating strip of "USA" printed white letters. We also have Stars & Stripes Lunch Napkins, which also come in packs of 16.  These matching napkins have a similar pattern to the smaller beverage size napkins with a larger "USA" printed in the center on a white background that have blue and red star accents set in between each of the letters. The Stars and Stripes theme also offers you great options for personalized invitations.  You can also find great decorations among our Stars and Stripes theme, including a Stars And Stripes Custom Banner. Add your own special message, such as a welcome to your guests that they can admire when they arrive or use one as part of your Fourth of July decorations on your home.  Custom banners come in five select sizes and are made of a heavy duty vinyl that can withstand the weather outdoors, but are just as great inside if it happens to be raining on the day of your event.
Have fun picking out all your favorite patriotic tableware items to get ready to entertain friends, family, loved ones and even neighbors on the Fourth of July, Memorial Day, Veteran's Day, or any patriotic event this year! Stock up on all these great items and get ready to host a memorable event filled with red, white and blue party supplies from Windy City Novelties that are sure to delight!
At Windy City Novelties, it's our hope that this article inspires you to create a fun and unique party for your loved ones. For more helpful tips on organizing your event, email our dedicated party planning experts at [email protected]. You may also subscribe to our emails for weekly party planning ideas, featured products and more at https://www.windycitynovelties.com/customer/account/create/