A Guide to our Pool Party Supplies
09/27/17
Summertime is here again and it's time to have some fun in the sun!  Gather together all your friends, family, and loved ones for the ultimate poolside birthday event and celebrate with fantastically beachy and brightly colored party supplies and decorations from Windy City Novelties!  We can get you set up for a fun-filled afternoon in the sun, with festive and affordable party supplies your guests are sure to love, when you host a fantastic pool party for that special someone's summertime birthday with all of our Pool Party Supplies! We have everything you'll need to prepare for and host a spectacular event to delight partygoers of all ages with tropical, tiki, and beach themed items you can use to decorate your backyard space, serve up snacks, and thank event attendees with festive party favors to match!  There are a variety of cool inflatable items you can use as decoration, like an inflatable cooler to keep beverages cold on hot summer days, and play poolside games with your choice of our inflatable beach balls.  We even offer a whole range of fun wearable accessories like sunglasses, hula skirts and even a coconut bikini top or two that you can use to get dressed up for the event or pick out your favorites and give them away to guests as party favors or prizes for the winners of your party games.  Our selection of Pool Party Supplies includes a great selection of matching party themes to choose from, including "Aloha Summer," "Ocean View," "Summer Love,"  "Surf's Up," "Tiki Tropical," "Under the Sea," and "Wild Hibiscus."  Preview them all and pick out your favorite to decorate for a fun and cohesive party space that is sure to impress guests.  We have a variety of personalized invitations, custom banners, decorations, tableware items, and cool party extras for you to choose from to get ready for your poolside birthday events.  So get started on that guest list, pick out a fun and festive menu of snacks or treats off the grill, and get ready for the fun to start!  Party planning for a birthday party by the pool has never been easier, or more fun!
Start with the Invitations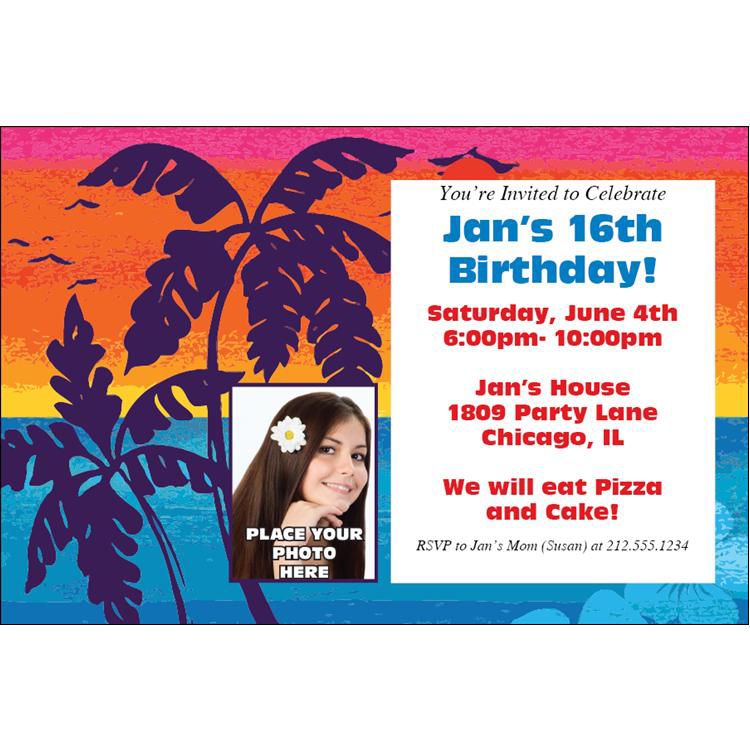 Windy City Novelties has a fantastic selection of special Pool Party Invitations for you to choose from to entice guests and make a great first impression before your party even starts!  Send out one of our fantastic personalized party invitations for a special touch to impress partygoers.  Each of our personalized invitation options are fully customizable and will be professionally printed to feature your unique event details in your choice of 12 font types and 24 ink colors.  Alleviate the stress of accidentally misspelling on a hand-written invitation and send out something with written copy you design and customize to your liking.  Consider our Ocean View Personalized Invitations, with an illustrated scene that includes images of palm trees, tropical foliage with brightly colored hibiscus flowers and sail boats for your pool party birthday event.  We also have Tropical Tiki Personalized Invitations that feature a tiki-inspired look complete with a colorful tiki totem and pink, purple, orange and yellow hibiscus flowers.  Your event details will be featured on an easy-to-read text box on the right hand side of the invitation.  The Aloha Summer Photo Personalized Invitations are a great choice for special, tropical events.  This great invitation design also allows you to include a photograph of your guest of honor that will be printed along with your event details.  The Aloha Summer Photo Personalized Invitations are decorated with a cool sunset scene that has palm trees and seagulls flying overhead with pink, orange, yellow, blue and purple shades to delight.  Windy City Novelties will walk you through a few short steps to add all of your special custom content to the personalized invitation design of your choice.  We also carry beach themed party invitations you can order that will allow you to hand-write in the event details to send out something extra personal to all your party guests for a poolside birthday party event. 
Create a Custom Banner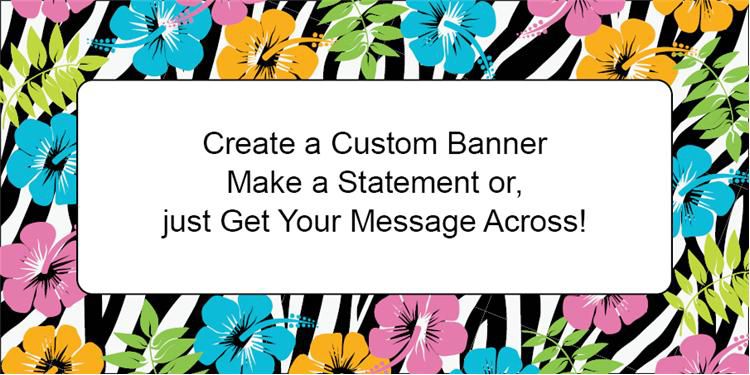 Add a special, personal touch to your party-scape and display one or several of our Pool Party Custom Banners at your event.  We have a variety of fun designs to choose from that will add to your décor and match your chosen party theme.  All of these heavy duty vinyl banners are available in five select sizes and can display any special message to honor your guest of honor and welcome all your friends and family to your event.  You can pick from a great selection of font types and ink colors to display your custom content when you choose to personalize any of these awesome custom banners.  Watch the changes as you make them so that you can be sure your banner will be professionally printed to turn out just how you want it to look.  Custom banners are easy to display, indoors and out side.  They are durable and made to last.  Check out our Tropical Tiki Custom Banner for tiki inspired pool parties.  This festive banner features a brightly colored tiki totem, illustrated with tropical foliage and brightly colored hibiscus flowers.  Your custom message will be displayed on an easy-to-read text box.  We have a Wild Hibiscus Custom Banner that is decorated with a bold background of black and white zebra print along with bright pink, blue, and orange hibiscus flowers and green leaf accent details.  It will look great hanging in your party's entryway to welcome guests as soon as they arrive.  Set it to display a super special "Happy Birthday!" message and be sure to include the name of your guest of honor for an added personal touch.  The Aloha Summer Photo Banner features a sunset beach scene with palm trees and a sail boat.  There is a special text box that will feature your custom content, along with added space for you to upload a fun photograph or logo image that will be printed along with your text.  This is a great option for extra special birthday events!  Just follow a few simple steps to upload the image of your choice.  Consider using a portrait or fun snapshot image of your birthday guest of honor!  
Decorate for the Big Event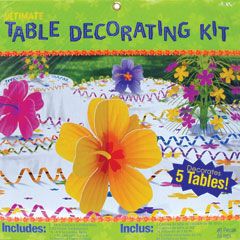 We have plenty of fun and colorful Pool Party Decorations that you can use throughout your party space to add to your chosen party theme and get ready for your special birthday pool party event.  Here you can find all sorts of fun garlands, banners, table covers, and strings of themed lighting; along with pink flamingoes, hibiscus flowers, tropical fish danglers, crepe paper streamers, balloons, festive centerpieces, decorative cardboard cutouts, and more.  Pick out all of your favorite decorations and get stocked up to display festive beach themed flair at your poolside events this summer!  Our Summer Table Decorating Kit is a great place to start shopping.  This elaborate decorating kit comes with all the brightly colored tropical adornments you will want to perk up any backyard pool event.  It features two 18-inch cascade style centerpieces that you can set out on your buffet tables or any place of prominence; three 15-inch 3D centerpieces shaped like colorful hibiscus flowers; 10 matching serpentine rolls that each measure 6 feet in length; 65 pieces of fabric confetti shaped to match with hibiscus flowers; and a 1/2-ounce bag of metallic confetti for you to distribute around your space, on tables or wherever you choose.  You could also add bits of the metallic confetti to the invitation envelopes to surprise guests when the open your party invitations.  Place an order for a single or several of our Flowered Grass Skirt Table Skirts and use them to decorate all of your party tables.  This product will look great lining the edges of your deck railings, tiki bars, buffet tables, or adhere it to a wall or fence to create a creative faux chair rail effect.  The Flowered Grass Skirt Table Skirt features a colorful, silk flower border at the top and long, natural raffia strands that measure 30 inches in length.  The whole table skirt measures 108 inches long and is sold individually.  Help your party ease from day to night with some colorful and creative lighting options, like our Lantern Summer Light Set. With this great product you can string these pretty pastel colored paper lanterns along the edges of your beach umbrellas, along deck railings, or anywhere in your space.  Each set provides you with 10 paper lanterns in an assortment of green, pink, yellow, blue and orange colors on an 11-foot cord.  The lanterns cover 9 feet of the 11-foot cord, which gives you slack to be able to easily plug in the set with the power source of your choice.  
Serve up the Snacks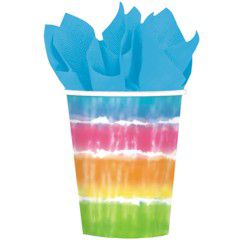 You can find plenty to love among our awesomely colorful Pool Party Tableware options!  Check out the full collection, which includes dozens of great items or narrow the view to select products for specific product themes.  We have tableware items, including paper plates, napkins, and cups that feature a variety of special themes.  Consider our Aloha Summer party supplies for event décor that features cool tropical sunset images and colors.  The Aloha Summer tableware includes two sizes of paper plates, brightly colored napkins, and paper cups to match.  Pick up some Aloha Summer 7" Plates and let your guests help themselves to whatever poolside snacks you plan to serve.  These small size plates are great for slices of birthday cake!  They are sold in packs of eight and are a great choice for any fun-in-the-sun event.  The Summer Love theme party supplies are decorated with tie dyed stripes of bright colors, including blue, pink, orange, and green.  You can pick up matching paper plates in 7- and 10 1/2-inch sizes, along with both lunch and beverage size napkins to serve up delicious summertime fare to delight party guests of all ages.  We even carry matching Summer Love 9 Oz. Cups, which you can set out in stacks for thirsty guests to grab and fill with a festive party punch or any cool beverage you plan to make available at your event.  Summer Love Cups are sold in packs of eight.  Another great option for your tableware needs are the Tropical Tiki themed tableware to continue the trend at your party.  This selection boasts a set of tableware items that feature bright and colorful tiki totem faces with colorful hibiscus flower accents.  Get stocked up on packs of 7- and 9-inch paper plates with napkins and paper cups to match.  The Tropical Tiki Beverage Napkins will look great fanned out on your party's bar or beverage corner.  Let guests grab one of these great napkins when they want to enjoy a festive cocktail or tropical fruit concoction at your poolside birthday event!  
Add in Some Party Extras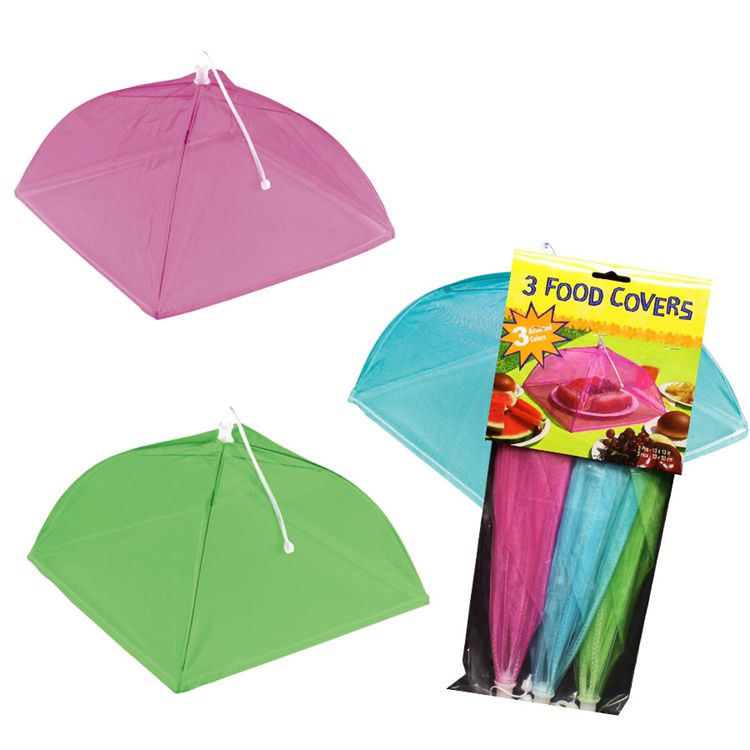 We can help you find all sorts of finishing touch items for your upcoming birthday pool party, including special party favors to thank guests for attending, and other stand-out pieces that you can place around your space for decoration or guest interaction.  Check out our whole selection of toys, inflatables, drinkware, and some fun LED items that you can use to light up the night when the sun starts to set on your party.  Protect your outdoor banquet from unsavory bugs and wind with colorful Fabric Food Covers that you can have covering bowls and platters outside.  Each pack includes three 10-inch by 13-inch fabric food covers in an assortment of pink, blue and green colors.  They are super easy to set up and use at any outdoor picnic or barbecue event!   The bright colored mesh fabric keeps your food protected and allows guests to still see what delicious treat hides underneath.  Entertain your guests with games outside the pool like our Bean Bag Toss Game. Fun for all ages, this classic backyard game tests your aim and challenges you to send bean bag projectiles through designated target holes on a distant game board.  The Bean Bag Game provides you with a painted, wooden game board that measures 20 inches by 15 1/2 inches and includes four bean bags to toss.  We also have some super fun inflatable coolers that you can use to keep all your canned and bottled beverages chilled at outdoor events.  The Inflatable Flat Luau Cooler boasts a flat, rectangular design that you can set up on a table to avoid bending over for beverages, which also makes it useful for setting out cold salads or chilled menu items for outdoor eating events.  The Inflatable Flat Luau Cooler measures 4 feet by 28 inches and stands 5 3/4 inches tall when inflated.  It is decorated with colorful hibiscus flowers against a white background and is sold individually. 
Get ready to party with a cool tropical style on hot summer days when you plan to host a special birthday party at the pool this season.  Windy City Novelties can help you get set up for a great experience that you are sure to enjoy, along with all of your guests.  Have fun picking out all of your favorite tropical, tiki, and luau inspired party supplies and put together a unique and fun party environment to share with everyone you love for a very specia