A Guide to our Soccer-Themed Party Supplies for the Upcoming World Cup Competition
09/27/17
Windy City Novelties can help you get ready for the World Cup this June.  Host a World Cup Soccer Party this year and celebrate with friends and family while teams from around the world compete for the ultimate victory.  You can join the millions of people around the world and watch as soccer teams from 32 nations compete in Brazil in the FIFA World Cup competition to determine who has the best team on the planet!  We can help you plan for a fun World Cup event to watch a match with your friends and loved ones and cheer on your World Cup favorites with style.  Check out items from our International Theme Party Supplies find items and decorations to help you root for your favorite country, with items and party supplies decorated with images of national flags for nations across the globe.  We also have a grand assortment of Soccer Theme Party supplies, to help you add some appropriate soccer flair to your event.  We even have a selection of fun noisemakers, like stadium and air horns, as well as cowbells, whistles, and party poppers for you to set off upon your team's greatest victory, which can be found amongst our selection of Noisemakers! Windy City Novelties can help you get ready to host a special FIFA event at your place of business.  It's a great idea for restaurants or bars.  We have everything you need to host a great World Cup Soccer Party, including invitations, custom banners, party supplies, paper goods, and party favors that will help you have fun and impress your guests on game day!
Decorations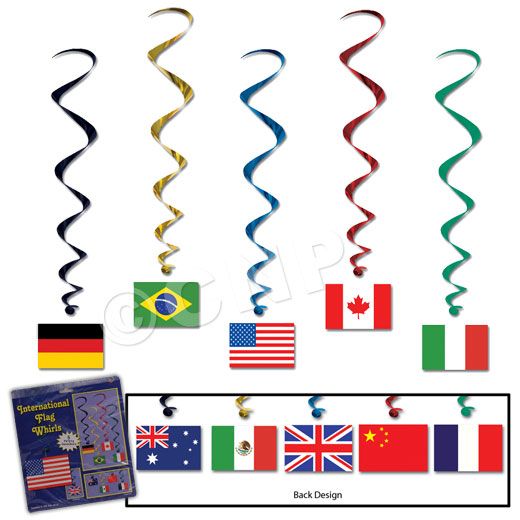 We have International Theme Party Decorations and Soccer Theme Party Decorations that you can use to get set up for all of your FIFA World Cup events.  Make your event space extra special by featuring soccer and international themed decorations to get guests and partygoers excited about the upcoming soccer matches.  Hang our International Flag Whirls anywhere in your event space to add some fun drama to your ceilings.  These will look great in your party's entryway or you can display them in any doorway or window with ease.  They will twist and twirl with the breeze if you decide to hang them up outside.  You will get five International Flag Whirls in each pack.  They will hang 40 inches from your ceiling and feature flag cutouts at the ends that feature images of 10 different national flags from around the world, including the United States, Mexico, England, Australia, Germany, China, France, Canada, Italy and Brazil.  The flag details are double sided with a different flag image on the front and back.  Stock up on this great decoration kit and display them throughout your space.  You can transform your event space in one fell swoop when you use our Upper Deck Stadium Scene Setter Roll on your walls.  This 30-foot roll measures 4 feet in height and you can use some sticky tack, which is available elsewhere on our site, to adhere it to your walls safely.  Measure your space and place an order for as many scene setter rolls as you will need to encircle your entire space with this great decoration.  You friends and soccer fans will have fun posing in front of the fun stadium image pictured across the length of the roll.  Windy City Novelties also has a Soccer Cascade 18" Centerpiece that you can use to dress up any party space.  Have one out on your event's buffet table or bar.  This great decoration is sold individually, but you can place an order for several and use them throughout your space.  It will stand 18 inches tall and features green metallic fringe with soccer ball and yellow star accents that hang of the ends.
Soccer Themed Party Supplies
Windy City Novelties can help you find all sorts of soccer and international flair to decorate and get set up for any World Cup party or event!  Check out our great selection of International Theme Party Extras and Soccer Party Theme Extras find something extra fun to help you event stand out.  Check out our USA Flag Picks, which you can stick in various snacks and treats to tempt and delight hungry soccer fans who are rooting for the United States to take the championship title this year!  You can set them out on our Referee Shirt Serving Tray, which is a fantastic, functional decorative tray that is designed to look like the black and white shirts worn by referees.  It even has a silver whistle pictured in the center.  This tray has measurements of approximately 12 inches by 12 inches, which gives you plenty of room to display your choice of cheese, crackers, fresh fruit or any tasty soccer snack you can think of.  Mount a tray on your walls as decoration or use it to transport sandwiches, wings, or any mid-game snack from the kitchen to your party guests.  We also have some Soccer Treat Boxes that you can fill with popcorn, chips, pretzels or any snack treat.  Let guests help themselves when you set out the 4 treat boxes included in this set.  They are made of lightweight cardboard and are 5 inches height with by 4-inch sides at the top that narrow down to 2 1/2-inches.  You could also use these treat boxes for your party favors and fill them with goodies for your guests to enjoy.  Just wrap them up with a clear plastic and tie the top with a ribbon for easy transport to let your guests grab and bring home with them.
Soccer Paper Goods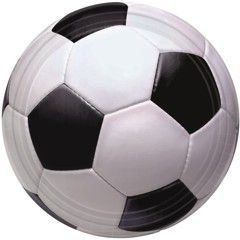 Stock up on paper goods to match your chosen event theme and serve up something delicious on your choice of paper plates and tableware to match.  We have a selection of International Theme Party Tableware and Soccer Party Tableware for you to choose from to get ready for your event.  Make sure you have plenty of these staple items available to satisfy the cravings of any guest.  Plan an international menu to tempt guests and share treats and foods from the culture of the country whose team you are rooting for to take the cup this year, whether you cheering for the United States or the returning champions from Spain.  You can use our International Flag Table Cover to quickly decorate and unify your entire event space.  This plastic table cover features a blue background with an international flag collage that runs down the length of each long side.  It is sold individually and measures 108 inches in length by 54 inches in width.  You could easily fold or trim a plastic table cover to use over countertops or smaller sized surfaces.  We have a variety of matching paper goods to go with this great item, or you can pick out one of our more soccer themed designs.  The Soccer Fan 7" Plates are perfect for events with small menus of snacks and appetizers.  Use them to serve up your desserts and leave them out in stacks wherever you are going to serve food to let your guests help themselves while the game is on.  Be sure to break out some Soccer Fan Beverage Napkins to accompany all of the delicious beverages you plan to serve.  Fan them out on your bar or pass them out to patrons who order your FIFA World Cup drink specials at your bars or restaurants.  
Soccer Party Favors
Make sure you have some excellent party favors for your guests!  What better choice for a World Cup event then a fun noisemaker that you can use at the stadium or anywhere you want to watch your favorite teams compete.  Windy City Novelties has a variety of great Noisemakers that are perfect for your events.  We have a rainbow-colored collection of Stadium and Air Horns for you to choose from.  Pick one to match your favorite team's colors and cheer loud and proud at any soccer or World Cup event.  You might want to consider using these outdoors, rather than inside.  We have some 28" Bi Color Stadium Horns that you can use at your event.  Pass one out in a color combination to match your team's colors or pick out a variety of combinations to diversify your favors.  You can choose from 10 different color combinations, including red and black, green and red, black and purple, blue and red, yellow and orange, and others.  Shake some 7 Inch Sports Maracas that feature a soccer ball shape at the top.  They are sold by the dozen.  We also have metal and soccer shaped cow bells to help you make some extra noise when you cheer on your favorite World Cup contenders.  Our Soccer Cowbells are 3 1/2 inches in diameter, sold in packs of 12, and are a great choice to make some noise at the stadium or from your living room couch!  Let the excitement of the game carry you away and make some noise with any of these great noisemaker items.
Gather together all your fellow soccer fans and watch as Spain tries to defend its Championship title from the 2010 tournament in South Africa.  Bring the excitement in Brazil all the way to you event space and have fun cheering for your favorite international teams this year as they compete for the highest honor in the world of soccer: the FIFA World Cup!
For tips, questions, help planning an event or for recipe and craft ideas, email our party experts at [email protected] for your personal party planner!