Add Some Flair to Your Formal Affair!
09/27/17
Special occasions are just that: special. They must be celebrated differently than other occasions. Wedding events, graduations, prom dances, bar and bat mitzvahs, milestone anniversaries, and other significant moments in one's life should be honored through a large celebration surrounded by loved ones and peers. Being surrounded by loved ones is what really makes these events memorable, but the atmosphere also plays a big role in making your event extraordinary. Spruce up your formal event with decorations, simple yet elegant table décor, and a few fun party supplies for some great photo opportunities. Here are several decorating ideas for setting up your formal event!
Place a few decorations around the event space, making sure they tie in with your theme or color scheme.
Some formal events, such as prom dances and bar or bat mitzvahs, have a particular theme that they follow, while other formal events, like weddings, anniversary parties and graduations, may stick to a color scheme. If you're planning for a formal event that encompasses a theme, use a few scene setters to set the scene of the party. Use a Hollywood skyline scene setter for a Hollywood themed prom dance, or a coral reef scene setter for an under the sea themed bat mitzvah. Simply stick these scene setters on any open walls inside your event space.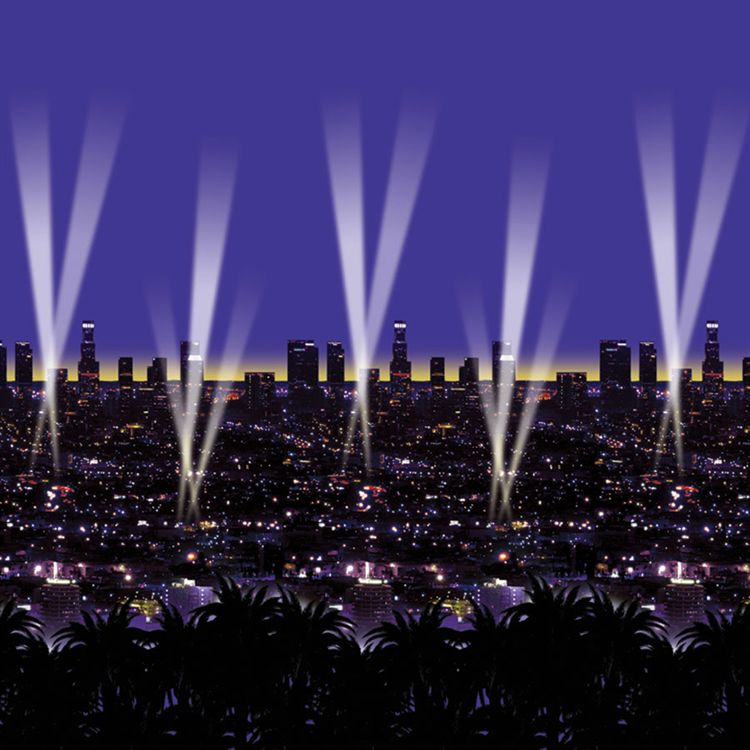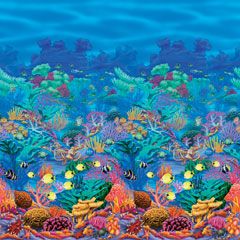 The entranceway of your formal event should be nicely decorated so that guests feel like they are indeed attending a formal affair. If your event has a Hollywood theme to it, have guests walk up on a Hollywood Red Carpet. Place red roping around the red carpet to make it look and feel like the real deal. For a wedding, or other special event, you can use a solid colored floor runner that matches with the color scheme of your event.
The doorway should be decorated, as well, whether it's with bunting or a metallic fringed door cover, draped to the side like a curtain. You can also use balloons as decorations for your entranceway. Place them over the doorway, or set bundles of balloons on either side of the entranceway.
If there will be dancing at your formal event, you'll need a few lighting effects. Hang a disco ball from the center of the ceiling, or above the designated dancing area, and flash a variety of colored lights around the space so that the mirrors on the disco ball reflects the lights. You can also use black lights for a darker party atmosphere. White lights draped around the party space will create an elegant and simple ambiance, perfect for a wedding or anniversary party.
Use simple decorations to create lovely table centerpieces.
Typically many guests are invited to formal events, and therefore, decorating for each table can get a little pricey. To save some money, craft your own table decorations using inexpensive party decorations. For an elegant table centerpiece, set a white paper lantern in the center of each table, place several LED candles inside of the lantern to make it glow, and finally, top off the centerpieces with roses, or any other type of flower, for a beautiful, yet simple table decoration. You can also add a few rose petals and votive candles around the centerpiece for added decoration.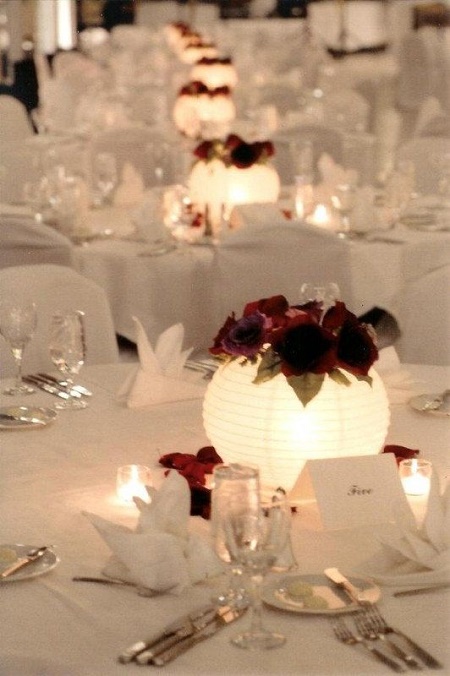 image via etsy.com
You can easily turn cheap, dollar store candle holders into amazing decorating pieces using fabric, beads or glitter. Paint glue onto the candle holders and wrap black lace or multi-color beads around them and place white votive candles inside. Instead of using candles, you can make your centerpieces glow in other ways. Try sticking LED waterproof lights into the bottom of a vase. Set glass marbles and/or flowers into the vase to catch the glow from the LED lights.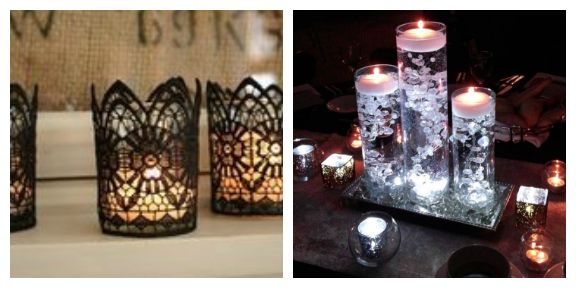 You can also hang decorations above the tables, rather than placing all of the table décor directly on the tables. Hang a gold metallic fringe chandelier above each table to add some shimmer. You can also hang a mixture of simple fluffy decorations with white lights or a girly yet elegant feel.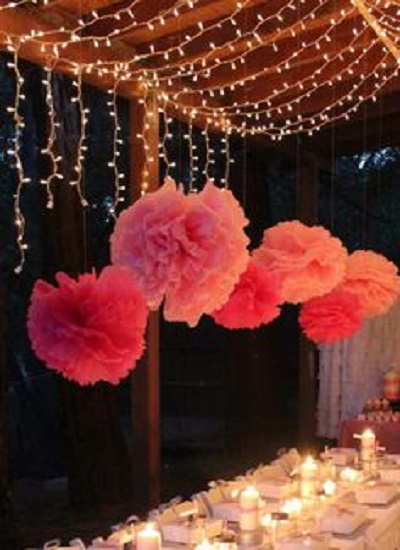 image via karaspartyideas.com
Set up a photo booth, complete with fun props, for guests to take pictures with.
Photo booths are a popular thing to have at any formal event. Set one up in your party space--somewhere with good lighting. First choose a background in which guests can pose in front of. One popular background idea is to hang white string lights with white tulle layered over the lights. Use fluffy decorations to create a colorful floral backdrop if you prefer a pop of color at your event. Be sure to use decorations that fit in with your color scheme or theme. 
image via centerofjustice.blogspot.com
Once you have built your photo booth, you'll need to collect props for your guests to use or hold in the photos. Place a bucket of props next to your photo booth backdrop that your guests can use or wear in their photos. Choose an already assembled photo booth prop kit, or choose a variety of accessories, such as glasses, bow ties, hats, and any more. 
At Windy City Novelties, it's our hope that this article inspires you to create a fun and unique party for your loved ones. For more helpful tips on organizing your event, email our dedicated party planning experts at [email protected]. You may also subscribe to our emails for weekly party planning ideas, featured products and more at https://www.windycitynovelties.com/customer/account/create/