An Inflatable Coolers Guide for Outdoor Summer Activities
09/27/17
Save on trunk and storage space when you use any of our awesome Inflatable Coolers to keep things extra chill at your upcoming parties and special events.  These are perfect for all of your outdoor summer activities, including backyard barbecues, Fourth of July festivities, graduation parties, birthdays, anniversaries, and any special occasion where you are planning for fun in the sun.  Any of these inflatable cooler options will be exceedingly excellent for sporting events and tailgating parties.  Find a fun novelty shaped, inflatable cooler to match your party theme and celebrate with style at your upcoming special occasions.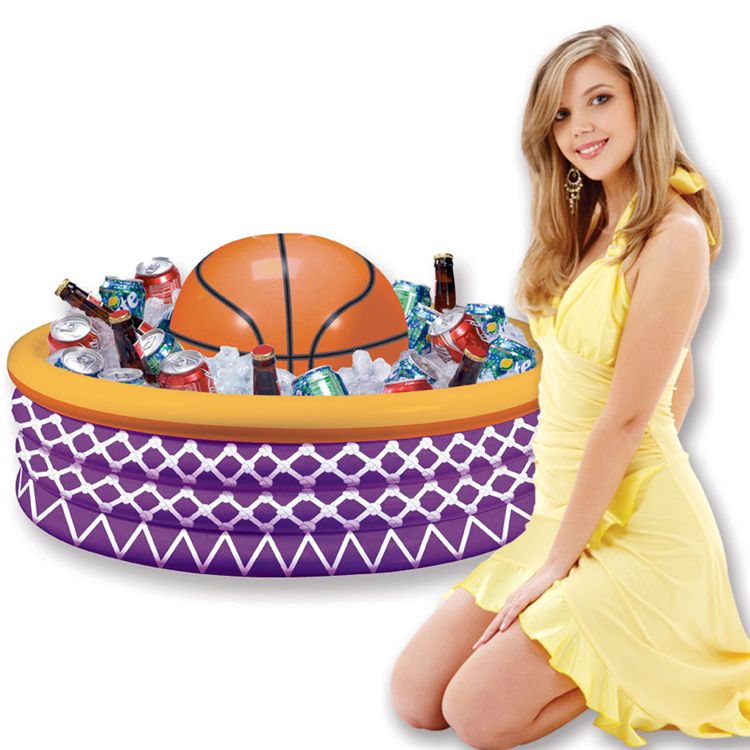 Bring our Inflatable Basketball Fan Cooler with you to your local court or team practice and take breaks to keep hydrated in the warm summer sun.  You can fill this inflatable cooler up with ice and then use it to store any kind of canned or bottled beverage, as well as anything you want to keep on ice.  This blow-up cooler stands 14 inches high and is 29 1/2 inches in diameter.  It features a cool basketball detail in the center.  Celebrate at the end of your season with a fun team party and make sure you have plenty of these coolers around for guests to grab icy cold beverages.
Check out our Inflatable Beer Mug Cooler and use it to keep all of your best oat sodas cool on a warm summer day or night.  Set this fun cooler up on the ground or even set it up on a table.  It stands 23 inches tall with a diameter of 19 inches and is shaped like a yellow beer mug.  Celebrate your buddy's 21st with a fun barbecue and a round of ultimate Frisbee, topped off with a couple of cold ones outdoors.  Wherever you go, you can bring this fun cooler with you.  Impress your friends and neighbors when you bust out an Inflatable Beer Mug Cooler at your neighborhood block parties or use one to cool off with a cold drink after a rousing game of touch football with the guys.
If you are having a football themed party this summer, our Inflatable Football Field Goal Cooler is a must-have item for your event!  Check out the 56 1/2-inches of awesome this Inflatable Football Field Goal Cooler brings with it.  It even comes with an inflatable football for you and your friends to have a friendly competition to see who can throw it through the yellow goal posts that are part of this rounded cooler display.  The base of this cooler will hold all your favorite beverages and it features "The Party Zone" printed in blue letters that have a white outline against a green background reminiscent of a football field with white yardage markers.
Soccer fans are sure to love our Inflatable Soccer Fan Cooler. It features solid green and blue and white goal images on the sides of the square shaped bass with an inflatable soccer ball coming up out of the middle.  When you fully inflate this cool cooler you can fill it with ice and use it at your soccer matches and events to keep all your favorite summertime beverages on cold.  Have one around to keep teammates hydrated on the day of a game or use one at your team's soccer practice.  You could set one up at home for a fun, soccer themed party or birthday event.  It's bound to be something your guests get a kick out of!  The Inflatable Soccer Fan Cooler stands 14 inches tall and measures 29 1/2 inches on each side.
Make all of your outdoor summer events even cooler when you break out any of our Inflatable Coolers to decorate your space and keep your drinks and party fair on ice.  These novelty shaped items are space-saving, affordable alternatives to traditional plastic coolers or Styrofoam.  Save trunk space when you travel and bust out a surprise that is sure to impress your friends, neighbors, and relatives at any special event or occasion this summer.  Blow up a cool cooler and toss back a cold one with your buddies.  These Inflatable Coolers are sure to help you cool down this summer at any outdoor event!
For tips, questions, help planning an event or for recipe and craft ideas, email our party experts at [email protected] for your personal party planner!