Be Unique and Throw a Glow in the Dark New Year's Party This Year!
09/27/17
Keep a close eye on your teenager this New Year's by throwing them a glow in the dark New Year's Eve party in the comfort of your own home. Black light parties, or glow parties, are popular among the younger crowd and will surely delight your teen and his or her friends this New Year's Eve. Or, if you are bored with the same New Year's Eve party each year, switch it up a bit and let your wild side out with a black light party for you and your friends! Swap out the silver and gold for bright neon and transform your basement into a glow in the dark rave. Follow these party tips and ideas for hosting a Glow in the Dark New Year's Eve Party!
Use a black light to accentuate the brightness of your party décor.
First choose the entertainment area. A basement would be the most ideal location to host your New Year's Eve party because it's dark, and therefore will create the optimal glow in the dark atmosphere. It will also allow some privacy for your kids, if you're throwing this party them. If having the party in the basement is not an option, or your basement is rather bright, use black construction paper to cover the windows.
Next, you'll want to hang or place black lights around the party area. You can either add black light tubes around the room, or replace your existing lighting fixtures with black light bulbs. You will, however, want to place several black lights, or other lights, near the food table so guests are able to see what exactly they are eating.
When using black lights, you'll want to decorate with neon colors. Neon colors, along with white, really pop under the glow of black lights. Create a backdrop, which can also function as a background for a photo booth, by vertically hanging floor-to-ceiling strands of neon crepe paper streamers. Be sure there is a black light near the backdrop to make those neon colors really pop. Also, use a Neon New Year party kit to hang a "Happy New Year!" banner in the entranceway, as well as New Year's themed cutouts along the walls.
In the hallway or staircase leading to the party area, hang glowing beach balls (clear, plastic, inflatable balls with glow sticks inside of them) from the ceiling. You can also do this in the actual party area for additional lighting effects, as well as a neat decoration.
Glow in the dark drinkware and tableware is a unique way to serve refreshments at your celebration.   
As mentioned previously, set up a well-lit food table. Use a white or neon table cover that will show up well under the black lights. Additionally, use white or neon paper goods (plates and napkins) that guests will be able to see. Place glow or light-up items around the food table for an added effect, such as glow necklaces around the plates, glow bracelets around the cups, and glow sticks or LED ice cubes in the punch bowl.
via catchmyparty.com
Instead of using neon paper cups to serve refreshments, use LED drinkware. That way, guests are able to walk around with their drinks and have them glow, whether or not they are standing next to a black light. The drinking glasses can also double as party favors that your guests can take home with them once the party is over!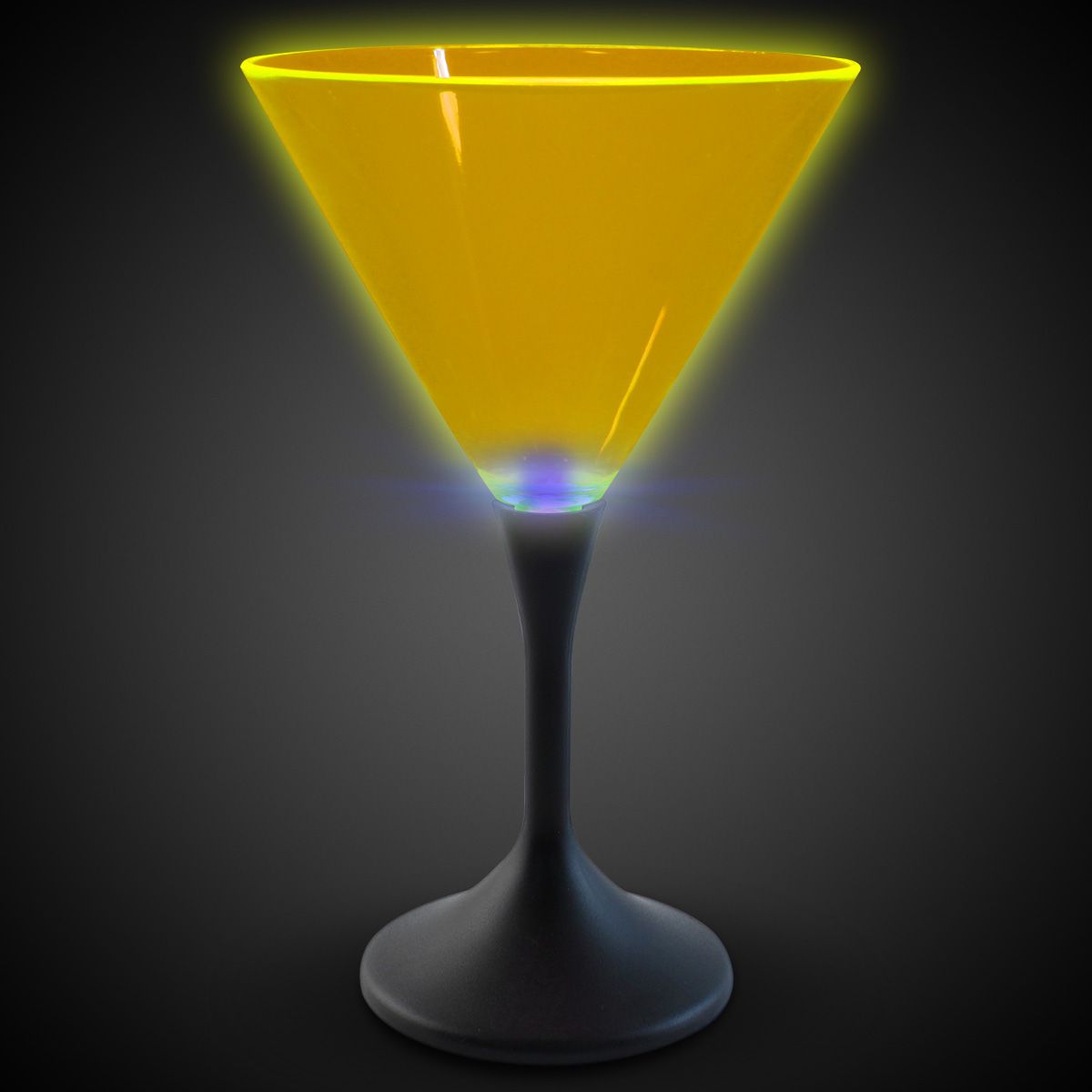 Supply guests with neon and glow party accessories they can use for the countdown.
Set out another table for party favors. New Year's Eve is a holiday that is big on party favors, so handing them out to your guests at your Glow in the Dark New Year's Party is a must. You'll need hats and noisemakers for the midnight countdown! But, instead of the silver and gold top hats and tiaras, opt for neon fedoras and glow headbands. You can also pass out glow jewelry for guests to wear and LED foam sticks for guests to wave around at midnight.
At Windy City Novelties, it's our hope that this article inspires you to create a fun and unique party for your loved ones. For more helpful tips on organizing your event, email our dedicated party planning experts at [email protected]. You may also subscribe to our emails for weekly party planning ideas, featured products and more at https://www.windycitynovelties.com/customer/account/create/