Black, White & Gold New Year's Eve Party Ideas
09/27/17
New Year's Eve is a special holiday. Revelers tend to get dressed up and spend the holiday with loved ones. What better way to celebrate the New Year than with a classic black and white party theme? But of course, you must add a touch of sparkle—it is New Year's Eve—so do so by throwing gold into the black and white theme. Here are some tips on hosting a Black, White & Gold New Year's Eve Party.
Embellish your party area with black, white and gold decorations.
If you're hosting a Black, White & Gold New Year's Eve Party, make sure the party décor fits with the theme. Create a backdrop in your party space where guests can take pictures. Drape a mixture of gold star stringers, black star stringers and white lights vertically against an open wall in your home. Be sure to supply your guests with fun photo props! This backdrop will also make for a beautiful party decoration.
Image via thesweetestoccasion.com
If you have a large clock somewhere in your home, on the fireplace mantel or hanging on the wall, highlight it by hanging New Year's decorations around it. This clock will allow your guests to countdown the seconds until midnight, and will also serve as a pretty cool decoration for your party. Place a "Happy New Year" banner on the wall under the clock if it hangs, or place black and white garland and gold ornaments along the fireplace mantle next to the clock.
Add a few more black, white and gold decorations to the entertainment area, such as balloons hanging from the ceiling or resting on the floor. A cute decoration, as well as a fun craft to make, would be to take clear balloons, fill them with glitter and set them on the floor of the party space. You could also hang gold paper lanterns, painted with glitter, from the ceiling.
Image via everclevermom.com
Serve dinner on an elegantly decorated dining table.
Set up your dining table to coordinate with the rest of your decorations. Dinner will be one of the most important parts of your celebration, so make sure your table is decorated nicely. Use a black and white table cover as the base of your dining table. A striped, chevron or checkered table cover will make the tableware and decorations really pop! However, be sure to use gold tableware (plates and napkins) so that you are able to see it with the funky table cover.
Add a few table centerpieces to your dining table. You'll want some ambient lighting, and candles are always a good choice for that, so set some up along your table. You can make them flashier and larger by painting glue onto the bottom of mason jars and dipping them into gold glitter. Once they dry, place white candles inside of them.
Another cute centerpiece—in addition to some candles or string lights placed along the center of the table—would be to paint four old champagne bottles gold and attach gold-painted wood numbers (that you can find at most hardware stores) to the bottles. Top off the centerpiece with some white and black ribbon coming out of the tops of them. Or, you can create a simple but elegant centerpiece by gathering white roses and dipping the tips of them into gold paint or glitter. Then sprinkle confetti on the rest of the table for a final touch.
Images via celebrationsathomeblog.com, blog.bergen.com, nobiggie.net, and confettipop.com
Provide your guests with party favors they can use all night.
Party favors are a must at any New Year's Eve celebration! Set up a separate table in which you can place party favors on so guests can walk by and grab what they please. Guests will need party accessories to wear throughout the night, such as 2016 eyeglasses, top hats, tiaras and beads. They also need party favors to ring in the New Year with, including noisemakers, poppers, confetti, blow horns, and, of course, champagne!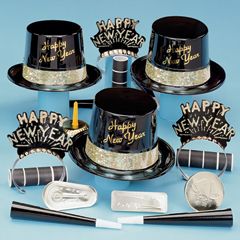 At Windy City Novelties, it's our hope that this article inspires you to create a fun and unique party for your loved ones. For more helpful tips on organizing your event, email our dedicated party planning experts at [email protected]. You may also subscribe to our emails for weekly party planning ideas, featured products and more at https://www.windycitynovelties.com/customer/account/create/