Celebrate Shark Week with These 5 DIY Ideas
09/27/17
If you're like us, Shark Week on Discovery Channel is something you've been looking forward to since it ended last year. I think we are so fascinated with these creatures because they are mysterious, and we don't quite understand them. Our first instinct is to fear them, which makes many of us intrigued by them, and Shark Week gives us insight into the lives of these majestic creatures.
Although you may have already planned your Shark Week festivities, we have five do-it-yourself ideas that you can partake in with friends and family, or on your own, during Shark Week! Check out these fun, shark-themed DIYs: 
1. Make a  shark bite cocktail.
Invite a few friends over for a small Shark Week watch party, and enjoy the company of your friends while sipping on some delicious cocktails that coordinate with the party theme. Gather all of your ingredients for a shark bite cocktail and serve them in clear cocktail glasses, so you are able to see the blue color of the beverage. For a little extra something, serve your drinks in exciting light-up martini glasses! Here is what you will need to make a shark bite:
-1 oz. white rum (your choice)
-1 oz. spiced rum (your choice)
-1/2 oz. Blue Curacao
-1.5 oz. sweet and sour mix
-2 oz. lemon lime soda
-1/4 oz. Grenadine
-ice
Place all ingredients into a cocktail shaker, including the ice, and shake well. Strain the mixture into your martini glass and garnish with a cherry and/or orange slice. Finally, drink up and enjoy your sharktastic cocktail! 
2. Craft your own shark jaws to hang on your wall.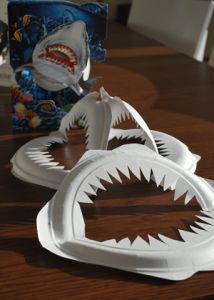 via paperplatessharkjaws.com
If you have children, or work with children, this DIY would make for a great summer craft to pull them away from their electronics! What they will be making is a paper or cardboard version of shark jawbones. This craft is simple to prepare for: all you need are a few white paper plates and scissors. Vanilla or ivory paint is optional.
First, fold the paper plate in half. Cut jagged edges (shark teeth) along the inside of the arch of the paper plate. Once that is finished, open up the paper plate and you'll see your shark jaws beginning to form! Carefully cut off the folded edge of the paper plate, making wide, curved edges by the corners of the "mouth," as well as the top and bottom of the mouth. If you would like to paint these shark jawbones, go ahead and do so, letting the paint dry before using them. Hang your shark jawbones from the ceiling with string or attach them to the wall. You can also wear them as goofy hats! 
3. Give yourself a shark manicure. 
via callinamarie.buzznet.com

Paint tiny shark images on your nails as an easy way to get into the shark spirit! First, choose a base color, such as ocean blue, black, or any color you prefer. Paint your nails as you normally would with your chosen base color.
Next, decide what type of shark images you would like to paint on your nails. Shark fins and shark heads are easiest to paint. Take grey or silver nail polish and carefully paint a shark fin shape onto each of your nails, leaving out one nail on each hand. Use a toothpick to paint the fins if your nail polish brush is too thick.
After the fins are painted, take your grey or silver nail polish and paint a half-almond shape on the unpainted nail. Once that dries, take black nail polish and paint a smaller half-almond shape onto the bottom of the grey/silver shark head. This black half-almond will be the shark's open mouth. Next, take a toothpick and black nail polish to create the eyes of the shark.
After letting the black nail polish dry, take a toothpick, dipping it into white nail polish, and paint little teeth on the inner edge of the black half-almond shape. Let the nails dry and finish with your clear topcoat to keep the shark nails intact. 
4. Serve fruit salad straight out of a shark's mouth. 
If you are hosting a Shark Week party, serve your guests a fruit salad inside of a watermelon shaped like a shark's mouth! You'll need a whole, uncut watermelon, and a variety of other fruit to create a summery fruit salad. To make the sharks mouth in the watermelon, carefully use a sharp knife to cut a quarter of the watermelon out, making sure to create straight edges when cutting. Gut out the watermelon, adding the chunks of watermelon to your fruit salad. Once the watermelon has been gutted, use your knife to carve jagged shapes into the edges of the watermelon. Finish off the watermelon bowl by adding in your pre-made fruit salad! 
5. Play "Shark Hole."
Shark Hole is a take on the "corn hole" or "bags" yard game. To make, take your existing bags or corn hole boards and place construction paper sharks over them. Cut large half-almond shapes, the same size at your corn hole board, out of grey construction paper. Next, cut out a mouth in the shark heads (a crescent shape), to fit around the hold area on the corn hole or bags boards. Cut triangle shapes out of white paper and glue them to the edges of the mouths, making sure the teeth are not in the way of the hole. Make two pairs of eyes to glue onto the shark heads.
Play Shark Hole as you would play bags or corn hole. The objective is to toss the bean bags directly into the shark's mouth. Have fun! 
At Windy City Novelties, it's our hope that this article inspires you to create a fun and unique party for your loved ones. For more helpful tips on organizing your event, email our dedicated party planning experts at [email protected]. You may also subscribe to our emails for weekly party planning ideas, featured products and more at https://www.windycitynovelties.com/customer/account/create/