Cinco de Mayo Party Guide
09/27/17
With all the gift-giving, candy-eating, basket-making, dress-up holidays behind us, it is time to celebrate just for fun.  Cinco de Mayo is a perfect occasion to mark the arrival of spring and the promise of summer in the air. Blow the dust off your margarita glasses, pull the cover off the fire pit, and invite friends and neighbors to join you in a fiesta.
Why do we Celebrate Cinco de Mayo?
In the United States, Cinco de Mayo, the fifth of May, has become a time to celebrate Mexican heritage and pride, but the holiday has its origins in the Mexican state of Puebla where in 1861, a Mexican force of 4,500 defeated a much larger and better equipped invading French Army.  Although the war with France continued, the Battle of Puebla stands as a symbol of victory and freedom for all.
Having a Cinco de Mayo party falls right in line with the thinking of the U.S. Congress, which in 2005 issued a resolution calling for the observance of the unofficial holiday.  Show your support for the government by sending out Cinco de Mayo personalized invitationsto let everyone know when and where the celebration will take place.
Festive Cinco de Mayo Decorating Ideas
This is one occasion where it is fun to go traditional all the way with decorations, food, and entertainment.  Greet guests with a personalized message printed on a vinyl front door banner.  Move inside to a bright and very colorful party space festooned with streamers, funky fans, and paper lanterns lit with flameless LED lights. 
If the weather allows, extend the party onto the patio or deck with more paper lanterns and a fiesta pennant banner.  The outdoors would also be the ideal place to hang a sombrero pinata to serve as a decoration when guests arrive and fun for later. If the party is going to include children, add a mini burro pinata just for them.
Cover your food table with a plain red plastic cloth and add a colorful fiesta stripe runner  . A party that is going to include a lot of good, messy food is going to require a large sturdy plate.   Choose 10 ¼ inch clear plastic plates which matches any decor and has the added benefit of being washable and reusable. Costa del Sol cups will coordinate nicely with the wall fans.  Add a solid napkin and plastic utensils in bright yellow.
Cinco de Mayo Food and Beverages
Designate a beverage area anchored by a sombrero inflatable cooler.  Fill it with a variety of carbonated drinks.  There is an array of Mexican beers on the market and Jarritos, a Mexican soft drink, is easy to find. Buy a variety of fun flavors, including grapefruit, guava, pineapple, strawberry, and mango. Sangria is easy to make with your favorite red wine, simple syrup, club soda, and a dash of brandy.  Pour over your choice of fruit and let it steep for about an hour before serving.  Put out all the fixings for margaritas—don't forget the salt and limes!. Be sure to have a stack of beverage napkins handy for thirsty guests. If the celebration is scheduled for the evening, brighten the night with light-up cups.
A sectional serving tray is just what you need for salsa, dips, refried beans, and other accompaniments to your favorite crispy, salty corn chips. For a main dish, think about a tasty, easy-to-make and serve enchilada casserole.  If tacos are on the menu, look into getting a ready-to-serve buffet of carnitas, rice, and beans at a local grocery store, or buy an already cooked chicken to shred along with corn or flour tortillas, and toppings such as sour cream, farmer's cheese, tomatoes, and jalapeno slices.  After all that food, a soothing mango sorbet is a great dessert choice.  If the group is small and you are feeling fancy, make individual flans for your guests.
Cinco de Mayo Music and Tunes
Create a truly authentic atmosphere by playing a CD or streaming Mexican music throughout the party space. Go to your local library for some good music suggestions.  Place maracas around the house to add to the décor and give guests an opportunity to catch the rhythm.  If you or one of your friends speaks Spanish, have him or her teach the others a simple song.
As the party winds down, turn everyone's attention to the pinatas.  Fill them with candy, chili pepper beads, and other goodies.
After a fun, and hopefully sun-filled fiesta, send revelers home with colorful, translucent LED maracas to make some noise and light their way.  Just be sure you invited your nearest neighbors!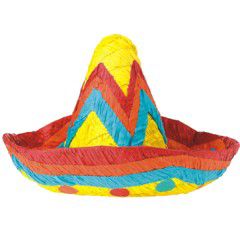 At Windy City Novelties, it's our hope that this article inspires you to create a fun and unique party for your loved ones. For more helpful tips on organizing your event, email our dedicated party planning experts at [email protected]. You may also subscribe to our emails for weekly party planning ideas, featured products and more at https://www.windycitynovelties.com/customer/account/create/